Britain's Men's 4x100m Medley Relay team brought a historic Tokyo 2020 pool swimming programme to a dramatic close by securing a brilliant silver and ensuring Team GB's best-ever swimming medal haul at an Olympic Games.
The quartet of Luke Greenbank, Adam Peaty, James Guy and Duncan Scott teamed up to smash their own European record in 3:27.51 with four brilliant legs of relay swimming, only to be touched out by the USA team's world-record breaking effort.
The silver – which also goes to James Wilby for his important heats contribution – is Team GB's eighth medal from the pool after an unforgettable nine days of competition, surpassing the seven-strong haul from the 1908 Games in London.
Among the other landmark achievements to follow a heart-stopping race was Scott's confirmation as the first ever British athlete in any sport to claim four medals at a single Olympic Games, while Peaty and Guy both picked up their third of the meet.
This race always looked set to be one of the tightest of the entire week, and Greenbank – fresh from an individual 200m Backstroke bronze on Friday – ensured Britain's shot at the title got off to a solid start, splitting faster than he did in the 2019 World Championship victory swim.
Triple Olympic champion Peaty took over from his Loughborough National Centre teammate, diving in seventh and quickly hauling in every one of the rivals ahead on the way to the fastest 100m breaststroke split of all time, a 56.53 handing the lead over to Guy on the butterfly leg.
Bath National Centre man Guy produced one of the swims of his life in helping Team GB to Mixed 4x100m Medley Relay triumph 24 hours earlier, and he left everything out in the pool once again as he battled with individual 100m Butterfly world-record holder Caeleb Dressel, in an outside lane.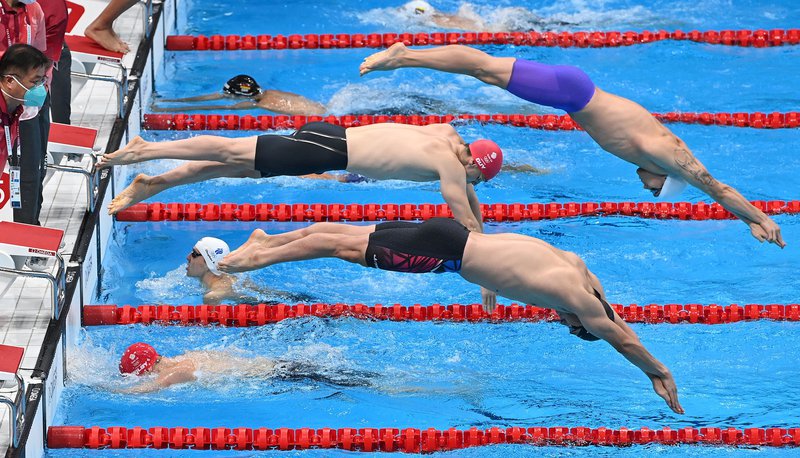 Last up on the freestyle was Scott, on the verge of both individual and team history in the pool and duly delivering again in the final two laps of a relentless meet for the University of Stirling competitor.
While just unable to overhaul the Americans' lead on the anchor section, Scott – who works under Steven Tigg in Stirling – served the latest reminder of his world-class racing abilities to push the eventual winners right to the wall and ensuring Britain went well under their own European record.
Reflecting on a breathtaking race, Peaty said: "I lay it all down there, I knew I had to go an extremely fast time and that was an extremely fast time. Unfortunately we didn't do enough to take that gold, but with the success British Swimming have had and we have had, sometimes you need a little bit of pain.
"This is painful, and I know people at home will say we got Olympic silver, but that's the standard we are at now, we're not looking at bronze or silver, we're looking at how to get gold. That's just my mindset, and I know these guys are disappointed as well, that's just the honest opinion of our performance and what we thought we could do. But that's a world record for them, you can't ask for more, and it's my fifth medal at two Olympics."
Guy added: "The way this week has been for British Swimming is unbelievable, with medals all over the place. If you'd talked to us in 2015 or 2016, we'd have bit their hand off. It's been a great meet so far, we're a bit sad that we didn't get the gold today but it's a world record and we played our part in that."
On becoming the most decorated British athlete at one Olympic Games, Scott said: "It's all my teammates, that's what that is. I'm fortunate to be part of some excellent relay teams, this being one of them. We're all pretty disappointed with this, but in 2015, when we started coming together, back-to-back Olympic silvers in this event, we'd have taken that all day.
"We're coming in here to really challenge the Americans just like we did last time at Worlds. With our splits, we all swam well, slightly disappointed with mine but that's how it is. It's been a tough week, but we've got to be happy with that."
After receiving a second medal in his debut Games, Greenbank said: "Obviously the 100m Backstroke isn't my main event, but I came in here, really worked at it in training because I know I've got these three lads here who are all world-class in their event. Like Adam said, it's frustrating to be second, but with all the medals we've had this week, there have been some incredible results. We can build on this and come back stronger."
With the pool swimming done for Tokyo 2020 and British history made as the greatest Team GB swimming performance of all-time, how does Peaty feel as he looks to the future now?
"We wait for a new generation to come through. You look at most of the team now, not just in swimming, in all sports, there's a new generation of athletes coming through, one that's a lot more aware of self, which is really important," he added.
"We'll use this to reflect, it's very important to reflect, how do we get better? We're not quite sure yet, but before we go hard again, we're going to take a big break because sport is hard, it's 24/7, 365. We've come a long way."
[Credit: Stream every unmissable moment of Olympic Games Tokyo 2020 live on discovery+, The Streaming Home of the Olympics.]

Earlier in the session, Ben Proud narrowly missed out on the podium in the Men's 50m Freestyle as he registered a top-five finish in the Olympic event for the second successive Games.

Proud earned himself a lane in the 'splash and dash' finale after a solid semi-final on Saturday, having waited through the first six days of competition to open his Tokyo 2020 campaign the previous day.
The 26-year-old former world champion had the quickest reactions off the blocks in the final, putting himself into contention for a medal across a blanket field, barring the lead of the USA's Caeleb Dressel.
The stroke rate remained high, but Proud – who is training in Mark Skimming's University of Bath squad – was touched out of the medals by less than two tenths of a second in a nip-and-tuck finish.
"It's a tough one, that's for sure. A lot of people have invested their time and energy into me, I wish I could've brought them something home but that's just how it is," he said.
"Swimming has taken me on an amazing journey. To be at the Olympics, it's been a tough year, a tough couple of years and I'm still motivated to come back and keep swimming. My family, my girlfriend, everyone has been massively supportive.
"The good thing is some of the athletes in there are getting well into their 30s and are still going, so I've got a couple more years left. I thought this one was a good one for me, it just didn't quite happen but that's how it is."
There was also a fifth-place Men's 1500m Freestyle finish for Daniel Jervis in his maiden Olympic final appearance.
The Swansea Aquatics man, who trains under coach Adam Baker, was pleased with a semi-final swim that saw him fifth-fastest into the final – and Jervis remained in touch with the leading medal contenders over the opening 500m.
As the top four began to move clear over the second 500m, Jervis had to remain disciplined in his own race, sticking well to his stroke rate and technique to ensure he held off the rivals behind him and registered a solid result on the biggest occasion of his career to date.