Tom Daley produced another performance right out of the top drawer to secure individual silver on the final night of diving at the European Championships.
Having won gold in the synchro on Saturday, Daley produced some special dives to take silver in a thrilling Men's 10m Platform final, which brought the diving action at these European Championships in Budapest to a close.
Daley was joined in the event by his Dive London teammate Noah Williams, who got his series off to a humdinger of a start, nailing a Handstand Back 2 Somersaults 2½ Twists (6245D) for 91.80 points, but Daley wasn't to be outdone, his near perfect Reverse 3 ½ Somersaults Tuck (307C) bagging 98.60 points – game on.
Solid second and third round efforts kept the British men in the mix, although at the midway point it was the Russians, Aleksandr Bondar and Viktor Minibaev, whom Daley and Matty Lee had beaten to gold in the synchro the previous night, who led the way.
Round four was where Daley started to show his class, a scintillating 99.75 Handstand Back Triple Somersaults Pike (626B) followed up by the dive of the week, a truly breath-taking Front 4 ½ Somersaults Tuck (109C), which the judges rewarded with 109.15 points. That was in fact the highest single point score of his career.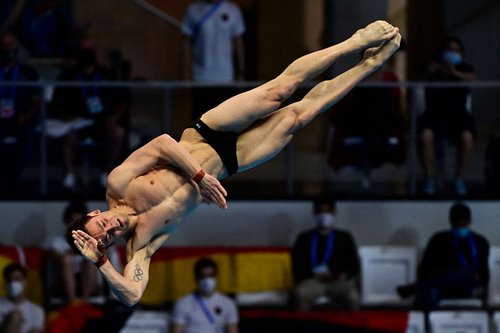 It was in Budapest that Daley won the most recent of his World titles back in 2017, so the Duna Arena has been a happy hunting ground for the 26-year-old.
Reflecting, Daley said:
"I was really happy with the first dive, but then the second one I dropped down the rankings, but I've learnt through my years of experience to never give up and it's not over 'til it's over. I tried to keep fighting and fighting all the way, but I hadn't quite done enough, as going into the last round I realised it was mathematically impossible to be able to win.
"But at the end of the day, to come away with a silver medal and a gold medal from these championships, I'm really happy. I always want to win – that's in nature of any sportsperson, but at the same time there's some valuable learning experiences and lessons, and lots of the technical things I've been trying to fix I've fixed. So now it's just about sharpening up and not making silly mistakes."
Williams produced two high quality dives himself in the final two rounds to finish up fifth, a result he could be proud of. Afterwards he noted:
"I'm really happy with some of the dives, not so happy with others. After a bit of a shaky prelim, I decided to just go for it in the final, no pressure really. I tried to give each dive my best - some worked, some didn't, but happy with the result.
"Because of such a year this last year has been, I've taken everything one step at a time, taking nothing for granted. It was a really fun competition, big dives from pretty much every diver at some point. It was a really good environment and I'm happy with how it came out."
It was a case of so close, but yet so far for Grace Reid and Kat Torrance, who missed out on a medal in the Women's 3m Synchro by a whisker after a strong performance.
The Jane Figueiredo and Marc Holdsworth coached athletes got off to the perfect start, sharing the lead after the opening round with a quality Inward ½ Somersault Pike (401B), backing it up nicely in round two. Being a five round contest, every dive really did count, a strong Forward 2 ½ Somersaults, 1 Twist (5152B) keeping them firmly in the medal race after three efforts.
It was all change in round four – the top two, Russia and Ukraine, delivering sub-par efforts to leave the door wide open - Reid and Torrance seized the opportunity, leap frogging both to occupy third spot with one dive remaining.
A solid final dive capped off a consistent series, and so the World Cup sixth placers faced a nervous wait, but in the end it was heartbreak, as they missed out on bronze by just 0.3 points. In a final decided by the narrowest margins, the top two were separated by an even smaller 0.09 points.
The duo were naturally disappointed, but were still able to take the positives from their performance, Torrance stating:
"It's mixed emotions. It's really hard when you're that close but that's just how diving is. At the end of the day we've just got to use that to really push ourselves to work on what we need to work on, so next time it's not close and we can just be striding ahead."
Reid added:
"COVID has been so difficult on so many levels, and we've both had our moments, but fortunately it allowed us to train together more, so every cloud has a silver lining. The way we performed in Japan and the way we performed today as well, I think it's testament to the training we've done together. It's working really well so we just need to carry that on for the next couple of months – as a synchro partnership the more you can train together the better."