Tom Daley and Matty Lee secured an impressive Men's 10m Synchro gold while duo Grace Reid and Kat Torrance made sure of Great Britain's place in the Olympic Women's 3m Synchro competition as British athletes made a memorable start to the FINA Diving World Cup. 
Dive London partnership Daley and Lee were in dominant form on Saturday at the Tokyo Aquatics Centre, which will play host to the diving events at this summer's Olympic Games in three months' time.
The pair finished top of qualifying after the preliminaries, and after taking the lead in the second round of the final, they never relinquished their position at the front.
No judge gave them anything less than an 8.5 for their third dive, a brilliant Inward 3 1/2 Somersaults Tuck (407C) that earned them 85.44 points and solidified their dominance.
The quality continued from there, with their dive of the day coming in round five, an eye-catching 89.76 score awarded for a Reverse 3 1/2 Somersaults Tuck (307C).
Daley and Lee finished with 453.60 points, 48 points clear of Mexico's Randal Willars Valdez and Ivan Garcia Navarro in second. The Brits' score would have been enough for silver at the 2019 World Championships and was a timely reminder of their world-class quality as a duo on the eve of Tokyo 2020. 
That result followed hot on the heels of an important moment in the Women's 3m Synchro, as Reid and Torrance made sure of Team GB's spot in that event at the Olympics with a top-six finish in the World Cup contest.
Reid (Dive London) and Torrance (City of Leeds) - who have been training together at the former's London Aquatics Centre base over recent weeks - progressed comfortably through the preliminaries in their first genuine, non-virtual outing in more than a year.
After the first two rounds of the final, they were well placed at the right end of the leaderboard, only 3.6 points off China at the top.
Knowing that they needed to finish among the top four finalists who had not already secured an Olympic place to ensure Team GB took home that Tokyo quota berth, the pressure went up a little after round three, when the British duo dropped down to ninth.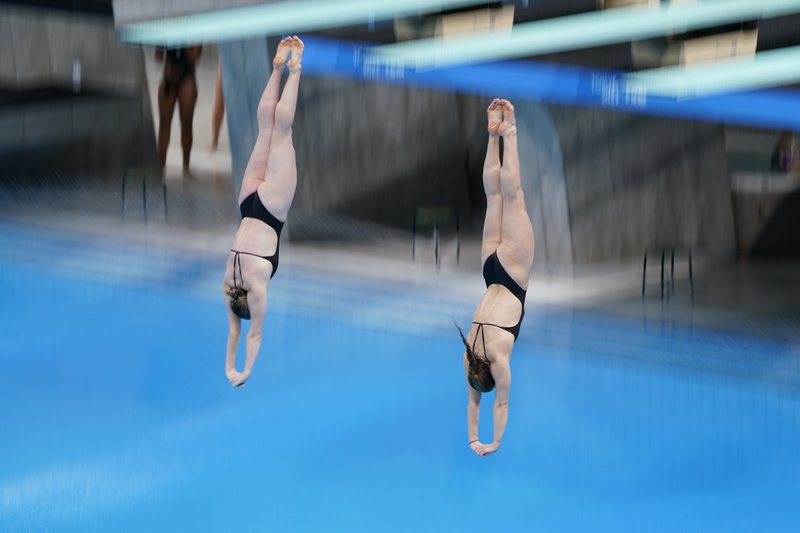 But they showed brilliant composure to pull out their best score of the final in round four, notching a priceless 66.60 for their Reverse 2 1/2 Somersaults Pike (305B). A tally of 58.50 for their Forward 2 1/2 Somersaults 1 Twist Pike (5152B) in the final round ensured they stayed ahead of Russia to finish sixth (on 276 points overall) and claim that all-important Olympic spot, alongside Italy, Germany and the United States.
China and Canada took World Cup gold and silver respectively, although their Olympic places were already secure.
On getting that Olympic qualification job done, Reid said: "Getting back out there and competing, to get that Olympic spot is all that we've been thinking about and training so incredibly hard, so despite everything, to get that spot today was amazing.
"It's the first competition we've had in over a year so it was really quite daunting, but actually once we settled in, it was great. I'm just super happy to be walking away with us having got the job done and getting that spot for GB. Overall, we're really happy with the end result - it's just a relief to know that's a box ticked."
Torrance added: "Doing the first competition in a while, I think we were expecting to be quite nervous, but actually it became something that was really natural - and especially considering it wasn't just any old competition to get back into, it was the big competition to get straight back into. We actually settled into it really easily. We're really lucky to be here and being able to do what we love, so overall, I'm just quite grateful for it."
The action on day two (Sunday) will see Lois Toulson and Eden Cheng combine in the Women's 10m Synchro, while Jack Laugher and Dan Goodfellow go in the Men's 3m Synchro.
For more information from the FINA Diving World Cup, including full schedules, results and start lists, click HERE. Broadcast of the event in Europe is being shown via Eurovision Sport TV online, with details of all territories here.