It is more than a year since Kat Torrance last stepped on to a diving board in competition - but there can be no doubting her focus as she gears up for next month's crucial FINA Diving World Cup in Tokyo. 
When the City of Leeds athlete was preparing for the World Cup ahead of its initial postponement 12 months ago, she and Women's 3m Synchro partner Grace Reid were fresh from finishing fourth at the Montreal leg of the Diving World Series.
This time around, Torrance and her colleagues - both in Britain and across the globe - are coming off the back of an unprecedented time of disrupted training stints and ever-changing event schedules.
Kat, though, remains unfazed ahead of a huge challenge and opportunity. The World Cup (18th-23rd April) not only serves as a dress rehearsal for the summer's Olympic Games but also as a qualifier for certain Olympic spots, with a handful of slots still available - including in the Women's 3m Synchro.
"We say that this is almost a more important event than the Olympic Games. Once you've qualified and you're at the Olympics, you are there and you have achieved the pinnacle of your sport," says European and Commonwealth medallist Torrance.
"But this competition is sort of the defining moment of either getting there or not getting there. So certainly, when we get to Tokyo in April and we're at the pool and in that environment, it will hopefully give us that adrenaline and confidence boost that we're going to need to think, 'yeah, this is what we want and we're going to go and get it'.
How will she be feeling, then, as she takes to the springboard again with judges watching on and every single point counting?
"It's definitely been a long time since we all last competed," says Kat. "At the end of the day, though, when we get into the competition, it's going to be just like everything we've done 100 times before. It's just as important as it was a year ago. I've still got the same aims, we've still got the same goal, and we've still got the same pressure on our shoulders.
"I'm pretty sure we're just going to slot back into a routine, knowing what we're doing. We're just keeping a fresh outlook on it and not focusing too much on what we've missed, but instead focusing on what we're gaining moving into it. That's the best way to look at it, I think.
"Physically, we're looking exactly the same if not better than we were a year ago because we've had this extra block of training. And to be honest, you don't really have time to think, 'oh, but I haven't competed for a year' because when I'm on that board, I've got a job to do - and if I'm stood there thinking about all the things that I've missed over the past year, I'm not going to be able to do it."
If Kat and Grace are keen to get straight back into their routine as a synchro partnership, a serendipitous temporary relocation might help that bid.
With their Leeds training base undergoing some maintenance, Torrance and World Championship silver medallist Lois Toulson are among the athletes to have made the short-term move to London to continue their work alongside the Dive London squad.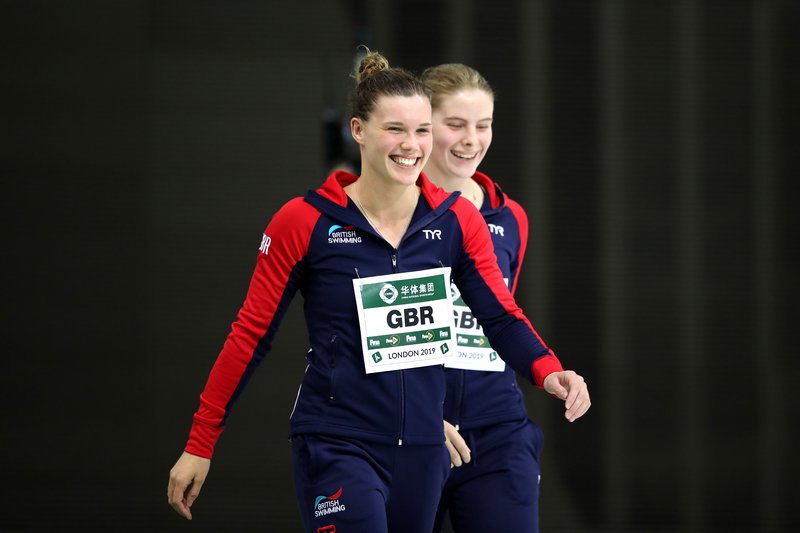 That has given the aspiring Olympic Women's 3m Synchro pairing an unexpected, extended run of training sessions together. Could that prove precious in Olympic year?
"Normally before a competition, we would have a couple of weeks here and there training together, and then a week of solid work before we go away," adds Torrance.
"So to actually have what will probably be about two months of training, every day, together, is hopefully going to make a really important difference leading into the World Cup. We've got a five-day turnaround when we get there, from arriving to competing, so we're going to need all the training we can get ahead of time.
"We are just competing in the synchro next month, so it's all out synchro training rather than individual stuff at the moment, because focusing on getting that spot for Britain at the Olympics is the highest priority. As far as being physically ready, we are definitely in the right place.
"We'd had a year since we had trained synchro together before this. While Grace and I are very lucky in that we have a very natural synchro ability, it was really reassuring to come back and feel like, 'okay, we're in the right place, we didn't need to panic'.
"Obviously Grace is an incredibly close friend as well, so to actually get to finally see her after all that time was really lovely. It's very different to seeing each other over Zoom."
Tom Daley, Robyn Birch and Matty Lee are among the other Dive London athletes who are now working alongside the relocated City of Leeds cohort at the iconic London Aquatics Centre. That in itself is a boost for Torrance and her Leeds colleagues.

"At Leeds, there are currently six high-performance divers, so it's quite a bubble up there. Now we've come down to London and there are more than 15, training at different times of course, but still seeing everyone," she explains.

"For me, I'm usually the only female springboard diver in Leeds, so it's quite nice to come here, see what the other girls are up to, see where they're at - and that means we've got a bit more of a competitive environment to drive ourselves on with. That's really good."
Away from diving, Kat is enjoying the temporary change of scenery in the capital, where she is sharing accommodation with Lois Toulson and corgi Trixie, a canine companion since the first lockdown in March 2020.
Through it all, the 22-year-old is remaining grateful for the unique opportunity afforded to Britain's elite sportspeople.
"With it being such a difficult time, as athletes I think we were definitely more privileged than most in the fact that we've been able to train, been able to see our close friends at the pool and things like," says Torrance.
"I also got a dog just before lockdown, which is something I've always wanted - and honestly, she has really helped me through all that. It gives you a purpose, to get out walking, to get up in the morning because she's begging you for attention! Some dogs find moves stressful, but not this one! Trixie couldn't care less, as long as she gets fed and gets walked. She's got her priorities right - and it's quite good having somebody to complain to who won't talk back to you!"
Read more on the full, 15-strong British squad heading to Tokyo for next month's FINA Diving World Cup HERE.