Great Britain's divers secured another two bronze medals on a remarkable day at the World Aquatics Championships, with James Heatly involved in a brilliant double alongside Andrea Spendolini-Sirieix and Grace Reid. 
Heatly and Spendolini-Sirieix clinched a dramatic third place in the Mixed Team event on a busy afternoon of finals action, before the Edinburgh Diving Club man then combined with Reid to again soar up the leaderboard with their final dive, grabbing a podium spot to make this the most successful World Championships in British Diving history in terms of medals won. 
On top of silvers for Matty Lee and Noah Williams in the Men's 10m Synchro and Jack Laugher and Anthony Harding in the Men's 3m Synchro, as well as Laugher's individual 3m Springboard bronze, GB now have five medals to their name with four days remaining. Their best ever tally at a previous World Championships was four, in Kazan in 2015. 
The Mixed 3m and 10m Team event was the first of three diving medal contests on Wednesday afternoon, with James and Andrea combining forces to add the first of those two well-deserved bronzes to Great Britain's tally.
With each team member required to contribute three dives apiece, and a minimum of one from both the springboard and the platform, Spendolini-Sirieix and Heatly each opted to complete the required element of their weaker discipline in the first round and produced a pair of pleasing opening efforts.
Reverting back to their forte - Spendolini-Sirieix up on the 10m and Heatly from the springboard - a steady couple of second dives from the duo made sure they stayed in touching distance of teams further up the leaderboard. A flourishing finish was then applied as Dive London's Spendolini-Sirieix produced the best dive of her World Championships, with 72.00 points awarded for her Back 2 1/2 Somersaults 1 1/2 Twists Pike (5253B), only for Edinburgh Diving's Heatly to cap their partnership by taking on the highest degree of difficulty dive attempted in the final, a Forward 4 1/2 Somersaults Tuck (109C), to lift their total to 357.60 and leap into the podium positions.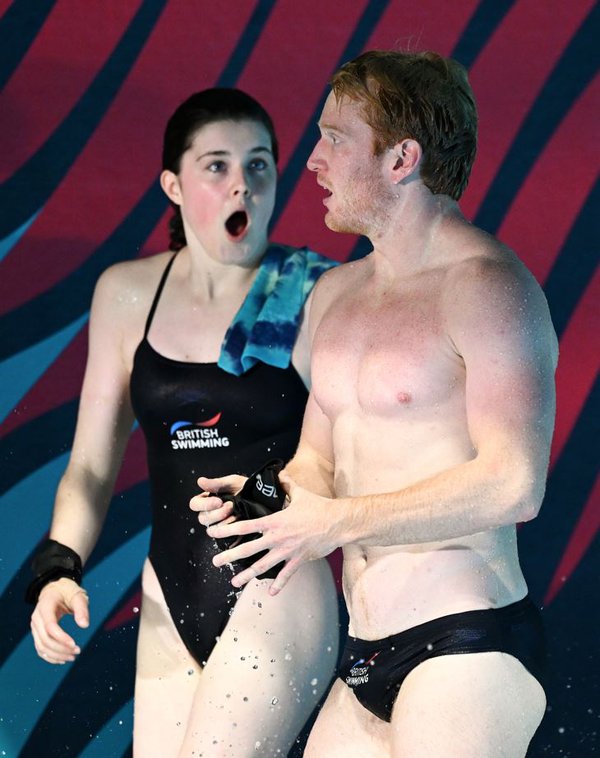 China won-out on 391.40 points, with the French pairing having just edged the British duo to silver by a narrow margin 0.90, however it was happy tears for Spendolini-Sirieix when the result was officially confirmed after a scoreboard malfunction.
"It means a lot, especially after my individual I was really nervous to compete today but doing it with James has made it for me - I'm really happy," she said.
"The event is a little bit different and it was so fun, we were chatting throughout and just competing really well. I'm still learning, I've learnt a lot about my routine here and about how having fun is good in competition."
Heatly added: "This was really special, we were really excited when we found out we were doing this together and with a medal you can't ask for anything more!"
The next showpiece on the Duna Arena schedule was the Women's 1m Springboard finale, which featured Dive London athlete Grace Reid, after a strong prelims performance had seen her go through fourth. Yasmin Harper (City of Sheffield) had also fared well on her World Championship debut, but her score just left her out of qualification through to the final 12, placing 15th. 
Grace found herself 12th in the finals leaderboard after two dives, but quickly set about rectifying that in round three, her Forward 1 1/2 Somersaults 2 Twists Free (5134D) scoring 54.60 from the judges, the third-best dive of the round. Another strong effort in round four, Reid closed it with a brilliantly-executed Forward 2 1/2 Somersaults Pike (105B), counting 7.5s from the judging panel to tally 58.50 for the dive and 257.50 overall.
By that stage, Reid's performance had bumped her up to sixth in the world, a strong showing ahead of the individual 3m Springboard event later in the competition.
Before then, though, Grace had to refocus and was teaming up with the equally-busy Heatly in the Mixed 3m Synchro contest, about an hour after her 1m event was finished. 
A slight drop on their second dive left them down in 11th and with work to do - but the Scottish pair were not prepared to throw in the chamois at that stage. A solid Inward 2 1/2 Somersaults Pike (405B) earned them 65.70 points to move up to eighth, before an even better Forward 2 1/2 Somersaults 1 Twist Pike (5152B) got them right back into contention, courtesy of 69.30 points.
While they sat seventh heading into the final round, the deficit to third was small, and the chance for bronze was still there as they dived last. Heatly and Reid nailed their Forward 3 1/2 Somersaults Pike (107B), the synchronicity so tight that it scored an overall 71.61 points from the judging panel, taking them on to 287.61 overall and leapfrogging Mexico, Germany and South Korea in the process to claim that final podium slot. China (324.15) took gold, with Italy (293.55) in second.
So how did James feel on becoming a double World Championship medallist in the space of one afternoon?
"I wouldn't have believed you if you'd said that at the start of the day! It's been a really exciting day, I've really enjoyed both of my competitions and I can't ask for any more," he said.
As for Reid, there was a sense of nostalgia on getting back on the Budapest podium, half-a-decade after winning silver in the same event with Tom Daley.
"I knew what we had to do with that final dive so I knew it was a big ask, but equally, it was a case of going for broke. I knew my mistakes in the first couple of rounds had cost us, so we had to go for it and it paid off! It was hard to dig deep, but it's not over until right at the end, so I'm really pleased," she said.
"It's funny, because the last time the World Championships were here, I was on the podium with Tom, and then I had James here now. It's such a treat to be up there again, it was very nostalgic and just amazing."
For all results from the World Aquatics Championships, click here. 
Visit our 'What's On?' page here for a full rundown on how you can watch every final from the diving in Budapest.