Current and future stars of British Diving will go up against international counterparts in an exciting new competition as Plymouth plays host to the inaugural Futures Cup later this month.
Athletes representing Great Britain and each of the Home Nations of England, Scotland and Wales will compete with rivals from the USA, Canada and Ukraine across two days of top-level competition at the Plymouth Life Centre over the weekend of 14th and 15th May.
The event - which was devised following the withdrawal of British, US and Canadian teams from December's World Junior Diving Championships, as well as the subsequent cancellation of FINA Diving World Series and Grand Prix contests in 2022 - will feature both junior and senior elements, providing valuable competition opportunities for those who have lacked such moments over the past two years.
It will also allow a range of athletes with chances in the arena to test lists, new dives and the work done in training ahead of a busy summer of aquatics competition, with many eyeing June's World Championships, July's European Junior Championships, the Commonwealth Games or other marquee events. 
Among the standout names due to compete, Olympic champion Matty Lee will dive alongside fellow Olympian Noah Williams in the Men's 10m Synchro, with Eden Cheng and Andrea Spendolini-Sirieix combining in the women's equivalent. James Heatly, Grace Reid and Matthew Dixon are also set to be involved among the senior ranks, with Desharne Bent-Ashmeil, Amy Rollinson and Leon Baker all heading into the event after securing junior titles earlier this month in Southend.
Meanwhile, platform synchro duo Oleksii Sereda and Kirill Boliukh from the Ukraine are set to compete.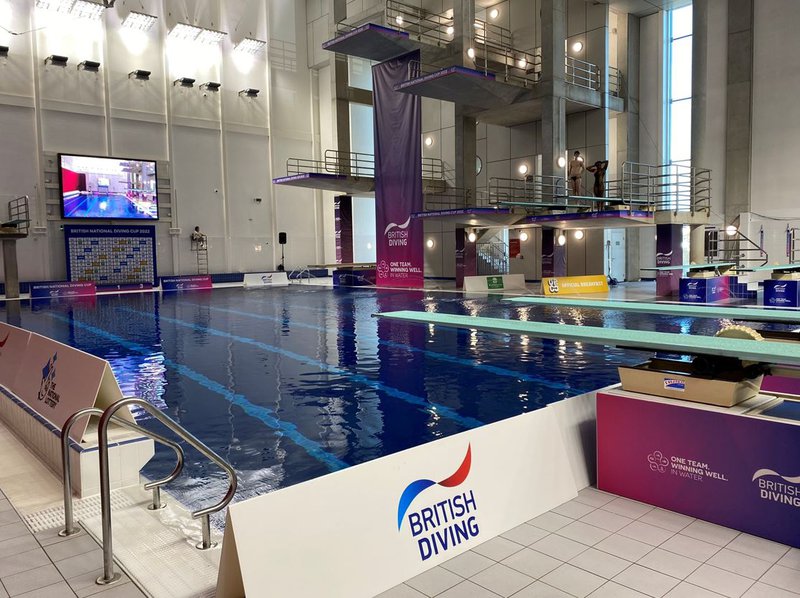 A limited number of tickets are available for each of the six sessions. Click HERE for more information and to book your tickets. Every dive from every session will be shown live on the British Swimming YouTube channel, while regular updates and reports will be across our website and social media pages.
Speaking ahead of a highly-anticipated event, British Diving Performance Pathway Lead Julian Bellan said: "The first Futures Cup is something we have been working on for a little while after seeing some big competition opportunities lost for both our junior and senior divers over recent months. This will be a fantastic event to provide that high level of international competition mid-season, with so many big events to follow before the summer is out. As well as seeing some of our established divers in action, it will be a valuable two days for the next generation of British Diving stars.
"We are so pleased to be able to host friends from the US and Canada teams, as well as Oleksii and Kirilli from Ukraine. The Plymouth Life Centre is always a brilliant host for our national and international diving events, and we look forward to being back there, with spectators back in the stands too."
The Futures Cup will take place a fortnight before the 2022 British Diving Championships, a key selection competition taking place at Sheffield's Ponds Forge (27th-29th May). Find out more about that event - including how athletes can secure their entry - here.
Futures Cup event schedule* 
Saturday 14th May
Session 1
Men's 3m Springboard Prelims (senior and junior) - 9.30am
Women's Platform Prelims (senior and junior) - 10.40am
Session 2

Women's 3m Springboard Prelims (senior and junior) - 12.45pm
Men's Platform Prelims (senior and junior) - 1.50pm
Session 3

Men's 3m Springboard Semi-Final - 4.10pm
Women's Platform Semi-Final - 4.45pm 
Women's 3m Platform Semi-Final - 5.15pm
Men's Platform Semi-Final - 5.45pm
Team Event - 7pm
Sunday 15th May

Session 4
Men's Junior 3m Springboard Semi-Final - 9.30am
Women's Junior Platform Semi-Final - 10.00am
Women's Junior 3m Springboard Semi-Final - 10.30am
Men's Junior Platform Semi-Final - 11.00am
Session 5
Men's Junior 3m Springboard Final - 12.10pm
Women's Junior Platform Final - 12.40pm
Women's Junior 3m Springboard Final - 1.10pm
Men's Junior Platform Final - 1.40pm
Session 6
Men's 3m Springboard Final - 3.10pm
Women's Platform Final - 3.40pm
Women's 3m Springboard Final - 4.10pm
Men's Platform Final - 4.40pm
Session 7
Men's 3m Synchro Final - 6.10pm
Women's 3m Synchro Final - 6.35pm
Women's Platform Synchro Final - 7.00pm
Men's Platform Synchro Final - 7.30pm 
* Schedule correct as of 27th April; changes could be made ahead of the event
Tickets for the event are available HERE