James Heatly made it back-to-back British titles in the Men's 3m Springboard event as a thrilling final provided one of the highlights of a busy day two at the British Diving Championships.
A close-fought morning preliminary hinted at what was to come in a hugely competitive finale - and after qualifying third, Heatly saw Dan Goodfellow and Anthony Harding share the lead after two dives of the final. 
But the Edinburgh Diving Club athlete moved to the top after a stunning Forward 4 1/2 Somersaults Tuck (109C) effort scored him 91.20 in round five. 
That was the highest single tally of the final, and he then held his nerve to take the gold - for a second successive year - with an overall score of 478.50 putting him less than two points ahead of Goodfellow, who claimed silver with 476.75. Ross Haslam rounded out the podium positions with a 445.15. 
So what was it like for Heatly to win out in such a tense final?
"I feel quite tired now, but I'm so happy - I've retained my title, and it's a personal best as well. I can't ask for more at this point of the season. I'm so happy!
"I don't want to watch what anyone else is doing, I don't want to hear what's happening, I don't even like to see what my own dives were. I knew I had done five good dives before my last one anyway, so I was just trying to focus and take it one dive at a time. It's a marathon, not a sprint, so take it slow.
"I've added that triple in at the end, and that was a new dive I only learned in December, so the plan is to keep fine-tuning that and sharpen everything up. Who knows, there might be a few extra things working in the background."
And what could the rest of 2020 look like now for Heatly?
"The Tokyo Olympics is the goal for the year, but we've still got lots to get through. There's some grand prixs this year, potentially the World Cup, but I'm not 100 per cent sure what's going to be decided after this, so I'll have to wait and see and get back to you!"
The Women's 10m Platform Final provided another eye-catching finish, with Andrea Spendolini-Sirieix clinching her first senior national title with a stunning performance.

The Crystal Palace Diving Club youngster impressed in the morning session to top the prelims with a score of 324.00. She went on to back that up brilliantly in the showpiece, saving her best dive for last to record a 78.40  Back 2 1/2 Somersaults 1 1/2 Twists Pike (5253B). 
That saw her take gold with 340.30 overall, with 2019 champion Lois Toulson claiming silver on 318.60 and Robyn Birch bronze with 315.30. 
It was a result that left Spendolini-Sirieix close to speechless.
"I have no words to describe it, I'm so happy! I just thought that if I kept the consistency and I kept going in with entries and having the right mindset, then I could definitely have a chance. Now my aim is to get higher scores and to keep on with the consistency." 
Scarlett Mew Jensen and Maria Papworth Burrel were the latest to defend their British titles this weekend, as they stood atop the podium in the Women's 3m Synchro at the end of day two.
The Dive London Aquatics pair scored 273.30 - including a 69.30 for their Inward 2 1/2 Somersaults Pike (405B) third up - to take the crown.
Italian guests Elena Bertocchi and Chiara Pellacani recorded the highest overall tally of 286.53, while Amy Rollinson and Holly Waxman (240.18) took British silver, with Callie Eaglestone and Evie Smith (231.54) getting the bronze.
On the gold, Mew Jensen said:
"It went pretty well - we haven't trained at all, really. I think we did our first optional together here. Maria has been out a bit because of her back, so to come together like that, we are really chuffed."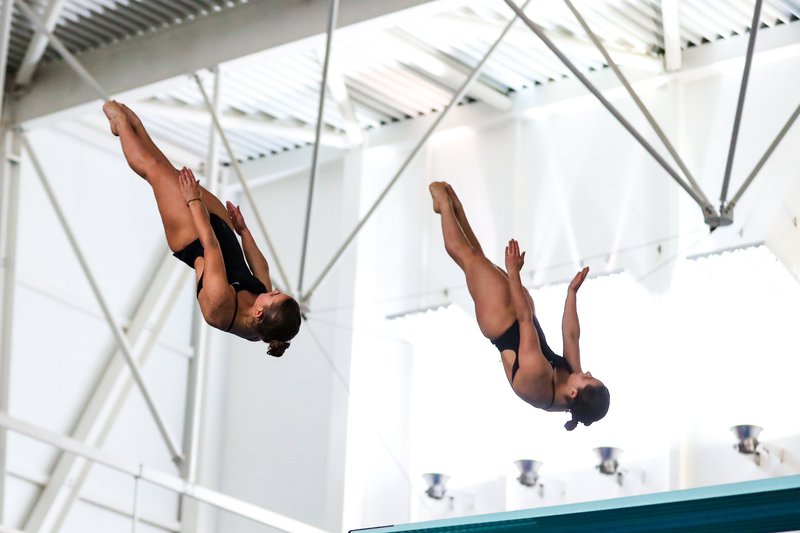 Earlier in the evening session, the Men's 10m Synchro contest was won by Ben Cutmore and Lucas Thomson. 
The pair's best dive came in round four, when they received a score of 71.10 for their Forward 3 1/2 Somersaults Pike (107B) to help them towards a final tally of 353.91. 
Angus Menmuir and Joe Stocking (290.94) took the silver, while Italian guests Andreas Sargent Larsen and Eduard Timbretti (333.57) were second overall.
Both Cutmore and Thomson are competing in the Men's 10m Platform individual event on Sunday - but first there was time for reflections on their synchro win.
"It's our first competition of the weekend, so to open it out with some brilliant required dives and put away the list for the medal is extraordinary," said Cutmore.
Thomson added: "Definitely. There's a few things we could've worked on going forward tomorrow, hopefully we can sharpen up a little bit - Ben's inward, my back bit.
"But our requireds are a really good standard and where they should be at the minute, so we're really happy with the gold medal." 

You can follow live coverage with Deep End Live HERE, plus all the reaction and interaction across British Swimming's social media channels