Jack Laugher earned the third Olympic medal of his glittering career to complete the set by diving to a brilliant bronze in the Men's 3m Springboard final. 
Laugher – who won silver in this event, as well as 3m Synchro gold alongside Chris Mears at Rio 2016 – showed that he was back at his world-class best on the sport's biggest stage inside the Tokyo Aquatics Centre, remaining in the medal positions across the entirety of the contest and finishing on a tally of 518.00 points, behind only China's Xie Siyi and Wang Zongyuan, who took gold and silver respectively.
James Heatly, meanwhile, marked his Olympic debut with a ninth-placed finish in the final as the latest symbol of his ongoing development on the international scene.
After doing the business to ensure safe qualification through the prelims on Monday, Laugher said that his performance had given him confidence heading into 'medal day' of the Men's 3m Springboard – and that seemed to show for both British divers in the semi-finals, with Laugher and Heatly moving into the finale as the third and fourth-highest scorers, including a round-best tally of 90.00 for the City of Leeds man's Back 3 ½ Somersaults Tuck (207C).
For Laugher, that confidence continued to flow into the opening stages of the final, with impressive execution of a Forward 2 ½ Somersaults 2 Twists Pike (5154B) for 85.00 points and a Reverse 3 ½ Somersaults Tuck (307C) for 85.75 leaving him second, splitting Chinese competitors Xie and Wang after two rounds.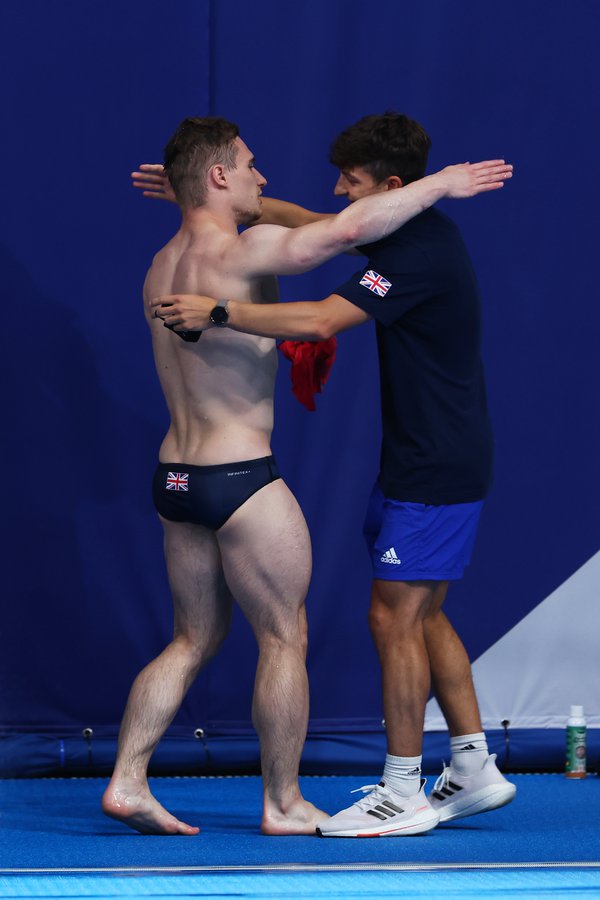 Heatly's start in the final was slightly down on the impressive standards he set in the semi, although a strong Reverse 1 ½ Somersaults 3 ½ Twists Free (5337D), worth 73.50 points from the judges, helped move the Jen Leeming-coached athlete in the right direction up the leaderboard to ninth at the halfway stage.
Laugher, meanwhile, sat in the bronze medal position at that point of an eye-catching competition – and he maintained that top-three berth with another solid Back 3 ½ Somersaults Tuck (207C) effort in round four, earning him 81.00 points.
While world champion Xie moved clear to make sure of gold, the battle for silver got closer and closer as the final dives drew in, with Laugher – who trains under coach Adam Smallwood – delivering his dive of the entire Games in round five, laying down a flawless Forward 4 ½ Somersaults Tuck (109C) to pick up 96.90 points and close to within two points of Wang in second.
An 87.85-point haul for his closing Forward 2½ Somersaults 3 Twists Pike (5156B) dive meant Laugher had done all he could do in his attempt to make it back-to-back Olympic silvers in this event, before he watched Wang do enough with his final dive to ensure it would be a bronze for the Team GB man, completing his full set of Olympic colours. 
And reflecting on his diving journey since the 2019 World Championships, Laugher opened up here about why this medal means more than any previous success so far during a superb career in the sport.
"After the 2019 World Championships and my 207C - my last dive then which is now my fourth dive - going so poorly, it really affected my mental health and wellbeing, I had very little confidence in myself, a lot of anxiety around training and I kept making that same mistake over and over again and had no idea why. I made that mistake while I've been training here, at the European Championships as well," said the 26-year-old.
"It was such a difficult period for me to go through, something I've been so confident in, all my life, to go so poorly so quickly, has really taken its toll. I thought about quitting several times because there are only so many times you can fail and get yourself back up again.
"My friends and my family, my psychologist, my coach have all kept me in one piece, and I think that this medal really feels like it's for them as much as it is for me, proof that I can get through this and I can be as good as everybody on my day. I feel like I'm back, I feel like I'm competing the way I want to compete. There are still some things I want to improve on, but I feel like I've got the confidence and the momentum now to take everything from today and keep going, keep making improvements and hopefully be able to keep up with these guys as well.
"Today, I felt very concentrated on everything I was doing. My mentality, my state of mind throughout the entire competition today, I am so proud of myself and how I've done today. Everything has been really good. I know it's not a gold medal, it's not as good as it was in Rio. But for me, this bronze medal means 100 times more than any medal I've ever got."
Heatly was unable to quite replicate the stunning quality of his semi-final dives to be in medal contention. Still, he pulled out an impressive 85.50 points with his fifth-round Forward 4 ½ Somersaults Tuck (109C) to secure a top-10 finish at the first time of asking in an Olympic Games final, following on from a silver at the World Cup in the same venue earlier this year.  
It was truly valuable experience for the Edinburgh Diving Club man, who was following in the diving footsteps of grandad Sir Peter Heatly, who competed at the 1948 and 1952 Olympic Games.
"For me, the goal was to make the team and then try to progress through the rounds, and that's what I did. I'm really proud and happy about that, but it's frustrating because there's definitely a lot more in the tank. The pros outweigh the cons. I'm not quite sure what the lessons are right now, it's a bit raw. Sometimes you win, sometimes you learn, and today I'll definitely learn," said James.
"It was a bit of a shame to leave the Heatly clan back home, but I definitely feel like he [grandad Sir Peter] was there with me on poolside.
"It's amazing for Jack, I'm so happy for him, he's been so great, taking me under his wing and guiding me through the last few years. To just be a part of this experience for him, let alone for myself, is great."