Jack Laugher made it a brilliant hat-trick of medals for himself and moved Britain's tally on to an eye-catching six at this year's World Aquatics Championships by claiming silver in the Men's 1m Springboard.
The City of Leeds man had not competed in a Worlds event from the lower springboard since 2013, but there was no rustiness from the 1m height as he carried his form from silver in the Men's 3m Synchro and bronze in the 3m Springboard into another day of competition, delivering again in a fierce contest with the Chinese duo of Wang Zonyuan and Zheng Jiuyuan early on, before the former pulled clear and the latter fell away. 
It was an impressive performance that began with a fightback in the prelims. Laugher was 37th after two dropped dives early on in that qualifying stage, before showing his class and resilience to climb the leaderboard and qualify ninth.
That meant he would dive early in each round of the final - and he used that placing to lay an early marker down, starting strongly with a 72-point score for his Back 2 1/2 Somersaults Tuck (205C) before nailing a reverse version of the same dive, receiving all 8s and 8.5s from the judges to score 78.40 points there.
A lower-tariff dive in round three was also expertly executed to ensure more big scores from the judging panel, and a dropped dive from Zheng saw Laugher climb from third to second at the halfway stage. 
The triple Olympic medallist was not about to let that position go, and characteristic consistency on his Forward 2 1/2 Somersaults 1 1/2 Twists Pike (5152B) and Forward 3 1/2 Somersaults Pike (107B) with his final two dives secured Jack an overall score of 426.95, adrift of Wang's stunning 493.30 but well clear of the 395.40 that Australia's Shixin Li scored for bronze.
Remarkably, this is Laugher's third medal of the meet and his seventh overall at World Championship level. No GB diver has won three in a single Worlds before, nor have they got as many as seven to their name. More importantly, though, it was an experience that the 27-year-old was able to truly enjoy.
"Usually I suck at 1m at World Championships! Back in 2011 and 2013, I don't think I was anywhere near the final, so it's refreshing to come to a World Championships, I'm a bit older and more experienced now, and come away with a medal, I'm really pleased," he said.
"I've overcome quite a lot of stuff, and I think I'm still really nervous when I compete and there are things I need to work on still - but in comparison to where I was last year, I just feel like I'm enjoying my diving again. Now, I feel great and I'm really enjoying it.
"Today, that battle was great. I was never going to catch him [Wang], that's probably a world record, the guy is 21 and he's insane. But I'm super pleased with myself and how I've done, and three medals is great."
Laugher was joined in the 1m Springboard prelims by Jordan Houlden. Jordan is competing at his first World Championships, in comparison to Jack's sixth - but his run to the final of the 3m event showed his quality nonetheless.
Off 1m, he began the prelims strongly, with excellent Back and Inward 2 1/2 Somersault Pike efforts putting him fifth at the halfway stage of his session. A dropped dive in round four ultimately saw him drop outside of that all-important top 12, with the City of Sheffield man ending 18th.
"I felt pretty good with five of the dives, the reverse wasn't as great as I thought it'd be. I'm definitely getting more experience, dealing with different issues each time, I'm getting there," said Houlden.
"It's been incredible being part of this team, watching everyone get their medals, I've been quite emotional. It's quite an experience, it's really special."
Earlier in the afternoon, Robyn Birch and Emily Martin contested the Women's 10m Synchro final. The Dive London Aquatics pair had got their World Championships campaign underway in the morning's prelims, placing seventh at that stage in their first major international outing as a duo.
The final began well, two solid required dives seeing improvements from the prelims, before brilliant synchronisation on their third-round Forward 3 1/2 Somersaults Pike (107B) scored 63.00 points from the judges, leaving them only five points off the podium places.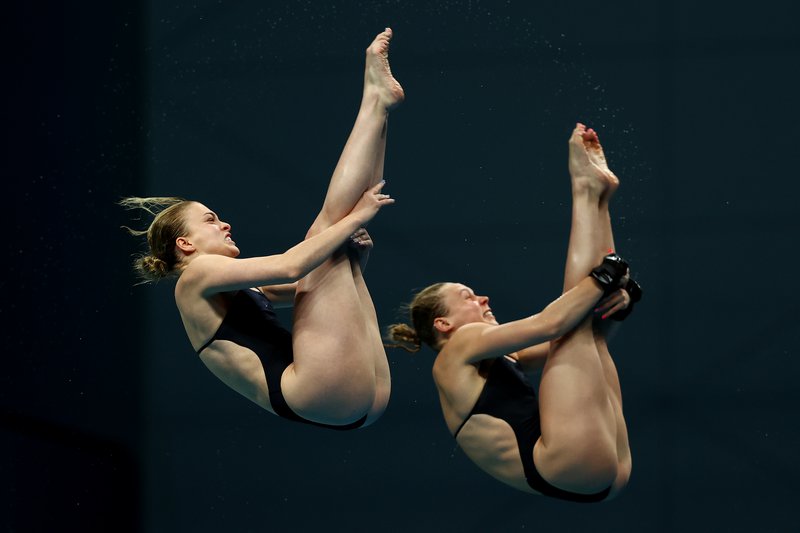 Unfortunately, Birch and Martin could not replicate the quality of their Inward 3 1/2 Somersaults Tuck (407C) from the morning, dropping 15 points from that earlier effort and slipping away from medal contention, ultimately finishing ninth.
"It wasn't the performance we were hoping for in the final, but overall, it was a good experience and there's lots to learn and to take away," said Worlds debutant Martin.
"It's my first World Championships, so it was exciting to be out there, diving with all these other countries - and we've got a big summer ahead of us, so we can keep pushing on and I'm looking forward to that."
Birch added: "It gives us motivation to work harder, to work on the things we need to. Looking forward to that busy summer, it's exciting that we can get back together in London and work really hard." 
For all results from the World Aquatics Championships, click here. 
Visit our 'What's On?' page here for a full rundown on how you can watch every final from the diving in Budapest.