Great Britain ended the European Championships with their best ever diving medal haul as Jack Laugher and Anthony Harding together took 3m synchro gold, with Noah Williams and Ben Cutmore adding a silver and bronze apiece from the platform.
With six gold, three silver and three bronze medals from 13 diving events at the 2022 European Aquatics Championships, Great Britain surpassed its previous best total medal haul of 11 achieved at London 2016. Three medals, one of each colour, in the final session of Diving in Rome also meant the team had the honour of lifting the points trophy after topping the overall medal table.
New European champions, Laugher and Harding, only formed as a partnership at the start of 2022 season and it's proved to be a fruitful combination. After securing a silver medal at the world championships on their maiden international synchro outing in June, the duo went on to win Commonwealth gold in front of a home crowd just over two weeks ago.
In Rome, the Leeds Diving pair got off to an excellent start in the Men's 3m Synchro by landing two polished required dives and a Forward 2 1/2 Somersaults 2 Twists Pike (5154B) to take them to a leading score of 183.48 at the halfway mark.
A slight drop in the execution of their fourth dive saw them briefly slip into second. With the pressure of the leaderboard having closed in around them, the world silver medallist responded brilliantly with their subsequent Forward 4 1/2 Somersaults Tuck (109C) dive adding 84.36 points to their tally as they re-established their place at forefront of the competition.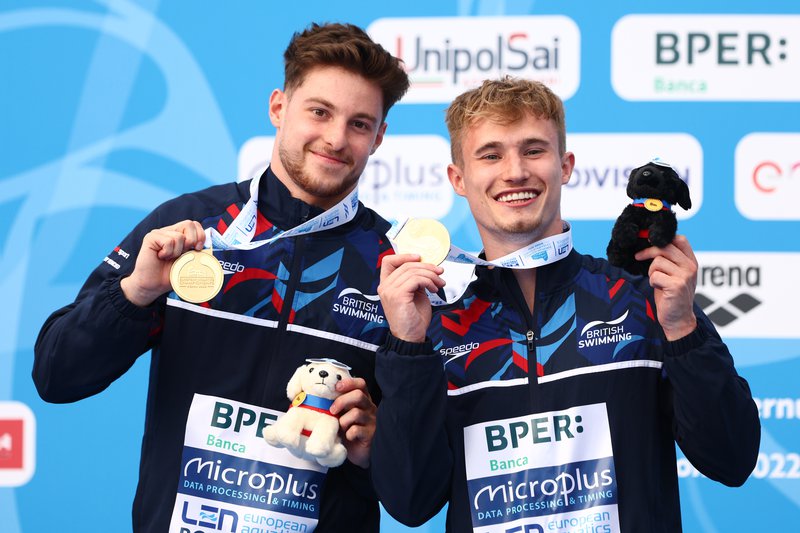 The gold was then cemented beyond doubt with a Forward 2½ Somersaults 3 Twists (5156B) - their hardest degree of difficulty dive taking the British duo up to an unmatched 412.83.
"I'm really proud of our first year together" said Laugher
"We know how good we can be when we train at home and can see how good it looks on the TiVo feedback system and in video's from our coaches - it's one thing knowing we can do fantastic things but for us it's really important we go out there and show it as a new pairing for the judges to see. I think the world is talking about us which is definitely exciting.
"It's been a strange year in the sense we'd normally have World Series or grand prix. Instead we've just had three major events which is just very difficult. For our synchro world champs was the big one, we tried to peak for that and gave the Chinese a run for their money but I'm really proud of what we've done. Three performances over 400 points for us which is a milestone we wanted to try and achieve, and three medals from three in synchro is obviously fantastic."
Harding, who had patiently waited all week for his chance to compete said:
"I found I was training alright at the start of the week and trying to keep on top of everything and then today it was tough before the event [in training] which caused a few nerves. I was struggling a little bit with the spotting in the clouds but thankfully it lightened up a little better for me during the event."
"Mostly I'm super proud of Jack after yesterday, he still did great yesterday for me, but to come out and do the same dives he dropped and to do them a lot better shows his class. I think I can say I'm genuinely over the moon with all three competitions we've done this year – I don't think it could have gone any better and I'm super happy to be diving with Jack for the next few years building towards Paris."
A Men's 10m Platform classic played out in the curtain call contest at the Foro Italico, with Dive London's Noah Williams and Ben Cutmore celebrating a stunning silver-bronze result behind Ukraine's Oleksii Sereda.
Williams was top after two dives, thanks in part to a magnificent Inward 3 ½ Somersaults Tuck (407C) that saw straight 8.5's to count from the judges, but his third round effort failed to impress and a surging Sereda (UKR) took advantage.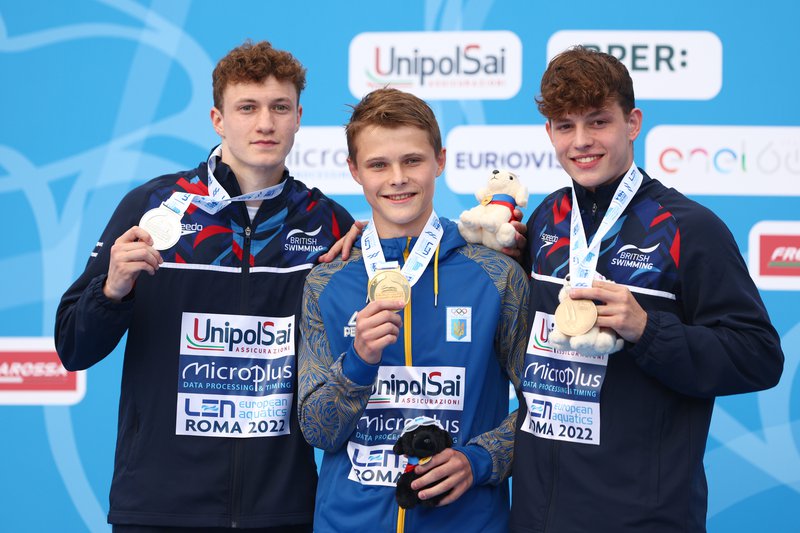 Not letting the contest slip away from him without a fight, Williams conjured up 86.40 points in response on his Armstand Back 2 Somersaults 2 1/2 Twists Free (6245D), but ultimately the 16 year-old Ukrainian was just too good on the day and was even shown the only ten's awarded to any diver at these European Championships with his final dive.
Of his season ending silver medal performance, Noah Williams said:
"I'm really happy with that at the end of a really long and hard season. It's probably been my most successful season [to date] but it has been hard mentally - I'm glad to have got through it and end on a high result.
"It's not easy going from major to major. My sights were mainly set on the world championships and then after doing well there my motivation did dip. At the Commonwealth Games because that was a home crowd it really did help me and then I knew it was one final push for this competition."
Meanwhile Cutmore is to be credited as the most consistent diver of the medal contest, not seeing a judge's mark of below a seven count towards his scorecard across the six rounds.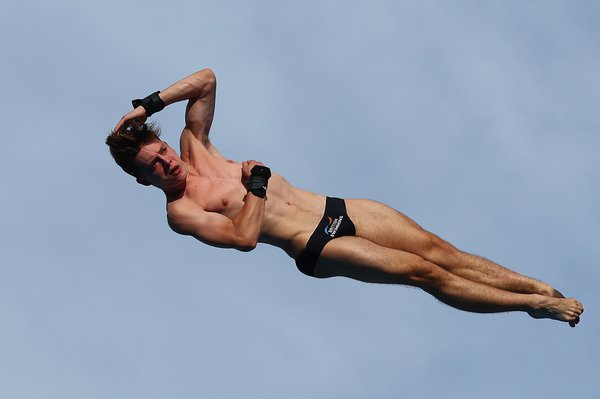 As a result the Cambridge-born diver kept himself in the running for the medals despite his lower tariff list and was only 0.30 points away from the podium places after four dives. Andreas Larsen (ITA) had been managing to keep Cutmore out of the bronze medal spot, however a subpar fifth dive gave Friday night's Men's 10m Synchro champion his opportunity to move above him and then some, as Cutmore closed his list with his best effort of the evening - earning 76.80 points on his Back 2 1/2 Somersaults 1 1/2 Twists Pike (5253B) – to put a good amount of daylight between himself and the Italian on the way to recording his first senior international individual medal on a final tally of 438.35.
"This week gets more and more surprising that's for sure." said Ben with a big smile on his face,
"Not much really I can say other than I didn't know I was doing the individual event until last week, so currently up until this point I'd only been training my synchro dives. So to jump back in the pool this week and do my Reverse and Handstand dive was quite daunting at first, but after I got acclimatised and comfortable with the pool then I was feeling confident in myself and was just going to come out here today and have a blast.
"This individual medal is something I obviously wanted to do, but it's something I never thought I'd be able to do this early on in my career."
Full results from the diving at LEN European Aquatics Championships can be found here, with full details of where to catch up on broadcast coverage via BBC iPlayer here.