The London 2012 Olympic Games were all about "inspiring a generation" - and Adele Stach-Kevitz played her own small part in ensuring that inspiration could take place. 
So after leading the organisation of the Games' transport business and LOCOG's accessibility work, Adele then wanted to put something back into British sport. 
As a co-patron of the Newham and Essex Beagles - the athletics club of Sir Mo Farah and Christine Ohuruogo - a former hockey player and a 12-time London Marathon finisher, the world of aquatics may not have seemed the most likely place for Stach-Kevitz to make her mark when she became an Independent Board Director on the British Swimming board a year after London, in 2013. 
But she has a great explanation for exactly why she values her position so much and why it makes sense, as part of our latest feature in the Women In Water series. 
"I'm one of the four independent board directors - and I was recruited then specifically for not having an aquatics background, to help bring some other perspectives to support the board," she says.
"For me, it was about wanting to put something back into the sport, and having seen the great athletes and stories of the past in Britain's aquatics teams, I really wanted to join the board when I did."
Adele's responsibilities include a position as Diving Liaison - more on that later - and the board's Equality Lead, where she works to ensure greater inclusivity, accessibility and opportunities across aquatics, knowing the positive impacts such increases could have at the very top end of the sports in the long term. 
You do not need to speak to Stach-Kevitz for long to understand just how passionate she is about equality in the world of sport and beyond. 

"The key is that we really need to make sure we discuss everything that is relevant, important and a priority for sport now," she explains about her Equality Lead role.
"I feel that aquatics offer such wonderful sports, life skills and opportunities for people to excel – and even become elite – through the disciplines we offer, so we need to work harder to make them accessible.
"Accessibility, for me, is less about the physical and more about the attitude, economic and the mental side of feeling welcome across our sports. If we look at the sport at large and where we have ambitions for it going forward, we will achieve far more if we have a broader church of participants and advocates within the aquatics world.
"When you see the success of open water swimming and mass community swims, and you see the age mix in local swimming pools with the various classes they have to make people feel more comfortable, people who might feel themselves not to be a sporty person but who love and feel happy in the water, I think it's really important that we work closely with our Home Nations to find ways to bring more people into the sports. Then, wearing my British Swimming hat, we will be blessed with a deeper, richer pool of talent to select from.
"We have such a great series of chapters of success in swimming, para-swimming and diving. As diving liaison for the board, I've been fortunate, every year, to go to our annual British Diving Championships. Despite having a much smaller number of athletes than in the swimming and para-swimming programmes, to see the volume increase of young athletes who want to take part, and to see the widening age range that we have, we are certainly making an impression there.
"But it would be wonderful if we could open up the sports to show a wider demographic and diversity at our elite level. It is happening at a junior level, and I am really hopeful that over time, we are going to see that start to push the ceiling in the podium-level athletes and our British teams, so we will see a broader lens of society in all our disciplines.
"We are getting better. We are not brilliant, but we are getting better. The most important thing is that, as a board and as a sport and as a National Governing Body, we really care about it.
"We can always do more. The point for us now is to make sure we do the right things, in discussion with the communities that we want to be better engaged with - and that is really key for me, that we do things first by listening.
"So what we are doing as a board is we are really listening hard to the messages that are being played out in other sports and being played out in other boardrooms. First and foremost, we are daughters, sons, parents and grandparents, so we are also part of the community and we are just trying to find ways that we might be able to make our offering more accessible for everybody who wants to be part of aquatics in the British Isles."
Adele - whose other areas of work have included advisory roles during the Olympics and Paralympics, including for the IPC - had extensive boardroom experience even before her seven years and counting with British Swimming, having spent a stint as chairman of Taekwondo Organisation Limited [TOL]. 
When looking back on her past decade in such senior positions, she is in a good place to comment on how the representation of women in the highest sporting roles has changed. It has progressed, as she acknowledges - but that does not mean there is not a way to go yet. 
"I was the chairman of TOL, and I've also been a board director of the British Athletes' Commission, so those are two areas I've supported," she adds.
"With taekwondo, I was one of very few female board members in martial arts at the time, and it was also quite novel for me to be the chair. I would often go into rooms where I was very much in the minority, and I'm quite a passionate advocate of looking for better balance and better inclusion within sport.
"In my time as a sports board director over the last nine or 10 years, I think the first observation was that women just didn't have sufficient representation.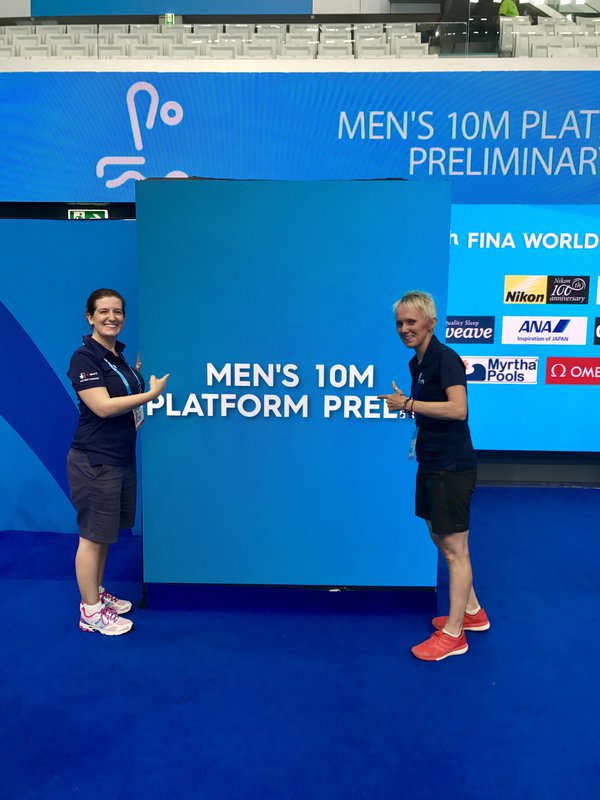 "The second one was that, because of that, it always felt a slightly harder role to play, because you were acting as a bit of a role model for others. In the early days, you were very conscious that you had other people watching and hoping you could be successful so there was something for them to follow.
"Then, as more diversity - and not just in gender, but age, ethnicity, religion, sexuality as well - started to appear on boards, and the government had a mandate to bring about a 30 per cent female representation to sport boards, then I noticed that conversations around the board table changed, and perspectives widened, because we actually then included a broader cross-section of society.
"An improved quality of conversation was there because we were a more reflective representation of society." 
As a diving liaison to the British Swimming board, Stach-Kevitz's position is not only confined to the boardroom or office space. 
A regular at the British Diving Championships, she can reel off a long list of home-grown highlights that she has been fortunate enough to witness in the flesh. 
Two, though, warrant particular explanation from this passionate supporter. 
"I honestly have loads, but I'll give you a couple. We had highs and lows in Rio de Janeiro four years ago, and one of the massive highs for me was sitting with Jack Laugher and Chris Mears' families as they were shaping up to for a medal as the rounds got nearer to the final stages in the Men's 3m Synchro," she recalls.
"It certainly wasn't traditional Brazilian weather. It was blowing a gale, it was raining, windy - it was really awful outside weather to be diving in the most important competition of their lives. 
"They had nerves of steel. What I saw was two men grow, round by round, in confidence and ability, while nations who were expected to succeed and find it easy crumbled under pressure.
"There was a piece of BBC footage, I think, of Jack's mum collapsing in my arms as Jack dived on to Chris in that wonderful celebration embrace of his after they won the gold.
"So that was a high point where lives change - and they change because two athletes and the coach and the system and all of our wonderful team had prepared them thoroughly for the biggest day of their lives, and they performed under pressure better than any of the other nations that night.
"Then, fast forward to the following year, and I was in Hungary for the World Championships in 2017. Tom Daley had a mixed Rio. Taking the bronze in the Men's 10m Synchro with Dan Goodfellow, after they'd only been diving together for 18 months, was phenomenal.
"But as he said, the individual event didn't go to plan for him. But he was able to put that to the back of his mind, go to Hungary for the World Championships to take on one of the Chinese divers who was diving sensationally - and Tom dived supremely and won the World Championship gold.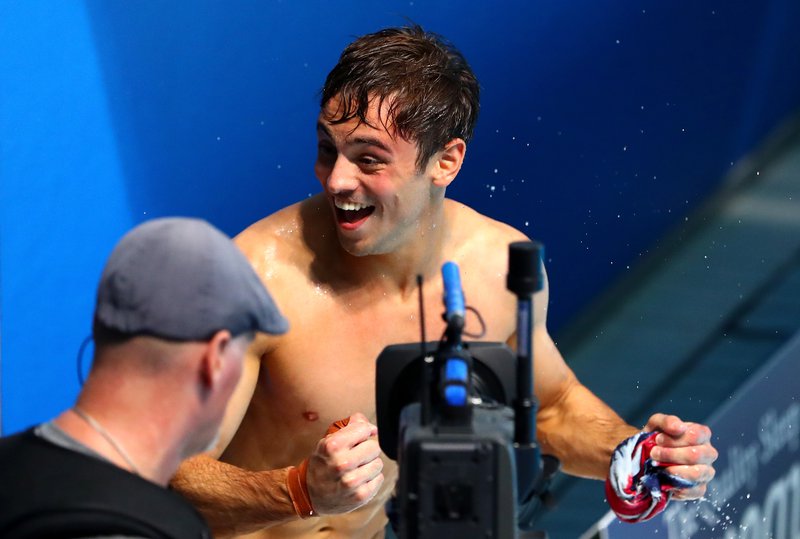 "That, for me, was a beautiful indication of a person who is so talented that they can put adversity behind them and show their brilliance on the biggest stage.
"I have to say, those two moments - and many more I can only quote from diving - told me just how blessed we are with talent, both in our athletes and in our coaching and performance teams." 
Adele is hopeful of seeing plenty more such golden highlights in the coming years, and that is one of her motivations, with the British Swimming board, for continuing to drive for increased equality, diversity and inclusion in aquatics. 
Another is even more wide-reaching.
"My real passion, once we are able to engage with the communities - we had loads of plans before lockdown landed - is to get out and listen to the parties who want to get into our sport, and then set up the mechanisms that will allow us to listen better, more frequently," says Stach-Kevitz.
"I'm not all about medals. I love the success, and there's nothing that brings me more joy than to hear my national anthem when I'm at events.
"But I also support the success that means we can be celebrated as a sport that is there and open to all. That's the message for me. We've got a way to go, but we've got a passion to get there."
* Following a British Swimming Equality, Diversity and Inclusion survey being circulated in June, an EDI action plan was recently produced and has been approved by the British Swimming board.
You can read through each of our previous Women In Water features HERE.