Home favourite Matthew Dixon broke the 500 point barrier for the first time to claim the Men's 10m Platform title and bring the British Diving Championships to a breathtaking close in Plymouth.
The Plymouth Diving athlete showed brilliant consistency and poise to put himself within touching distance of the 500 mark ahead of his final dive, thanks in part to a score of 92.50 for his Forward 4 1/2 Somersaults Tuck (109C) fourth up.
With that target and the British crown in his sights, Dixon scored 76.80 with a Back 2 1/2 Somersaults 1 1/2 Twists (5253B) to finish with an overall tally of 503.85, to a crescendo of noise billowing down from the stands. 
Dive London Aquatics' Noah Williams took the silver with a highly-competitive 483.00, having received the only 10 of the weekend when he registered a 91.80 for his Reverse 3 1/2 Somersaults Tuck (307C). Bronze went to Williams' teammate Ben Cutmore, who also claimed the junior gold.
So how did it feel for Dixon to break that elusive 500 mark? 
"I can't really put it into words right now! I wanted to get that 500 and it was my dream to get that 500 and so I'm so happy to get it today.
"I just took it dive by dive and it paid off. It was so hard to compose myself – I was so nervous, especially following Noah who did insanely well. His dives were incredible and he was so close to me, but as soon as I hit the water on that final dive I knew it was a good dive and I took the win! 
"Home crowd, home pool, it's just incredible. The atmosphere was insane and I can't thank everyone enough for being here and cheering me on – it was so good.
"This is an amazing start to the year and I'm hoping to get selection for the World Cup now and if so I'll hopefully do well there and then potentially get selected for the Olympics, which is the ultimate dream." 
In Sunday's other final, Maria Papworth Burrel made it double gold for the weekend as she claimed the first individual British title of her career in the Women's 3m Springboard, having already won the 3m Synchro on Saturday alongside Scarlett Mew Jensen.
Papworth Burrel opened with a score of 64.50 for her Inward 2 1/2 Somersaults Pike (405B) and went on to record three successive scores of 63.00 from her last three dives to reach the top of the podium on 309.30. 
Italian guest Chiara Pellacan finished as the overall leader with a score of 318.85, with Sweden's Emma Gullstrand third on 305.10. British Championships silver went to Grace Reid (302.25), while Mew Jensen (299.10) claimed bronze to make it a one-two-three for Dive London Aquatics.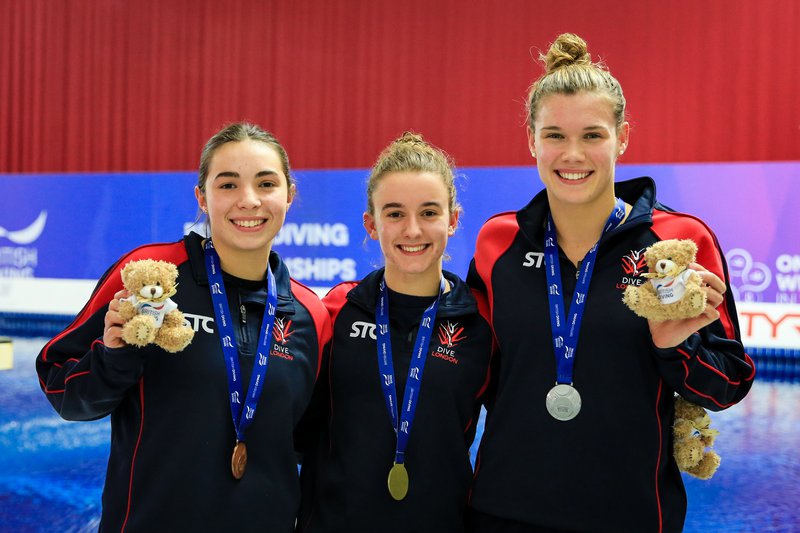 Afterwards, Papworth Burrel explained why her win was such a pleasant surprise. 
"I'm ecstatic! I wasn't expecting this at all. I haven't had the ideal preparation - I had back injections just before Christmas, so to get this is an absolute shock to the system.
"It's just come from overall confidence. More reps and sharpening my entry, it's that sort of stuff." 
And what about sharing the podium with Mew Jensen for a second time in the weekend?
"Yeah, we really enjoy synchro because it's a break from individuals stress. It's nice to have someone who's basically my best friend, and we'll hopefully be carrying on through this season."
For full results from all the weekend's action can be found here. 
For more reaction from the British Diving Championships head to British Swimming's social media channels - and you can relive all the session coverage with our Deep End Live playlist.