Noah Williams and Matty Lee played their part in a thrilling Men's 10m Platform final to bring the curtain down on the World Aquatics Championships in Budapest. 
Day 16 at the Duna Arena – at a World Championships that have brought a historic six diving medals for Britain, as well as five swimming medals and a clean sweep of finals for the artistic swimming team – also saw Desharne Bent-Ashmeil and Amy Rollinson make their senior international debut as a pair in the Women's 3m Synchro.
With the men's platform contest taking centre stage as the closing act on eight days of world-class diving competition, platform synchro silver medal pairing Lee and Williams set to task on showcasing their best individual performances from the boards.
Having professionally navigated the qualifying rounds on Saturday, the Dive London duo both opened up their respective lists with a solidly executed Back 2 1/2 Somersaults 2 1/2 Twists Pike (5255B) apiece, as the scores of the opening round set the final off at an incredible pace.
Williams followed that up with an exquisite entry on his lowest-tariff dive in the second round, unzipping the water as he landed 81.60 points for his Inward 3 1/2 Somersaults Tuck (407C).
By the halfway stage, it all remained to play for and while Williams' consistency continued to place him on the fringes of the podium positions, Lee began to find his groove in rounds four and five with back-to-back 80-plus dives to line up a grandstand finish to this hotly contested final.
Symmetrically, with the British divers having opened on the same dive, they both closed out with a Forward 4 1/2 Somersaults Tuck (109C).
Sitting just eight points off the bronze as he skipped down the runway to spring into his final take-off, Williams mustered up a dive from the top drawer to the tune of 86.95 points – his best across all stages of the competition – to put the pressure on for those to come. Ultimately, such was the quality that followed, the 22-year-old was nudged down to fifth overall, but took great heart from being just six and a half points off the medal places with his score of 479.05.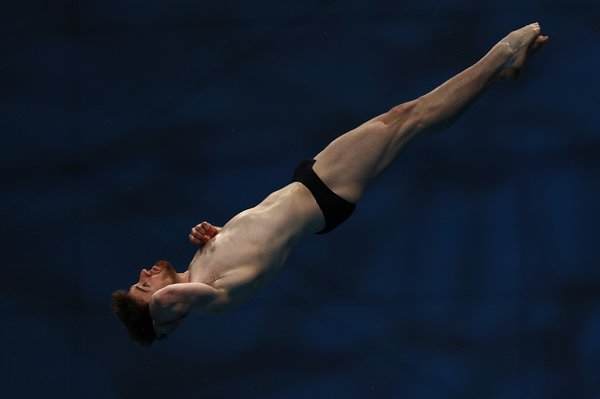 "It'd be easy to say I'm disappointed, being six points off a medal - but realistically, if you'd told me I'd come fifth before I came out here, I'd have been thrilled so I'm really happy," he said.
"It was a really solid performance today. None of my dives were spectacular, but they were all consistent and solid, so I'll definitely take it.
"I wouldn't really say that this competition has been my peak, but we were definitely trying to peak for it. So hopefully for those next competitions, we can try some other techniques and see if they work."
For Lee, it was not quite to be on dive six - unable on this occasion to replicate the magical last dive that sealed his national title in May, the Olympic champion threw a lot of energy into his final effort and found himself over rotating on entry.
The foundations of his earlier dives, however, meant Matty still finished in a highly respectable eighth place with 426.15 points to his name, as he looks to build back into the individual arena after such immense success as a synchro-focused diver in recent years.
"I'm really happy with everything. It's my first individual final for a long time, so I'm happy to get there - but I managed to keep my nerve in the Olympics on that last front dive, I just couldn't do it today unfortunately," he said.
"It was tough, but it is what it is. It's my first year coming back into individual, my pre-season wasn't a full pre-season. I am happy, I will be happy, I just have to let this disappointment fade out."
Earlier on the final day of action at the Duna Arena, Desharne Bent-Ashmeil and Amy Rollinson made their senior international debut in the Women's 3m Synchro contest.
The pair had to wait through seven days of diving to get their programme underway in the morning's prelims, with their fifth-round Forward 2 1/2 Somersaults 1 Twist Pike (5152B) scoring 57.60 points on the way to a qualification tally of 247.80.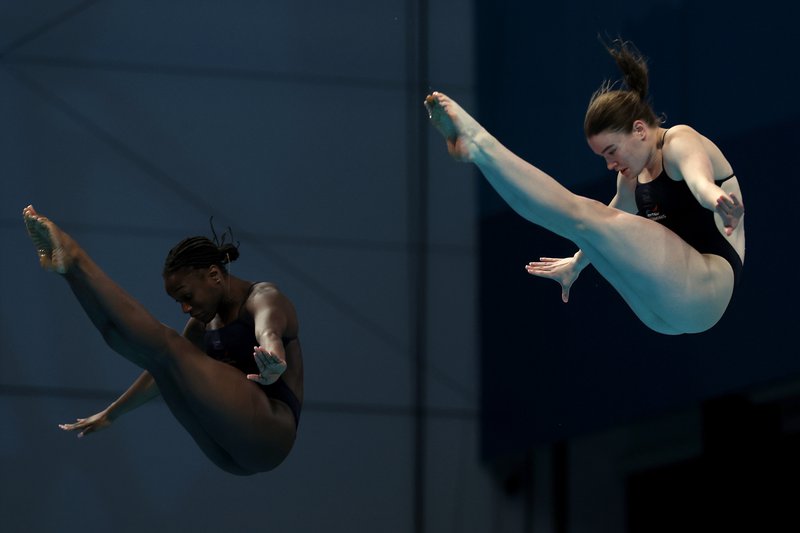 In the final, the pair began with a strong opening required dive of Forward 1 1/2 Somersaults Pike (103B) and delivered another solid effort in round two, a Reverse Dive Pike (301B).
Their third-round Inward 2 1/2 Somersaults Pike (405B) was an improvement on their morning score, earning 54.00 points. In round four, Amy did well to rescue a lopsided take-off as the pair earned 55.80 for a Forward 2 1/2 Somersaults 1 Twist Pike (5152B), ultimately closing on 248.40 after five dives to place ninth in the world.
Reflecting on the performance, Amy said: "I feel like our prelim was just about us getting used to competing, because we haven't competed that much anyway, let alone at international level together.
"Then in the final, we just tried to have a bit more fun and try to execute our dives as well as we could. We're not happy with all of it, but we know where we can improve it moving forwards."
Desharne added: "This has been a really good experience, and we know what we can learn from now. It's going to be a really valuable experience because we have the Commonwealth Games in a few weeks, and so this competition has given us a good run-in to that."
For all results from the World Aquatics Championships, click here. 
Visit our 'What's On?' page here to catch up on the reports from every single day of swimming and diving.