In many ways, the 2023 World Aquatics Championships were a success for the British diving team, with the group taking three silver medals over the course of the competition, including two medals in women's synchro events – the first for Great Britain in the history of the competition.
The Women's 10m Synchro event saw Andrea Spendolini-Sirieix and Lois Toulson add to their European gold medal the previous year to take the second step of the podium on the world stage. However, it was the Women's 3m Synchro competition that perhaps made the more intriguing story – with Scarlett Mew Jensen and her partner Yasmin Harper both taking their first medals at a World Championships.
The pair fended off challenges from a handful of nations who were in and around the medal places as the rounds progressed; rounding off their five dives with an Inward 2 ½ Somersaults Pike (405B) to secure them a place in history.
For 21-year-old Mew Jensen, it's the latest chapter in a story which has had a number of highs and lows, including an injury which kept her sidelined for the majority of 2022, since her maiden senior international outings in 2017 at the World Grand Prix series.
"I think this this past year has definitely exceeded my expectations", said Mew Jensen when speaking after returning from a hectic summer. "I can't speak for Yasmin, but I never really imagined that whole medal thing would happen, I think obviously you always dream about it and it's like the ultimate goal. 
"Even a bronze was the goal but a silver is an even bigger thing - so it was pretty unbelievable. We then barely even had a holiday; going straight to Berlin (for Diving World Series final), but after that we had the time to process it and I still haven't really done so.
"I came back to training thinking 'wow, I'm a world medallist', which is really bizarre to say."
Mew Jensen's time in Fukuoka for the World Aquatics Championships last summer wasn't the first time she had competed in Japan, with her most notable appearance coming at the Tokyo 2020 Olympic Games two years prior.
With that competition having been in a "behind closed doors" environment, this had been the first time where the majority of the athletes were able to experience an authentic competition in the region.
"It was really nice to see bits of Japan. Obviously when we went to Tokyo we didn't even wander outside the border, so it was nice to feel as though we weren't stressed, so it was really relaxed and much more normal.
"I've known a lot of the team for a really long time. So it's kind of like you're going away with your mates and getting to travel around and do what you love to do, so I can't really complain when it comes to that."
As the divers from different training programs tend to cross paths infrequently, their pre-competition camps are of high importance to build morale, increase team cohesion and enhance performance. Prior to the World Championships, the divers took part in a pre-camp in Singapore, which meant that they were away from home for several weeks. Mew Jensen gave a bit more insight into how that affected her, the state of the team as a whole, and what the experience was like.
"It couldn't have gone better. We travelled for hours and obviously we had the pre-camp beforehand - I can't speak for everyone, but that was a long pre-camp and before it dragged out and we kind of got to Japan and we were like 'we actually have to compete now', so I think that was that was a it was a quite a tough thing to get over.
"We then got to Japan and it was a case of starting again. It was a great trip overall though, but just a long time to be away from home; I think we all handled it in a very good way.
"The morale can't really get better. Not that we compare ourselves, but I think that we are one of the closest-knit teams in the world. The dynamic is just so perfect. Regardless of us not all training out of the same centres, we still managed to have a close relationship with each other. It's almost like a family dynamic between the coaches and us as well. We're all friends and we just gel very well together. "
Although Mew Jensen does compete individually, much of her success has come with her synchro partner, Yasmin Harper. With Mew Jensen training with Dive London, and Harper at City of Sheffield, she explains how their partnership came about and how they manage their training schedules to ensure that they get the best out of each other when they do come together.
"We've been friends for a really long time, whilst also doing synchro together in the past", Mew Jensen said. "The added friendship we have helps massively, especially just knowing that you have somebody.
"The friendship side is just so important for me. She's slightly older than me, so I kind of I look up to her and I think we learn from each other, with the most obvious example being me having gone to Tokyo, so I think I can hopefully help her too.
"It can be a bit difficult (to find the time to train together). Normally how it works is that I will go to Sheffield, then she will come to London for a couple of days at a time, which again is not as much as other pairs and it's not as much as past pairings have done.
"Seeing people like Tom (Daley) and Matty (Lee) training alongside each other makes me think 'is it enough?', but I think for us it works right now and closer to competitions, we'll have a lot longer with each other."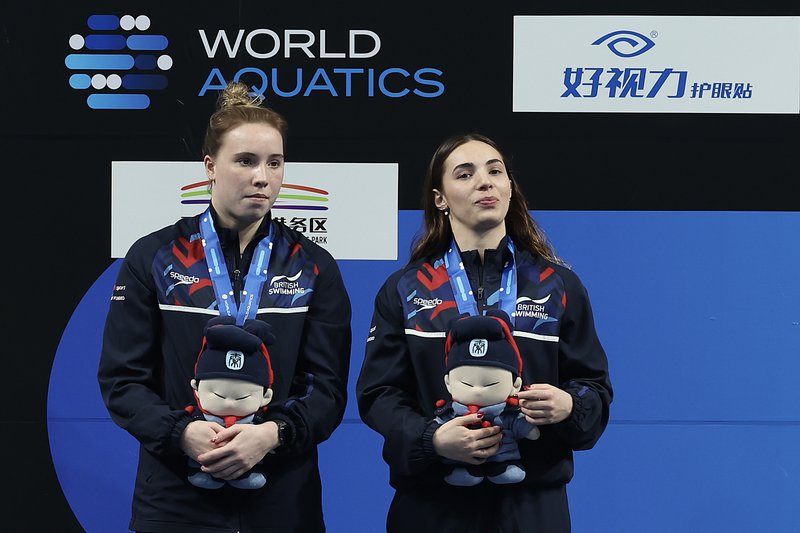 After suffering an injury amongst other setbacks, Mew Jensen's surge to the top of world diving with Harper is something that even she struggles to explain. With fourth and sixth-place finishes in both synchro events at the 2019 European Championships in Kyiv, their achievement in Fukuoka proved to be all-the-more impressive given the turbulent years in-between.
The now-world medallist reflects on her achievements, both in 2023 and the years prior, and what she puts her success on the world stage down to.
"The last two years have been really hectic for me", said Mew Jensen. "Obviously a lot has gone on and there's been a lot of change. I worked on myself so much mentally – seeing a therapist amongst other things and I mean, I think that was the best thing that I could have done.
"I also had my shoulder surgery which meant that I took a chunk of time out from the pool and from thinking like an athlete, which definitely changed who I was, so I just thought that I have nothing to lose and everything to gain and it seems to have worked in my favour. I'm a very driven athlete and I think that can sometimes get a little bit messed up when you've got all that pressure and all the drive and all that competitiveness can almost overload you, but actually bringing that down and having perspective provides a good balance.
"I'm still not quite sure how we managed to do it. I think that day was the most relaxed I have ever been in a competition environment. It was a very big first for me and I think I tried to eliminate the pressure and focus on myself and Yasmin. I think her and I have discussed and I think we both felt the same where we were just completely relaxed. We knew that there was potential of a medal but you don't realise it until it happens."
Following their success at the competition, the attention of the divers now turns to Olympic year, with Mew Jensen and Harper securing the quota spot for Team GB in the 3m Synchro event as a result of their medal in Fukuoka.
As has become a mainstay on the British Diving calendar over the past few years, the athletes have just come back from a warm-weather training camp, which took place in Mallorca. Most of the divers who took part in the World Championships attended the camp, with four-time Olympian Tom Daley also taking part, as he looks to build a comeback towards Paris.
"The training camp in Majorca was so helpful that we got to do a little bit every day and come together from at the start of the season. I think that was just a great opportunity to have, especially when you're not training alongside each other every day. 
"I love the two week pre camp that we get to do every year as it's usually in a sunny place. It might not have looked like it but we had a good balance of pure grit, but also doing some fun stuff. It was a really great opportunity to bring the team together. It does really help when we can get opportunities like that to not just train, but almost live with each other and be in a habitat together.
"For me it definitely felt like the priority was synchro. I think we did as much as we could and we came out of it realising that we don't really need to make an active effort to be in time with each other anymore which is a really great thing."
With the London Legacy Open and British Diving Cup both on the agenda for Mew Jensen before the end of 2023, she alluded to the fact that a chance of competing at her second Olympic Games will always be on her mind a she continues her preparations into 2024.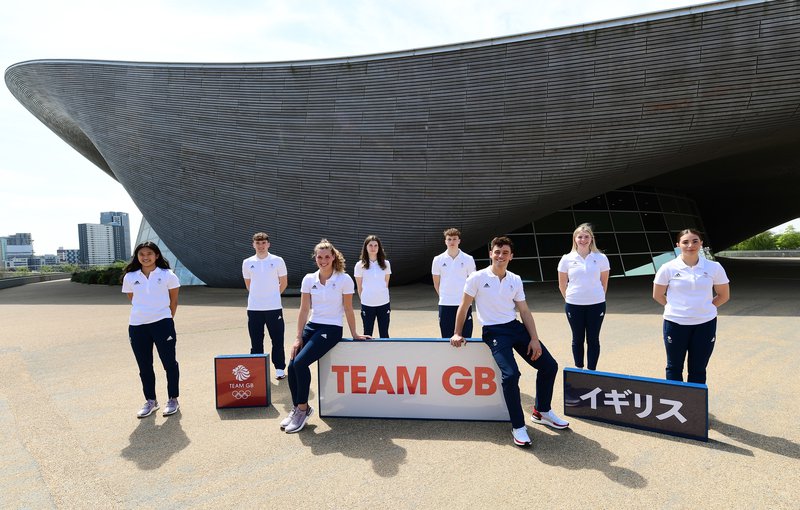 Looking back on the Tokyo Olympics, she shared some of the lessons she learned from competing at the biggest stage of them all, and how she intends to approach the next edition of the competition in Paris differently, should she be selected.
She also rounds off by giving a levelled take of her chances, whilst mentioning what she needs to do to ensure that she has the best chance of repeating her feat from the summer next time around.
"Tokyo was such a unique experience; I was in a very different place than I am now. Obviously having an Olympic Games under your belt is great, but also I'm going into Paris very blind – I don't know what an actual proper Olympics feels like. We didn't have a crowd and we didn't have that sort of atmosphere in Tokyo.
"The nerves were off the charts, so I'm hoping that I can catch that early - I'm working with my psychologist and my coach to figure out how I can stay calm and stay in my in my own zone. I'm just trying to get ahead of it and use this time now to figure out what I'm going to need down the line."
"I've worked on myself so much over the last couple of years and I just want to keep that going even when diving gets really, really intense and I'm sort of really in the middle of it and it's cold and brutal. I've done a lot of work and I don't want to forget what I've done and all the hard work that I've put in. I'm keeping that ticking over and just making sure that I'm mentally OK while I'm going through the year. I'm not just a diver, I'm a person first and just I'm realising that I have a life outside the pool as well. 
"The ultimate diving goal is an Olympic medal. I've been trying to make that goal a little bit smaller as it obviously feels huge when you say it, but I think it's on the cards and we're working as hard as we can to make that a reality."