British Swimming Chairman Maurice Watkins CBE presented a British Swimming cap to his Holiness, The Pope, at a recent meeting.
Mr Watkins was invited to an audience with Pope Francis at the Vatican's Apostolic Palace with LEN and Italian Swimming Federation's President Paolo Barelli and several international swimmers as part of the Sette Colli trophy event taking place in Rome.
And to mark the meeting he took a gift, a personalised Tyr swimming cap.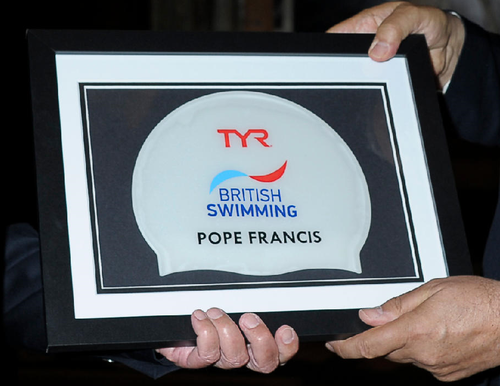 He said: "It was such an honour to be given the opportunity to meet with the Pope and present him with this cap.
"He genuinely understood the values and dedication involved in high-performance sport, and the power it has to bring people together."
Commenting on the sport as a whole Pope Francis added: "Like any sporting activity, if practisced with loyalty, swimming becomes an opportunity for formation in human and social values, to strengthen the body together with character and will power and to learn how to know and accept each other as companions."
Mr Barelli was invited to give a speech to the global swimming community present, in which he said: "Holiness, we sportspeople, all speak the same language; we share the same values: the development of mankind, reciprocal tolerance which grows into meaningful solidarity and sustainment, the vanquishing of all barriers, the building of all bridges."