The final aquatics competition schedule for the inaugural 2018 European Championships (2-12 August) has today been confirmed, ensuring that the new event generates maximum television coverage for the sports.
Organisers have announced an 11-day programme that sees the aquatic action commence with seven days of swimming to be held at the Tollcross International Swimming Centre and five days of synchronised swimming action to unfold at the Scotstoun Sports Campus.
The Royal Commonwealth Pool in Edinburgh will play host the to the six day diving competition from the 6th-12th August.
The European Open Water Swimming Championships will see four days of racing held at the world famous Loch Lomond, north of the Scottish host city of Glasgow.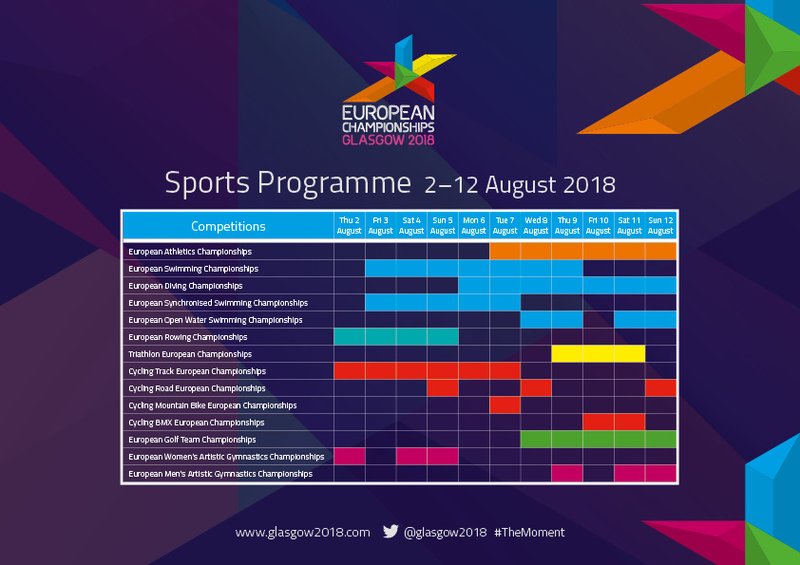 The European Championships is being held for the first time in 2018 in a unique partnership between Europe's leading sports federations, the Host Cities of Glasgow and Berlin and the European Broadcasting Union (EBU). This sporting partnership will create a new event on the world stage elevating the status of European Champions and attracting a potential television audience of up to 1.03 billion across the continent, with a wider audience via digital platforms.
To be staged every four years the European Championships will combine the existing European Championships of Athletics, Aquatics, Cycling, Gymnastics, Rowing and Triathlon with a new Golf team event. Glasgow is Host City for all events with the exception of Athletics, which takes place in Berlin. Around 3,000 athletes will visit Scotland during the Championships while a further 1,500 athletes will compete in Berlin.
Co-chair Paolo Barelli, President of the Ligue Européenne de Natation (European Aquatics), said: "The sports programme in Glasgow will start with a number of qualifying rounds on Thursday 2 August before a packed weekend of sport on television starting on Friday 3 August. This optimised 10-day television program will create a fantastic viewing experience with audiences able to follow finals across the aquatic disciplines as well as the rest of the sporting line-up."