Britain's aquatics stars claimed 34 medals at the Glasgow 2018 European Championships - 13 of which were gold. 
The 11 day sporting spectacle saw 79 athletes compete for Great Britain, with 44 taking on swimming at Tollcross International Pool, 15 in the diving at the Royal Commonwealth Pool, eight tackling Loch Lomond in the open water swimming and 12 in the synchronised swimming at Scotstoun.
---
Swimming
Glasgow 2018 was the joint most successful ever Europeans appearance for a British team with 24 medals - nine gold, seven silver and eight bronze.
It also saw team members achieve more than 50 season's bests and young stars able to stake their claim on the team as focus starts to switch to Tokyo 2020.
Due to relay success 27 different members of the team, more than half, took away a medal from the meet, with Adam Peaty claiming a new World Record in the 100m breaststroke and Georgia Davies a European Record in the 50m backstroke. Peaty also became the first swimmer ever to take away four medals at three consecutive European Championships.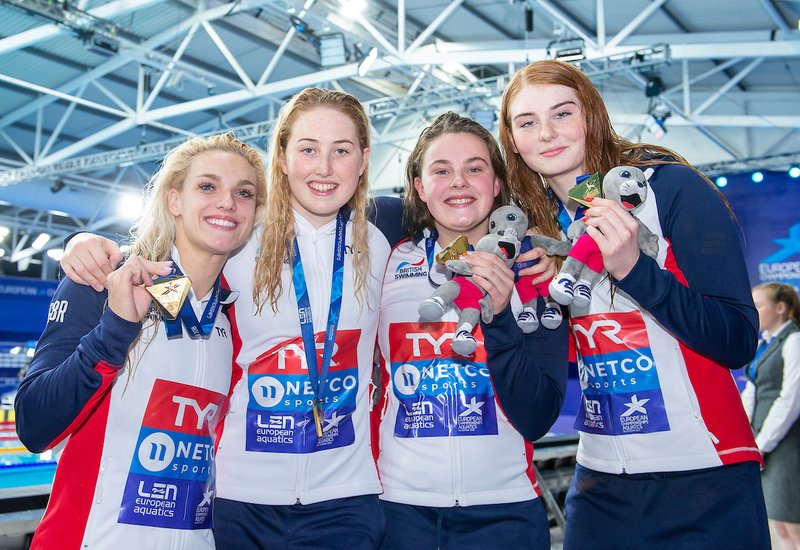 Medal winners

Four: Adam Peaty -  4 gold; Duncan Scott - 3 gold, 1 silver; James Guy – 3 gold, 1 bronze; Georgia Davies - 2 gold, 1 silver, 1 bronze; Freya Anderson – 2 gold, 2 bronze
Three: James Wilby - 1 gold, 2 silver; Holly Hibbott - 1 gold, 2 bronze
Two: Nick Pyle - 2 gold; Ben Proud - 1 gold, 1 silver; Stephen Milne, - 1 gold, 1 bronze; Cameron Kurle - 1 gold, 1 bronze; Kat Greenslade - 1 gold, 1 bronze; Max Litchfield - 1 silver, 1 bronze; Alys Thomas - 2 bronze
One: Ellie Faulkner - 1 gold; Lucy Hope - 1 gold; Charlotte Atkinson - 1 gold; Calum Jarvis - 1 gold; Tom Dean - 1 gold; Brodie Williams - 1 gold; Jacob Peters - 1 gold; Imogen Clark - 1 silver; Craig McLean - 1 bronze; Molly Renshaw - 1 bronze Hannah Miley - 1 bronze; Siobhan-Marie O'Connor - 1 bronze; Kathleen Dawson - 1 bronze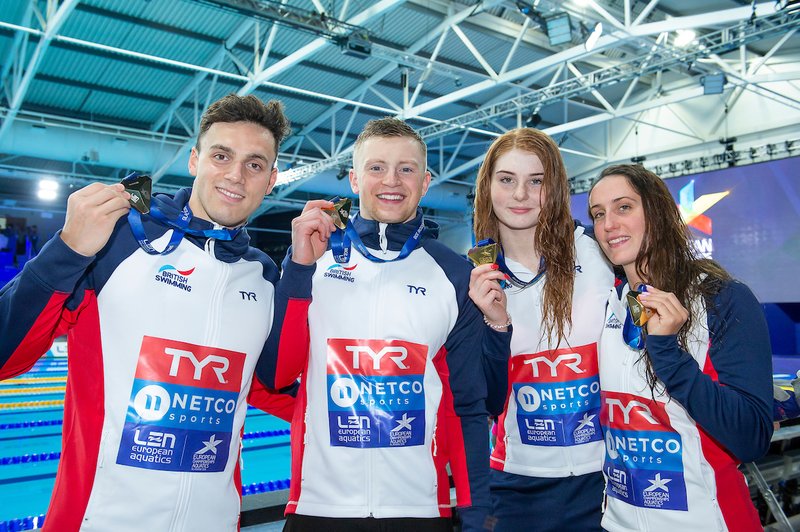 Diving

Like swimming, the diving team featured a mixture of experienced athletes with young divers, with seven of 15 competing at this event for the first time. They finished with 10 medals in total - four golds, five silvers and one bronze -with only four members of the team not collecting a medal across the meet.
Although the team came second on the medal table, they picked up the trophy for best performing team across the meet, which is allocated on points  rather than medals.
But despite this success Team Leader Kim White is looking to how the team can improve going forward, with several missed opportunities over the meet.
He said: "For the second consecutive time we won the LEN Championship Trophy and finished second in the medal table behind Russia. This achievement was without Tom Daley, showing the current strength of the diving team. 
"We must however reflect on the medals that we missed as well as the fantastic medal tally won."
Medal winners

Three: Jack Laugher - 2 gold, 1 silver
Two: Grace Reid - 1 gold, 1 silver, Lois Toulson - 1 gold, 1 silver
One: Eden Cheng - 1 gold, Mathew Dixon - 1 silver, Noah Williams - 1 silver, Chris Mears  - 1 silver; Ross Haslam - 1 silver; Matty Lee - 1 silver; Alicia Blagg - 1 silver; James Heatly - 1 bronze
Open Water

Britain took eight swimmers to Loch Lomond to compete in 5km, 10km and a team 5km relay event.
With two team members only having junior open water experience, Jazz Carlin in her first major competition since switching from the pool, and Jack Burnell recovering from two broken ribs this season, the team were using this as a learning opportunity.
The team were unlucky not to pick up their first ever medal in the relay 5km event, coming fourth.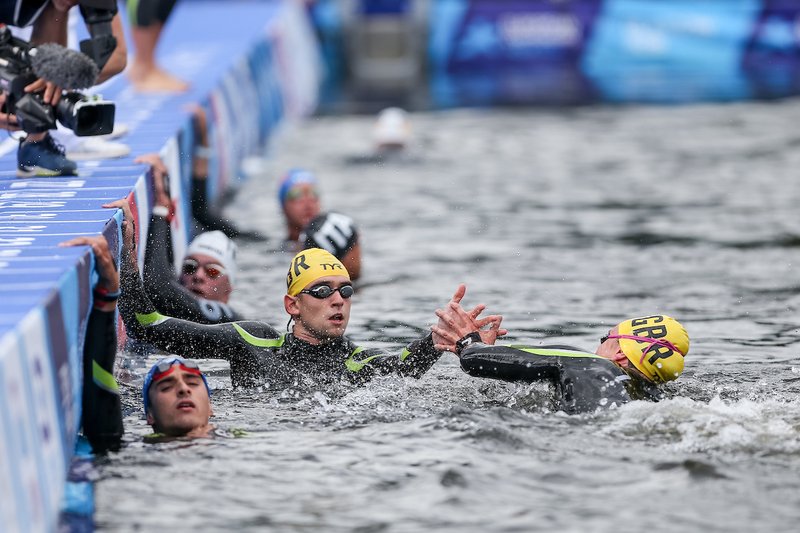 Synchronised Swimming

Britain's synchronised swimmers took Glasgow 2018 as an opportunity to develop their skills in senior competition, with all but one having competed at the Junior Europeans in Helsinki less than a month before.
However, the team managed to secure places in the finals of every event they entered, and showed points progressions from Helsinki, despite having to incorporate more difficult elements that the squad had only had limited time to rehearse. 
All the medals in the entire competition were won by Russia, Ukraine, Spain or Italy.