Becky Adlington and Ellie Challis featured on the panel at the SportsAid event which championed the parents and guardians of talented young athletes and highlighted the important role they play in British sporting success.
(Photo credits: SportsAid)
Her Royal Highness The Duchess of Cambridge, who has been the Patron of SportsAid since 2013,  joined SportsAid at the London Stadium last Wednesday (26 February), delivering a speech to guests where she shared her admiration for the parents and guardians while thanking them on behalf of the charity.
The Duchess spent time with currently supported SportsAid athletes, as well as several of the charity's most famous alumni, as she witnessed a series of a track and field demonstrations, in addition to taekwondo and judo, just a matter of months before the Tokyo 2020 Olympic and Paralympic Games get underway. The Duchess met several groups of parents and guardians along the way as she gained an insight into their experiences and challenges.
Double Olympic champion Becky Adlington and her mother Kay reflected on the journey they experienced as a family, particularly when the swimmer started to progress rapidly in her sport, as The Duchess met two groups of parents and guardians. The Duchess listened to the challenges they face and heard about the difference SportsAid had made to their families. They also discussed the personal development workshops they've previously attended with their children through the charity.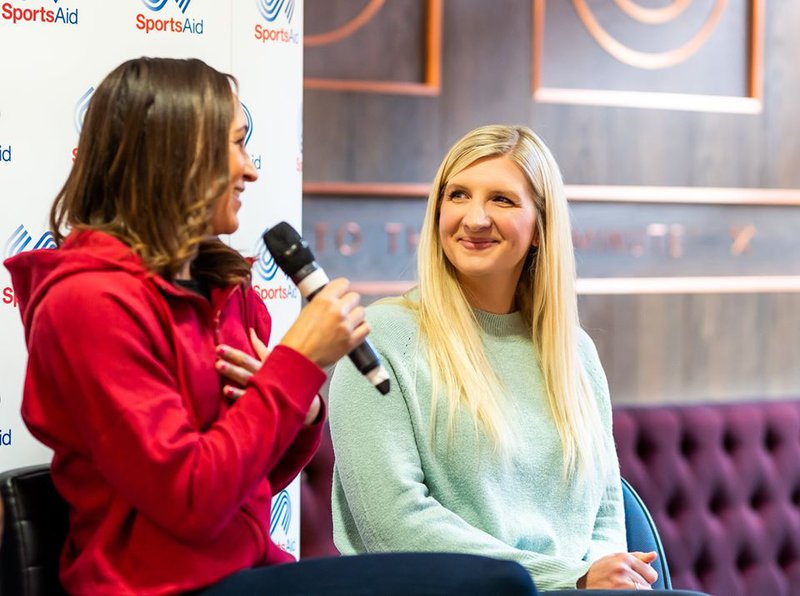 "I think we've only really looked back on the enormity of what Becky achieved since she retired," said Kay. "Watching her break a world record was off the scale of the sort of thoughts you have when you're taking her along to the swimming baths as a child - just so she can learn to swim to be safe on holiday. As a family we've had an incredible journey. There have been tough times but we learned to deal with them and we've all taken so much from what we've been through together.

"When Becky and her sisters first got into swimming we thought it was a cheap sport but we quickly realised that isn't the case - particularly the higher up you go. It was huge to receive the recognition from SportsAid. It was nice to know other people were taking note and for it to come around when it did was massive. I'd given up my job, we had three children and Becky was swimming an hour away. It wowed us and we didn't expect it but it was special because it came from what she was achieving."

Her Royal Highness concluded her visit by listening to a panel discussion, hosted by Olympic silver medallist Leon Taylor, focusing on parents and guardians managing the relationship with their talented children. Para swimmer Ellie Challis, 15, who won SportsAid's annual One-to-Watch Award in 2019, and her father Paul talked about how they balance the different areas of their lives.
"I remember Ellie's first gala - it was a seven-hour day and she was in the water for about two minutes and I didn't think I could do it," said Paul. "It was really hot and at that point I just thought it would be something she'd have a go at and we'd be on our way doing something else. I'm a single parent so the early days of having to get childcare in for Ellie's sister was very hard. Last year at the international meet when they announced she'd broken a world record it was such a proud feeling.
"After that when she got a bronze at the Worlds - it makes every second of hardship worthwhile. From the financial side of things, the help SportsAid have provided has been great. It's such a lovely thing to hear that your child's been recognised and it means so much to us as a family. It's two-fold for me - the money's amazing because the higher they get, the more everything costs, but the recognition is also amazing. The fact that someone's recognising she's worth investing in makes me very proud."
The speech delivered by HRH The Duchess of Cambridge can be watched below, with further information of the day available to read on the SportsAid website.