With roles at the Manchester 2023 Para Swimming World Championships currently open to applications, Jack and Richard share insight on their volunteering experiences and encouragement to others to get involved.
Jack Perryman
Tell us a bit about yourself and why you first got involved in volunteering?
I'm 35 and have worked in Care for nearly 2 and a half years. Before that I worked as a TA supporting Deaf children. In my summer holidays I enjoyed watching the main swimming or athletics championships on TV, and in 2009 I had the opportunity to volunteer at the World Athletics Championships in Berlin - I worked in spectator services and loved every minute. Applications for Games Maker volunteers for London 2012 were coming up so I started volunteering at national sports events in Sheffield (at University) to get as much experience as possible and find out what I liked. Since 2009, I have volunteered on at least one major event a year across many different sports and locations, which has allowed me to be involved a lot more than as a spectator.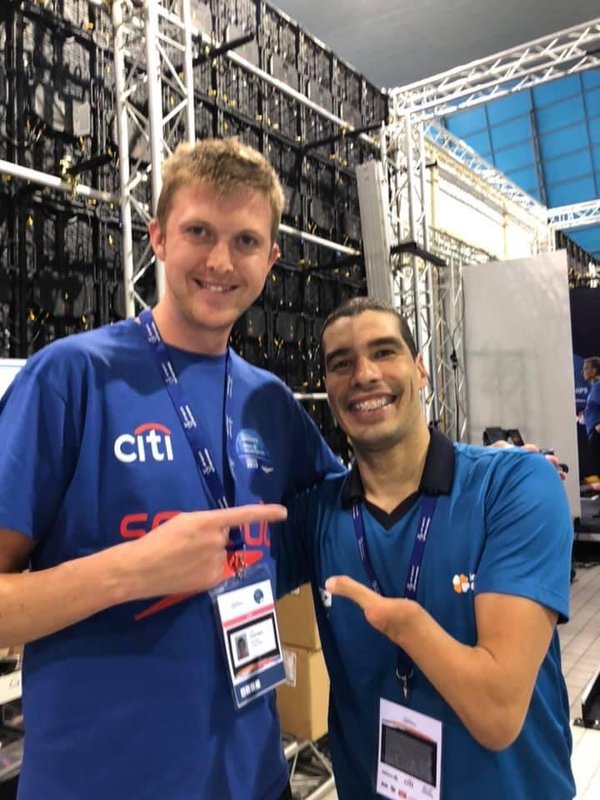 What was the title of your volunteer role at London 2019 or any other para swimming event?
At London 2019 I was an Anti-doping Chaperone. This meant I had to notify athletes who had been selected for a drugs test and escort (chaperone) them to doping control. A typical day for a finals session starts with a team meeting with the Doping Control Officers, where they tell us which events they want us to notify athletes from, and any key information to watch out for. We would go through the anti-doping form, making sure we know which bits to fill in with the athlete. Then you watch the race from poolside, identify your swimmer and stay with them as they fulfil post-race commitments such as media interviews, medal ceremonies and warm-down. Once the athlete arrives at the doping control station, they give their sample and you then go back and notify someone else. It's a fun role as you get to see a lot of behind the scenes of the championships.
What kind of opportunities does volunteering provide?
So many! The main one is meeting new people you otherwise wouldn't and making lifelong friends. There are usually opportunities to meet your team at role training events so you can get to know each other beforehand. The training itself is rewarding because you practise what to do in different scenarios through role-play and it helps when you know what to do and how to manage the situation. In addition, it gives you the opportunity to learn about your role in detail from the athletes' perspective. Volunteering is brilliant for giving back to the sport and a lot of the biggest events the UK have hosted in the last 20 years would simply not have been possible without an army of willing and enthusiastic volunteers.
What is your most memorable volunteering experience?
My most memorable volunteering experience was working in the Athletes' Village at London 2012 where I was part of the anti-doping team. I wandered the dining hall looking for a cyclist and got starstruck when Michael Phelps and Ryan Lochte walked past - unnoticed to most people. It was a real 'pinch-me' moment for a massive swimming fan like me. I like lots of sports so it was fun seeing these athletes up close and recognising many of them. Also, last year's Commonwealth Games was a chance to come full circle and work with friends I met at London 2012 so that was really special. I am still in touch with a lot of friends from around the world I have met through volunteering at sports events.
What is your advice for anyone considering applying for a role at Manchester 2023?
Just do it! You don't have to have any experience or vast knowledge of para-swimming to do any of the roles because training will be provided. There is a role to suit everyone's abilities and expertise and even if you feel there isn't, you may discover and enjoy a role that you had never considered or heard of. The form is really straightforward and you can be flexible on how much time you can offer. London 2019 was fantastic but I think Manchester 2023 can be even bigger and better!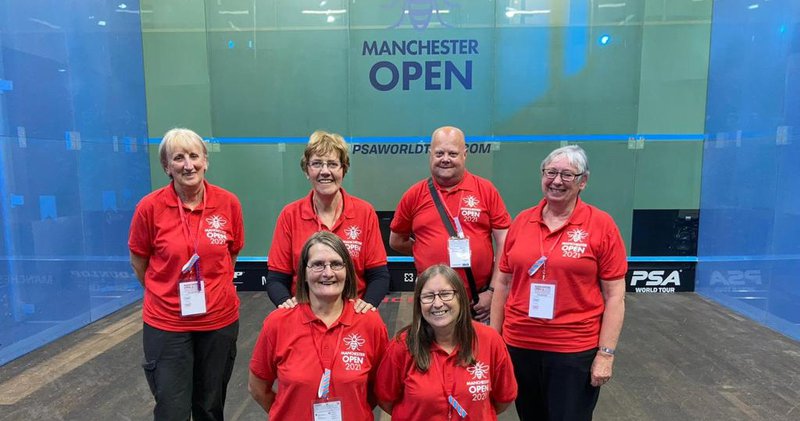 Richard Furber
Tell us why you got involved in volunteering?
I've been a volunteer since 2002, and the reason why, is that I wanted to do something for Manchester. I have been involved in numerous events at the Manchester Aquatic Centre and it is great to be giving something back to the community.
What kind of opportunities does volunteering provide?
There are loads of great opportunities in that you get to learn new skills and make new and lasting friends – plus it's rewarding to play a role in supporting activities in your local community. It's given me a number of unforgettable experiences, one of my most memorable has probably been helping with the para teams for the Games, at their training camp based at the Manchester Aquatic Centre.
What is your advice for anyone considering applying for a role at Manchester 2023?
My advice for anyone considering to volunteer at the Manchester 2023 is do it, you will have a great time and meet new friends and learn new skills.
If you have any questions regarding volunteer applications ahead of the closing date (24 March 2023), please do not hesitate to email the team at manchester2023@swimming.org. Further information on the Manchester 2023 Para Swimming World Championships can be found at www.britishswimming.org/mcr2023.