A host of British Swimming's Olympic and Paralympic champions from an incredible Tokyo 2020 Games have been recognised in the New Year's Honours List for 2022. 
Bethany Firth and Hannah Russell have been awarded OBEs (Officer of the Order of the British Empire) for services to swimming after both retaining individual Paralympic titles in the summer as part of Paralympics GB's most successful sport, with Firth also playing a key role in the victorious Mixed S14 4x100m Freestyle Relay quartet. 
Tom Daley's impact from the 10m platform and far beyond has seen him handed an OBE for services to diving, LBGTQ+ rights and charity at the end of a year that saw him claim his maiden Olympic title, alongside Matty Lee, in the Men's 10m Synchro, while triple Olympic champion Adam Peaty's continued dominance in the pool sees him become an OBE for services to swimming and mental health awareness too, as a vocal spokesperson on the subject. 
A quintet of OBEs for British Swimming athletes and staff is completed by Performance Director Chris Spice, who oversaw Britain's best-ever results in the Olympic pool - four golds, three silvers and one bronze - and receives the honour for services to swimming and high performance sport.
There are also MBEs (Member of the Order of the British Empire) for 13 Olympic and Paralympic gold medallists across the disciplines of diving, swimming and para-swimming, after a stunning year for British aquatics. 
Freya Anderson, Jordan Catchpole, Kathleen Dawson, Tom Dean, Reece Dunn, James Guy, Anna Hopkin, Calum Jarvis, Tully Kearney, Matty Lee, Matthew Richards, Duncan Scott and Maisie Summers-Newton will all become MBEs in 2022. 
Steve Parry, a bronze medallist from the Athens Games in 2004, has also been awarded an MBE in the latest New Year's Honours List for services to swimming, while Anya Francis is on the list for services to young people in Durham through swimming. 
Adam Peaty was made an MBE in 2017 after earning his maiden Olympic crown at Rio 2016. Five years on, after receiving an OBE, he said: "It's an honour to be recognised amongst so many great people. 2021 has been a year like no other for me in many ways with so many fantastic experiences.  After a challenging couple of years it was amazing to see the hard work and dedication of our team pay off in Tokyo and it's even more special for me to be able to share this moment with my teammates and friends who are also on the New Year's Honours List.  
"I'm incredibly grateful to be honoured with an OBE. Through sport, I hope I can continue to inspire people to push themselves whilst also making my country proud."
Speaking about becoming an OBE after a Paralympic Games which brought her gold in the S12 100m Backstroke and a S12 100m Freestyle bronze, Hannah Russell said: "What a year 2021 has been. From training in my back garden, swimming in a static hydro pool to arriving in Tokyo, in the best shape, ready to compete at my third Paralympic Games. I am delighted that my achievements in 2021, including defending my 100m backstroke title, have been recognised. To be awarded an OBE is an honour. 
"I would like to take this opportunity to dedicate it to my family, close friends and coaches and support staff at British Para-Swimming, who have provided me with endless guidance and support."
On his honour, Performance Director Chris Spice said: "This is an incredible honour and I am extremely proud to have led our swimming team to such success in recent years, culminating in our best Olympics in history in Tokyo.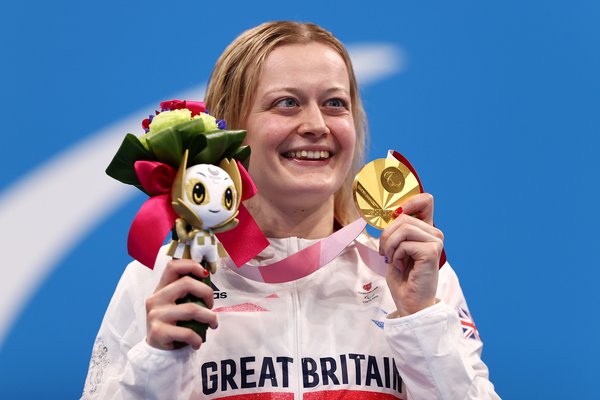 "I would like to thank our amazing athletes, coaches and support staff for a truly extraordinary time since coming into this job in 2013. We have built a team that not only believes we can win but supports each other in and out of the water whatever the outcome. Your excellence, dedication and camaraderie is second to none. That culture was on display for all to see last week as five staff worked around the clock on Christmas Eve and Christmas Day to help Max Litchfield get home from Abu Dhabi to be with his family at this important time of year.  
"A leader is only as good as the team around them and I would like to thank my exceptional leadership team - Bill Furniss, Tim Jones, Dawn Peart, Adam Clarke, Tina Ryan, Matt Ashman and Sarah Gilmore - in accepting this honour as without your wisdom, patience and unwavering commitment to performance and winning in the right way, we wouldn't be in the position we are today."
Four-time Olympian Daley added: "Being an OBE, I feel it's almost a responsibility to make the whole Commonwealth a better place for LGBT people, for women, for people of colour, to make it a more inclusive and more accepting environment.
"I think it's really important to be able to lift up all of the people that feel like they're outsiders, feel like they don't fit in and feel like they have been less than for so many years."
British Swimming would like to congratulate all those receiving honours in the 2022 New Year's Honours List.
Officer of the Order of the British Empire
Tom Daley - services to diving, LGBTQ+ rights and charity 
Bethany Firth - services to swimming
Adam Peaty - services to swimming and mental health

Hannah Russell - services to swimming
Chris Spice - services to swimming and high performance sport
Member of the Order of the British Empire
Freya Anderson - services to swimming
Jordan Catchpole - services to swimming
Kathleen Dawson - services to swimming and women in sport
Tom Dean - services to swimming
Reece Dunn - services to swimming
James Guy - services to swimming
Anna Hopkin - services to swimming
Calum Jarvis - services to swimming
Tully Kearney - services to swimming
Matty Lee - services to diving
Matthew Richards - services to swimming
Duncan Scott - services to swimming
Maisie Summers-Newton - services to swimming
Steve Parry - services to swimming
Anya Francis - for services to young people in Durham through swimming