Freya Anderson's late 100m Freestyle charge excited the spectators at Ponds Forge on a night where Katie Shanahan, Jacob Peters and Anna Hopkin all also claimed impressive World Championship consideration times on the fourth day of the British Swimming Championships.
The closest finish of the night came in the Women's 100m Freestyle final, as both Freya Anderson (Bath Performance Centre) and Anna Hopkin (Loughborough Performance Centre) went under the consideration time, with Anderson taking the victory thanks to a late surge.
Hopkin had the better start of the field – using her identifiable windmill stroke to take a half-a-second lead through the halfway stage. Anderson had a consistent first half swim herself, as she broke away from the rest of the field.
It was down the last 25m where the race began to take hold. As Hopkin began to tire, Anderson's consistency shone through to slowly take distance out of the Loughborough athlete right the way through to the finish.
Anderson's time of 53.48 and Hopkin's 53.52 were both under the consideration time and saw them earn gold and silver respectively, whilst University of Stirling's Lucy Hope came in behind to complete the podium with bronze. 
Speaking after taking victory, Freya looked back at her preparations for the season and how they've helped her so far.
"It's been better than I hoped, I guess. It's nice to get that 100m title back, and a quicker time than I expected so I'm really happy with how I've gone about this season - and it's nice to see that hard work is paying off, so I'm really happy.
"We were joking from before, Anna has come from the 50m and I've come from the 200m, so we kind of meet in the middle! That does result in very different race plans - Anna goes out very fast and I have to try to claw it back. But that really works, we push each other and it's great for the relays as well to have two sub-54s in Britain.
"It's a big difference from last year's Champs. I'm definitely a lot happier, and I'm really happy to say that I've done full blocks of training, there's been nothing hindering me. It's just nice to see that hard work pay off. I had to remain calm because last year's trials weren't the best for me. But you just have to trust the process, trust my coach Dave [David McNulty] and all the team around me who work so hard. You just see me on the blocks, but there is a team of hundreds of people behind me who have helped me get there. I'm really happy."
Katie Shanahan became the first athlete on day four of the meet go under a Worlds consideration time, as the University of Stirling athlete swam a time of 2:07.81 on her way to taking the British title in the Women's 200m Backstroke to open the finals session.
Shanahan did not have it all her own way, as Loughborough Performance Centre's Freya Colbert ran her to the wire with a stunning performance of her own to finish just a second behind for the silver.
Shanahan got the best start of the field and did not look back – her superior underwaters being the difference between her and the rest of the field as she gained back the minor ground she conceded as the race progressed.
The last length provided the best action of the race though, as Colbert's late charge inspired Shanahan to kick on herself, which ignited the crowd at Ponds Forge as the race drew to its conclusion and saw Katie deliver a new personal best and her second Worlds consideration mark of the week, following Tuesday's time in the 400m Individual Medley.
Behind the pair was Millfield's Evie Dilley, as she continues the transition to her senior career with an impressive swim to make her the "best of the rest".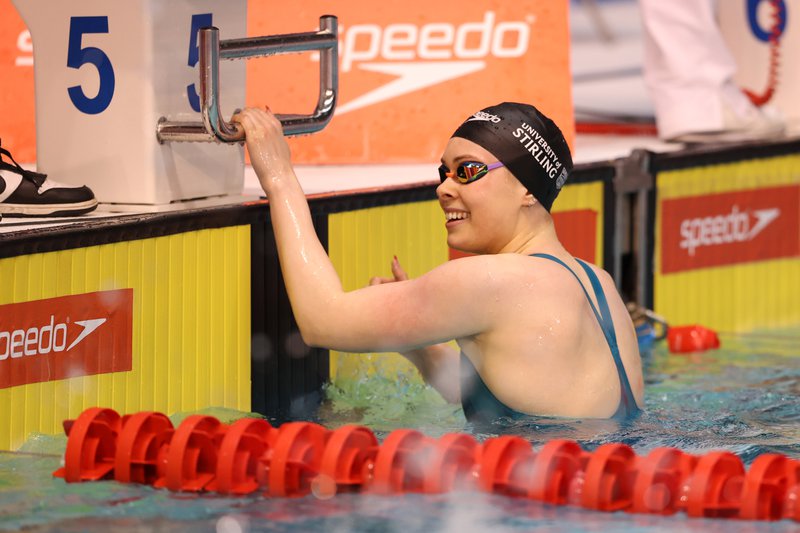 Speaking following her swim, Katie said: "Coming into that I really wanted to go under 2:08 again, maybe even go 2:06, but to go 2:07 high, I am happy with.
"I wasn't expecting Freya [Colbert] to do this event but I'm happy that she was next to me. I could see her coming down that last 15 metres and I can't lie I was struggling! I'm really good friends with Freya and we've been really close since 2019 so it's great to have that relationship outside the pool, which helps inside."
Speaking of now having two times below worlds consideration, Katie added: "My aim this meet was to get consideration and qualifying times, so to have two now is great - so I'm really happy."
Jacob Peters set a new personal best time on his way to a maiden British crown in the Men's 100m Butterfly, as a tight battle between him and his teammate James Guy saw Peters go under the consideration time by a comfortable margin with an eye-catching swim. 
The Bath Performance Centre athlete had the best start of the field as he came up to a visible lead at the 15m marker – a lead which he extended to half-a-second as the athletes turned at the halfway stage.
Despite late charges from both Guy and City of Manchester's Jamie Ingram, Peters had a bit left in the tank of his own to maintain the gap he created and put his name in strong contention for the team in Fukuoka this summer with a time of 51.16.
Guy's back end speed saw him go clear of the chasing pack and just outside of the consideration time to take the silver, as Ingram took the bronze.
Speaking on the relationship between him and Guy, Peters was full of praise for his teammate and showed a strong desire to make a mark in Japan.
"We're great teammates, great friends. I've been racing him for a while now and it's nice to say I've eventually got one up on him, but it's far from over - we'll be racing each other again this summer and fighting each other for those relay spots," said Jacob.
"But to be honest, I couldn't ask for a better competitor and training partner. I'm really looking forward to going back to Japan, hopefully being able to see a bit more of it than last time and with a bit of a crowd. I'm stoked to be going out there, I can't wait for it.
"I'm more of a sprinter, so I approach the race in a way that is suitable to how I swim. Just having that easy speed, having a bit more speed in me, I find it easier to go out faster and then hold on down the back. It's just about finding the right way to swim."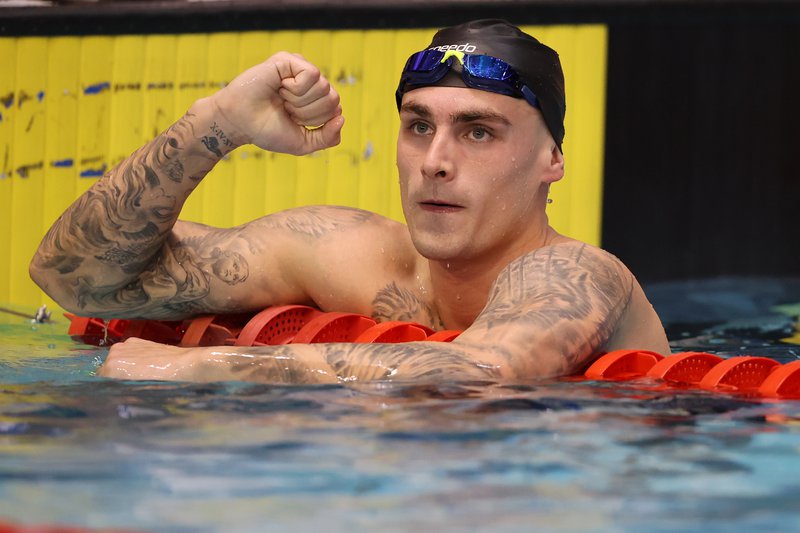 Loughborough Performance Centre's James Wilby took his second British title of the competition thanks to a strong performance in the final of the Men's 200m Breaststroke, the evening rounded out with a race that provided a number of position changes throughout.
University of Edinburgh's Archie Goodburn used the fast-twitch speed that earned him victory in the 50m event to get his hand on the wall first at the 50m turn, before a still-solid performance saw him ultimately fall back to a fourth place finish.
European champion Wilby was the most consistent performer of the field – holding his nerve to shake off challenges from a number of individuals, including his teammate Greg Butler who put in a great performance of his own to claw back ground and finish within a body length of Wilby for the silver medal.
University of Stirling's George Smith also improved on his heats time thanks to another consistent performance to take the bronze medal, as he looks to continue his transition to the senior ranks following his bronze medal in the event at last year's European Junior Championships.
Reflecting on his meet and turning his eyes to the months ahead, Wilby said: "I'm happy with that, it's a decent time. It's a slightly challenging programme in four days, but it gets more challenging when we go to the internationals, so it's certainly something I have to be aware of when planning for those. 
"I'm happy with the time generally, I'd have loved to have been a little faster and closer to some of the times. But there's a little unfamiliarity to racing for me, this is only my third competition since last summer, so still unfortunately maybe misjudged it ever so slightly in terms of racing prep and competition prep, but those are lessons to be learned, and better now than this time next year or even this summer or next summer."
For the full results, as well as information about the coming days, check out our "What's On?" page.