Monday morning saw the swimming action get underway at the European Championships in the Hungarian capital, with no fewer than 20 Brits in action across seven events, including two exciting 4x100m Freestyle relays.
Those new-look quartets were in fact on fine form, both advancing to tonight's finals third quickest overall. An untried women's team of Lucy Hope, Evelyn Davis, Emma Russell and Freya Anderson were up first, Edinburgh-based Hope swimming a quality lead off leg before youngsters Davis and Russell produced fine swims of their own, which allowed Anderson to bring it home and nearly overhaul Denmark in the final five metres.
Assessing their performance, Hope said:
"The aim was to make the final and that's what we did. We've got a couple of youngsters in the team, so it was good to let them get some international experience, and then we had Freya to bring us home. The goal tonight is to have a great race, get in and about it, and get one of the top 16 places to secure a place at the Olympics."
The men duly followed suit, again a young team putting a statement of their intentions out to the rest of Europe, both here and potentially in Tokyo later this summer – their time fractionally outside the 3:14.17 consideration time for the Olympic Games.
Matt Richards was extremely solid on lead off duties, before the elder statesman of the team, James Guy, who is only 25 years of age himself, flew down his two lengths to put youngster Jacob Whittle, and then Joe Litchfield, in the shake-up. That duo followed where their teammates had left off, to deliver a well-rounded team performance.
"It was all about getting the job done for the team this morning. It's a new team and we've never really had an experienced 4x100m Freestyle team, but we've got some good young lads who are doing a good job. Hopefully we can progress from that swim in the final tonight."
The youngster of team, Whittle added:
"Yeah, it was a really good swim. I didn't have much idea what was going on around me, so I just tried to stick to what I knew and it was a good swim."
The final individual event of the morning with British interest was the Men's 100m Breaststroke, which saw Adam Peaty, James Wilby and Ross Murdoch in action. Reigning champion Peaty showed his class in the final heat of seven, charging down the final 50m to take a clear win and top the qualifiers.
Summarising his efforts, Peaty said:
"That was a really smooth heat. Coming in here I've had pretty much no rest, but I have shaved down to get a good feel for the water! It was a good heat, no emotion, so we'll see what we get tonight and then move it on for the final, as always."
In the previous heat, his Loughborough National Centre teammate Wilby also looked good, touching second and well inside 60 seconds to be sure of his place in what is going to be a very intriguing semi-final line-up this evening.
With LEN's two per nation rule in place here in Budapest, one of the trio would be unable to advance, which was the case when the trio posted the fastest three times in Glasgow three years ago. Unfortunately, Murdoch fell on the wrong side of this ruling once more, so will now switch his attention to his favoured 200m event later in the week.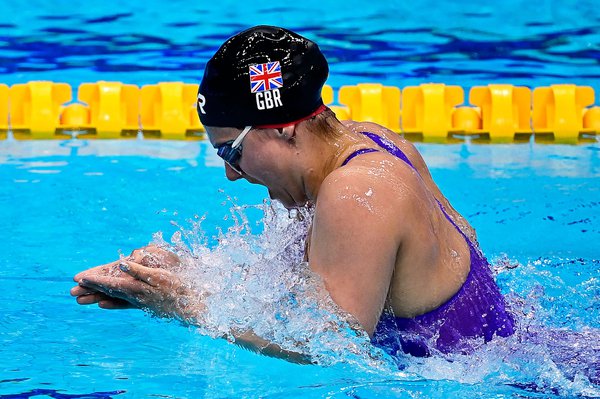 Setting what would prove to be the tone for the British team was Aimee Willmott, the experienced Individual Medley swimmer controlling the first heat of the Women's 400m Individual Medley, the first race of the championships, making good use of the favoured lane four. Although eventually edged out on the touch, she looked strong and composed throughout as she progressed through to tonight's final.
Youngster Katie Shanahan was also in action, making her senior Great Britain debut from lane one in the second heat – she acquitted herself well, finishing just outside her season's best.
The Men's 400m Freestyle final was arguably the most competitive event of the morning, with no fewer than 50 men vying for just eight spots in tonight's final. Going in the third of five heats, Max Litchfield produced a big season's best, but just missed out on the touch, which would ultimately cost him a final berth. Two races later it was Kieran Bird's turn, fresh from winning this event in fine style in London a month ago. Whilst not able to reproduce that form and challenge for a final place, it was a sizeable in-season best for the Bath National Centre man.
Thankfully the task at hand wasn't quite as severe for Anna Hopkin, who eased into the Women's 50m Freestyle semi-final with a measured swim. Touching second in heat five, the Mel Marshall coached sprinter advanced seventh quickest, with plenty more to come.
Also in action in this one were Russell and Davis, and whilst neither joined Hopkin in the next round, the youngsters gained valuable experience for the future on their senior debuts.
There were no fewer than four Brits in the Women's 100m Butterfly heats, showing the strength in depth we currently have in that event in the UK. Harriet Jones – who secured her Olympic spot in London – and Laura Stephens were first up, and both made sure of a semi-final spot, Stephens advancing quickest. 200m specialist Alys Thomas found herself on the wrong side of the cut off, missing out by just one place, whilst Keanna MacInnes was another making her senior debut, fifth in the final heat.
Full results can be found HERE.
The action resumes at 5pm UK time, live on the BBC Sport digital platforms.