Duncan Scott and Max Litchfield lowered British records during an exciting night of racing on the third day of action at the British Swimming Championships.
Double Olympic silver medallist Duncan Scott showed he is a force to be reckoned with in British sprinting as he lowered his previous national standard to 47.90. 
Scott was in command of the race from the start as he turned ahead of the field and in the final 50m it was clear he had the record in his grasp.
As he touched there was a huge celebration from the crowd as he achieved the qualification standard for the World Championships alongside his record.
"I'm happy with that," Scott said. "I'm delighted to have got a PB at this point of the season. I was trying to hit the qualification time and I have done that. It's a time for the Commonwealth Games as well so it's been a phenomenal day and I am glad to be on the podium with two other Scots.
"My heat swim gave me confidence ahead of tonight. As we saw in the final there, the boys coming through are dropping times all over the shop and the heat wasn't a place to go easy."
"I hadn't really thought about Budapest. For me it's all been about the championships and I've got other races this week so I'm not really going to focus on it until I've finished the job here. This is just the beginning of the week for me and I am looking forward to the rest."
The silver medal went to Jack Thorpe (Edinburgh University) while the bronze was won by Kieran McGurkin (Edinburgh University).
Olympic finalist Max Litchfield swam to a new British Record in the 400m Individual Medley as he secured his first gold medal of the championships.
Litchfield, who finished fourth in Rio, showed his improvement to knock down the British Record to 4:10.63.
His new national standard also met the qualification time for the World Championships in Budapest.
"I'm very happy with that," Litchfield said. "I was coming here to try to make that time for Budapest and to dip under that is excellent as it's a PB too.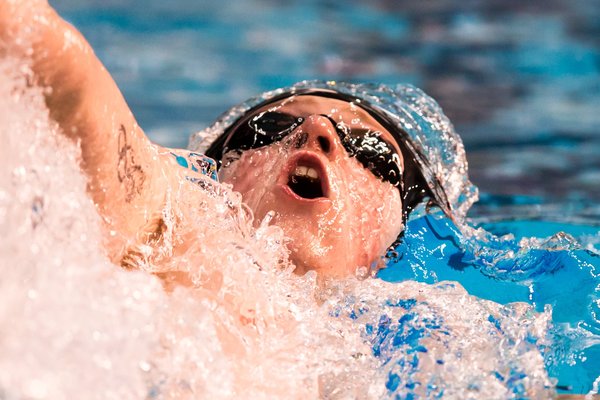 "I missed qualifying for worlds two years ago and that was gutting for me and it was a big kick to come back stronger. I'm really happy to have achieved the time.
"It was amazing to race in my home pool. I could hear them all this morning and I could hear them all again tonight. The noise when I finished and when I got out was fantastic and I want to say a massive thank you to everyone who has come to watch." 
Mark Szaranek (Edinburgh University) won the silver while Joe Litchfield (City of Sheffield) took the bronze medal.
The opening race of the evening was the men's 1500m Freestyle and the race saw Daniel Jervis (Swansea Aquatics) and Timothy Shuttleworth (National Centre Loughborough) make an early break to separate from the field. 
Jervis held the lead at the halfway point but showed his strength to push further ahead as he chased down the consideration time for the World Championships.  He achieved the time as he finished in first place in a new personal best time of 14:51.48.
"I've worked so hard for this," Jervis said. "All year this is what I have dreamt of and I've worked really hard back with my team in Swansea. We really have worked well as a team and we've bonded so well together. I'm so glad to not only represent myself but I'm so proud to be part of Swansea Aquatics.
"I didn't come all the way up to Sheffield to not get that time. It's a long way from Wales and I just worked my hardest on that to get that time and although I wanted a different time you can't fault a four second PB."
Shuttleworth finished in silver medal position with Stephen Milne (Perth City) winning the bronze.
Loughborough University's Charlotte Atkinson achieved the consideration time for the World Championships in the 200m Butterfly after winning her second gold medal of the competition.
She led throughout the final but was chased down by Alys Thomas (Swansea Aquatics) in the final 50m. Atkinson won in a new personal best time of 2:07.06 .
"I was so determined after the 50 to get the 200 and hopefully the 100 on Sunday," Atkinson said. "I'm just excited. Being fast in the 50 when it's not my main event just gave me loads of confidence for the easy speed that I have in the 200.
"I got a PB this morning and I knew I felt good so was expecting that this morning and I saw Jocelyn [Ulyett] qualify for Budapest yesterday and I thought 'why can't that be me' so hopefully I'll get to go too."
Thomas won silver also in a consideration time for the World Championships after touching in a new personal best time of 2:07.87. The bronze medal went to Newcastle's Emily Large.
Anna Hopkin (Ealing) swam to the gold medal in the 50m Freestyle in a new personal best time of 25.07.
Hopkin upgraded her silver medal from 2016 to gold this year and beat off competition from Olympic silver medallist Siobhan-Marie O'Connor (National Centre Bath). O'connor took silver while Lucy Hope (Edinburgh University) won the bronze.
Amelia Clynes (City of Leeds) won the first Target Tokyo final of the evening as she beat off competition from Brearnna Close (Loughborough University) and Harriet Jones (City of Cardiff) in the 200m Butterfly.
In the first Junior final of the evening, Clara Schlosshan (City of Leeds) touched the wall first in the 200m Butterfly. Nikki Miller (East Kilbride) and Isabel Spinley (Deepings) finished second and third respectively.
Callum Lawrie (Univeristy of Stirling) secured the victory in the Target Tokyo 400m Individual Medley after fighting off Zak Logue (City of Sunderland) and Craig Munden (Loughborough University). 
It was Charlie Hutchison (Ellesmere College) that came out on top in the Junior final of the 400m Individual Medley. He beat Tony-Joe Trett Oliver (Mount Kelly) and Ryan Retson (F.I.R.S.T.) to the win.
City of Sunderland's Freya Rayner swam to victory in the Target Tokyo final of the 50m Freestyle after finishing ahead of Emily Barclay (Loughborough University) and Gulsum Onal (West Lothian).
In the fastest event of the night Anna Maine (Woking) won the Junior final of the 50m Freestyle followed to the wall by Alicia Wilson (Guildford City) and Jasmine McCrea (Poole).
The one-two-three came from outside lanes in the Target Tokyo final of the 100m Freestyle as David Cumberlidge (Edinburgh University) won ahead of Miles Munro (Bath University) and Daniel Speers (Millfield).
The Junior final of the 100m Freestyle was won by Elliot Clogg (City of Sheffield) who touched the wall before Harry Constantine (Hatfield) and James Eddy (Wycombe District).
For full results from the British Swimming Championships click here and for tickets click here.