Great Britain rounded off their time at the first-ever LEN European U23 Swimming Championships by taking a total of 13 medals – including a quintet of European golds – and gaining valuable experience ahead of an Olympic year across three days of exciting competition in Dublin.
The National Aquatic Centre in the Irish capital saw the Brits follow up a six-medal haul on night one with another seven over the following two evenings of finals, as the 18-strong GB cohort closed the meet with the highest tally of podium placings of any European nation, with more than 500 athletes involved across a packed schedule.
Continuing the form of the opening day, Saturday night saw a further two gold medals added to their tally – courtesy of Keanna MacInnes and Jonathon Adam.
MacInnes continued her form from night one by adding the Women's 200m Butterfly title to her 100m crown earned the previous day. Turning third at the halfway stage in the final of the event following some impressive front-ends by those in the middle lanes, she did well to get herself up alongside USA's Emma Sticklen down the final 50m.
Coming in to the wall, she improved on her position throughout the race to come in second place behind Sticklen – earning the gold medal as the top European finisher.
"My aim in the heats was to see where I was in the race and win the race itself, but then it ended up being a lot slower than the other heats so I was going in fifth. I knew I had a lot more to come – I'd swam it a bit easier this morning so I knew I had a lot more to drop tonight," she reflected.
"My back 50m is usually pretty strong, so it was a case of getting my head down as I knew I had a chance regardless of where I was with one length to go."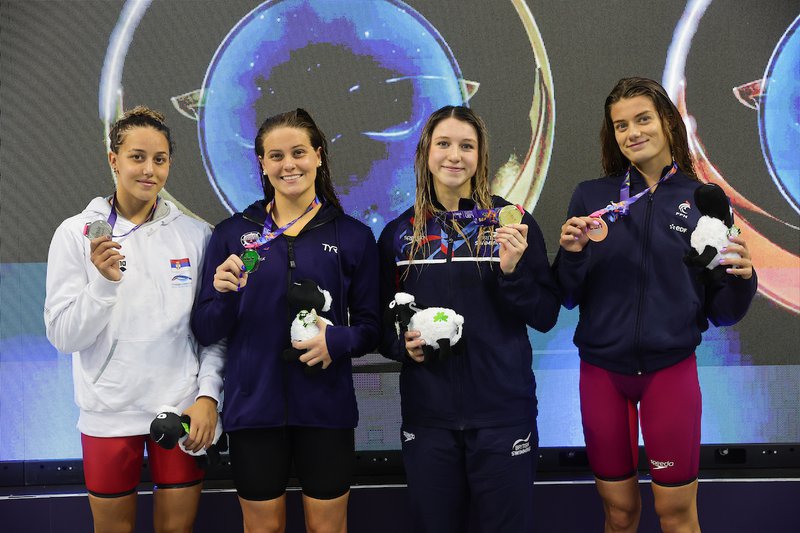 Adam took his first individual title of the competition as well on Saturday with gold in the Men's 50m Backstroke – completing a performance which saw him as the dominant European competitor through both the heats and the final.
Lining up in lane four for the medal-decider, he produced a similarly impressive performance to his heats swim to go stroke-for stroke with those either side of him, before touching for the wall in a similar style to MacInnes – as the fastest European finisher, just behind Pieter Coetze of South Africa.
"All the boys [in the final] are really, really good – with one being Commonwealth champion. It's a case of focusing on myself, which worked out well for me and went really well. I thought the pressure was quite fun, I had quite good settled nerves and it was quite fun being the last one out and controlling everything, so I really enjoyed it," he said.
Saturday's showpieces also saw Alex Cohoon narrowly miss out on the podium in the Men's 50m Freestyle, placing fourth, while Charlie Hutchison was sixth overall in the Men's 400m Individual Medley.
It was a busier finish to things on Sunday, as five medals were secured – including two more European U23 titles.
First to the top step of the podium on the final day was Jonathon Adam, returning there following his 50m Backstroke success by taking the European gold over double the distance with triumph in the Men's 100m Backstroke event.
The Bath Performance Centre man kept a steady pace across the two laps, turning third and maintaining his stroke rate to the wall to touch second overall, behind South Africa's Coetze by less than two tenths of a second – meaning an overall haul of three medals across the meet for Jono after his silver as part of the Mixed 4x100m Medley Relay team on day one.
"It was a good swim", said Adam. "There was a difference from the relay to my individual in terms of the approach; from the relay it was a case of going all-out from the beginning, whereas this evening it was a case of working the back-end more and progressing my race.
"When we were in the cool-down room, we heard all of the air horns and the incredible atmosphere for the women's race before ours, but it didn't faze me and it was actually quite exciting, it made me want to race better.
"I was injured and sick before British Champs, so now it's a case of taking what I've done from this weekend, having a break and getting ready to go again next year".
Ed Mildred was the other European U23 champion crowned on Sunday, thanks to a brilliant swim in a hugely competitive Men's 100m Freestyle showpiece.
Mildred – another from the Bath Performance Centre stable – pushed the USA's Patrick Sammon all the way to the wall with a fierce final few strokes, dropping well from his morning heat to secure the European gold and second overall (behind Sammon) in a final where all nine racers were separated by less than a second.
Behind him, Loughborough University's Cohoon ensured there would be two Brits on the podium, claiming European bronze as he touched in an identical time to Sean Niewold of the Netherlands, another indication of just how tight this final was and providing a heap of valuable experience for Cohoon on his GB debut.
The evening had earlier been opened with success for Loughborough Performance Centre athlete Lily Booker, who swam to her first international medal at this level with a fine silver in the Women's 200m Breaststroke. Having moved into second place by the second turn at 100m, Booker looked in control of her own race and did not look back, showing good composure to hold off Ana Blazevic of Croatia to pick up second place on the podium. Gillian Davey finished fifth in the race.
It was an achievement that Booker was immensely happy with when speaking after the race – as she touched on some of the events so far in her career which have led up to her success at this competition.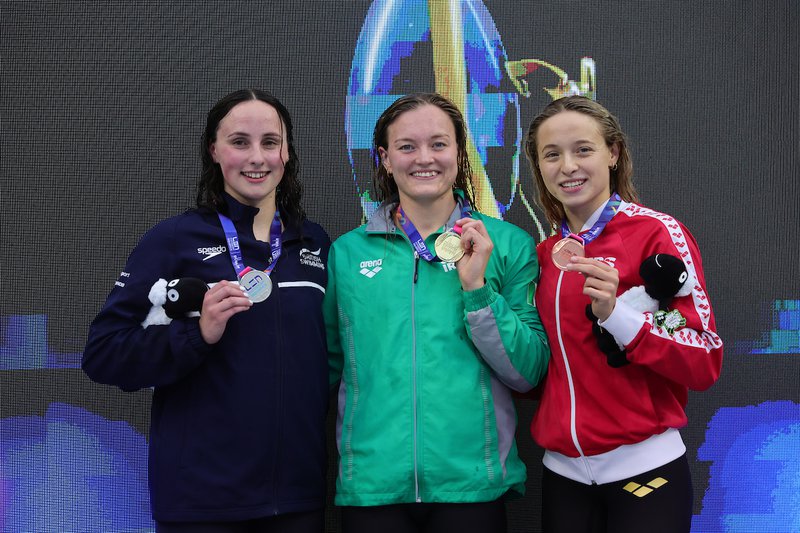 "I'm so happy. It wasn't quite the time I wanted on the scoreboard but I always feel like I just miss out, but to come away with a silver is amazing. It's been a really tough season, at the start of the year I tore my adductor, so it's been a really long journey to get back and I'm really happy with the result.
"It's been a really good week. The team's carried so much motivation and it's been really good to take the energy from their swims and use that for myself tonight. I've loved the experience and thrived off the environment, even if it wasn't all cheers for me! I could hear them on the last 50 metres screaming and I thought 'there's no way I'm not making it to that wall', so it's been really good."
The curtain came down on this inaugural competition with the Mixed 4x100m Freestyle Relay – and it provided that 13th and final medal moment of the meet for GB. After Lewis Fraser had played his important part in securing a lane as part of the heats team – alongside Cohoon, Evelyn Davis and Kate Clifton - Mildred came in to join the latter three, with all four finalists fresh from individual 100m Freestyle finals earlier in the night, Davis and Clifton having been fifth and seventh respectively in the women's event.
As a quartet, the British team were always in podium contention, Mildred handing over to Cohoon in fourth, with Cohoon then touching in third as Clifton dived in. The City of Sheffield swimmer strengthened that position and kept things interesting with Poland ahead in second for Davis' anchor leg, with the University of Stirling competitor bringing it home with the third-fastest leg of the women's field to ensure it was bronze for Britain. 
Elsewhere, Fleur Lewis ended her European U23 campaign by finishing fifth in the fastest heat of the Women's 1500m Freestyle, while the Men's 100m Breaststroke saw Greg Butler place fifth at the end of a packed summer for the Loughborough Performance Centre man, who made his senior World Champs debut in Fukuoka last month. In the same final, Archie Goodburn was eighth. Lewis Fraser was eighth in the Men's 50m Butterfly, with Evan Jones picking up the same result in the 200m Individual Medley.
 For the full results from the event, click here.