Lewis Burras broke the British Men's 100m Freestyle record and Medi Harris delivered a quite incredible personal best in the Women's 50m Backstroke semi-final swim-off to cap the fourth night of action at the World Aquatics Championships in Budapest. 
On an evening where those semi-final swims caught the eye and delivered two World Championship debutants into another final apiece, there were two close calls in the search for Britain's second medal of the meet. Freya Anderson was edged out in the Women's 200m Freestyle finale to touch fourth – and she would do so again later in the session, the Bath Performance Centre swimmer anchoring the Mixed 4x100m Medley Relay team to a fourth-placed finish in a nip-and-tuck final.
Ahead of that dramatic denouement, the Men's 100m Freestyle semi-finals saw Burras and Jacob Whittle try to secure a place in Wednesday's final.
The highlight of the event came from Burras, with the sprint freestyler delivering a new British record time to qualify for that race in fourth place.
Lewis started explosively and then did well to stay with the field on what was the faster of the two contests, ultimately finishing in third position in the race after charging to the wall in 47.63 - two tenths inside the mark twice set by Duncan Scott. 
"It's the first time I'll be dreaming about a World Championship final. It's a free hit tomorrow night, I'll go have fun with it, be fearless and keep chasing the dream," he said when reflecting on the race.
"It was a great swim. This morning, I did the job and got through. I do some of my best work in the outside lanes, it really enabled me to just chase the process. It's a great field, a world junior record in there - but I'm happy to put my name in the conversation.
"We got the British record in the Men's 4x100m Freestyle Relay two nights ago, and this is my second one of the meet. I'm absolutely thrilled and just want to thank everyone that has helped me get here."
Loughborough Performance Centre's Whittle put in a performance just shy of his personal best to finish fifth in his semi-final in a time of 48.19, which saw him finish in 12th overall. The time was the second-fastest of the 17-year-old's fledgling career.
Medi Harris was the busiest swimmer of the night, competing in a total of three races on a memorable night for the Swansea University athlete. The first of those was the Women's 50m Backstroke semi-finals, Medi producing a solid length of sprinting, sitting on the hips of the competition before powering to the wall.
Her time was enough to finish joint-eighth, meaning a swim-off against Italy's Silvia Scalia for the last place in tomorrow's final. With the 19-year-old having just competed in the Mixed 4x100m Medley final beforehand, she would have been forgiven for slowing down in that one-on-one contest.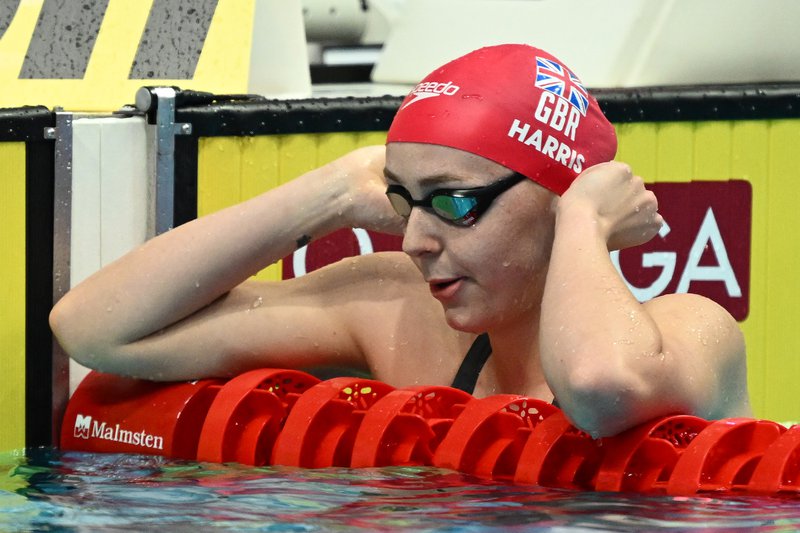 Instead, Medi showed incredible resilience in her fifth swim of the day and ended up being involved in an absolute spectacle, going stroke for stroke with the Italian and winning on the touch in a new personal best time of 27.56, securing herself a second individual Worlds final berth on her debut at this level.
"That was amazing. It was definitely the relay that got me ready for it, because having all those guys, especially Jimmy Guy supporting me, it was really special, being on a relay with them. They just inspired me to go again, and what I was told was to have fun, so that's what I tried to do," she said.
"It's really exciting. I think that's why I enjoy it so much, because it's so new. The atmosphere really helps, and having my sister and my dad here is really good as well!"
Day four concluded with that final of the Mixed 4x100m Medley Relay. The team of Harris, James Wilby, James Guy, and Freya Anderson had all been busy in the days and hours prior to the event, yet they all contributed to what was a thriller at the Duna Arena.
Harris – with that memorable swim-off still to come - was one of a minority of women leading her team out on the backstroke, going a full half-second faster than her individual performance the previous night.
Wilby then aimed to gain back ground on the leaders with a fine 100m of breaststroke, a near-perfect 0.07 takeover setting him up for a strong split that put Britain right in the mix in the centre lanes.
It was then the turn of Guy – another fresh from competition earlier in the evening – to produce yet another sub-51 fly leg before handing over to Anderson, who was just on the hips of the podium runners.
With USA out in front, Anderson just missed out in the three-way race to the wall for the podium, despite a characteristically spirited final 50m, even more so given her exertions in the Women's 200m Freestyle finale earlier in the evening. 
It ultimately left the quartet in fourth – but speaking afterwards, Wilby was full of praise for his teammates, with the bigger picture very much on his mind.
"It was a good, strong effort from everyone. I think it's really important that we keep doubling down on this approach we have of a real team effort, really valuing heat alternates, and that's a position that I traditionally fulfil quite a bit, I'm really lucky to be able to swim the final tonight," he said.
"The team put in a really good effort. It's one year post-Olympics, that's always a weird thing. But we always want to be learning from these sort of events and pushing forward because we know, with this approach, it really delivers success when it needs to, and we're looking forward to building through that over the next couple of years.
"Honestly, it was an unbelievable effort for those guys backing it up. Jimmy and Freya were in 200m events, and Medi in a 50m. Particularly for somebody like Medi, to do her own individual event and then come and do a relay, it's a good chance for her to get experience. It also puts us in really good shape for when the conditions are just right that we've been through a real grind, so that when things are just right, it comes to a pretty special race on the relays."
Earlier in the session, Anderson came agonisingly close to a first individual World Championship medal, finishing fourth in the 200m Freestyle finale.
With the field bunched up throughout the first half of the race, the Bath Performance Centre swimmer – whose new personal best on Monday saw her qualify fastest for the final – did well to stay with the field, before Junxuan Yang and Mollie O'Callaghan of China and Australia respectively powered ahead to take the top two positions.
The 21-year-old held strong, putting in a gutsy last 25 metres to finish in fourth place, touched out by less than a quarter-of-a-second.
Five-time World Championship competitor Guy put in an admirable performance of his own in the final of the Men's 200m Butterfly. Taking the race out in what has become a signature style of his, the Olympic and world champion did well to keep a hold on world-record holder Kristof Milak down the first half of the swim, before the Hungarian eventually broke clear to beat his own world record in the process.
The tempo did kick on from the rest of the swimmers after Guy turned in second place down the first 100 metres, with the David McNulty-coached man eventually finishing in eighth place in his first international attempt at this event.
After taking bronze in the Men's 200m Freestyle on Monday, Tom Dean was back in action in the Men's 200m Individual Medley semi-finals.
With the Bath Performance Centre swimmer's preferred strokes coming at the end of the swim, he stayed within a couple of body lengths of the leaders, before using the breaststroke and freestyle lengths well to level up the race, the 22-year-old touching in fourth place in his heat.
Eventually qualifying for the final in sixth place, he was more focused on how far he had moved things on since a tough morning heats swim, giving himself a lane in another showpiece.
"I've moved it on, two seconds quicker, back to 1:57s. I just needed to rest and recover. Dave was saying that this morning was like the morning after the night before, last night really took it out of me, physically, emotionally, mentally, so I'm glad to be back where I should be," said Dean.
"It is psychological. If you tell yourself you're tired, you're going to feel tired. Someone who's brilliant at that is Duncan Scott, you watch him back swims up with even more swims, it's absolutely incredible and there's no-one who can do it quite like him. We're starting to see some youngsters who can do it, but at the moment, he's one of the best at that - and I'm sure he'd tell you it's really a psychological game as well."     
Loughborough Performance Centre's Laura Stephens was unfortunate to miss out on the final of the Women's 200m Butterfly, the 23-year-old finishing 10th after what turned out to be two semi-finals of the highest quality.
Stephens was in the mix throughout the race, going out at a brave pace and flirting with the top two once China's Yufei Zhang had been reeled in following her explosive first 100 metres, but could not close the gap to the leaders late on.
"I gave it everything that I had today, it's just on the day, it wasn't meant to be. There wasn't anything more I could've done, it's just another stepping stone and another learning experience," she said.
"It'll just be a bit of a confidence builder. There's a lot more to look forward to this summer, so now I'll just keep on working towards that."
For full results from the finals, click here.
Visit our 'What's On?' page here for a full rundown on how you can watch and listen to every finals swim from Budapest.