Olympic champion Tom Dean secured Great Britain's first medal of the World Aquatics Championships at the end of a thriller of a Men's 200m Freestyle final at the Duna Arena in Budapest. 
The third night in Hungary also saw finals swims for Medi Harris and Molly Renshaw, while Freya Anderson produced an outstanding, personal-best semi-final effort to qualify fastest for the Women's 200m Freestyle finale, before James Guy notched a PB of his own on the way to the Men's 200m Butterfly showpiece.  
The evening began with Dean in the Men's 200m Freestyle showdown. After charging into the lead down an explosive first 100m, the Bath Performance Centre swimmer was engaged in a brutal battle with Romania's David Popovici and South Korea's Sunwoo Hwang down the last length, with the former ultimately taking the victory in a new world junior record time.
Taking the bronze medal in a season's best time of 1:44.98, and climbing on to a World Championship podium for the first time in his young career, Dean was level-headed in his post-race assessment.
"It's a learning experience. My plan was to take it out hard and I paid for that gamble at the end a little bit. It was probably the hardest 200m I've done in my life, I suffered in that back end - but you roll the dice, you learn from every swim you do and it's an incredible swim from those boys too," he said.
Swimming out of lane six, the 22-year-old was almost a body length ahead of much of the field down the first half of the race, splitting ahead of world-record pace in a time of 49.81.
"Was I out in sub-50 seconds? Wow, there you go - people don't go out in sub-50 and come back, it hasn't happened in the world of swimming for however long. I know for a fact the world-record wasn't out in sub-50," he added.
"The speed is there, which is good, it gives me confidence, but I need to be able to control a 50-mid or 50-low, those fine margins in this event really pay the difference later on. There's no truer swimming event than the 200m Freestyle that shows that."
Having secured his and the team's first medal of the Championships, there are still multiple races to target and opportunities for him to step on the podium again, with Tom reflecting on the experience.
"It means a lot. Getting on the podium is great for everyone, it lifts everyone up. I would've liked a different colour, but standing up there with those boys will be an honour. The relays are going to be so exciting this week. It's such a strong team, we showed that in the Men's 4x100m Freestyle relay, the women's races, it's going to be good."
From there, Freya Anderson continued a strong night for Britain, winning her semi-final and qualifying fastest overall for the final of the Women's 200m Freestyle.
The Bath Performance Centre swimmer looked strong, swimming on the hips of the field through the opening lengths, before turning up the tempo down the third lap and then doing enough to fend off challenges from Australia's Maddison Wilson and France's Charlotte Bonnet to place first overall in a time of 1:56.05 – 0.01 second under her previous PB.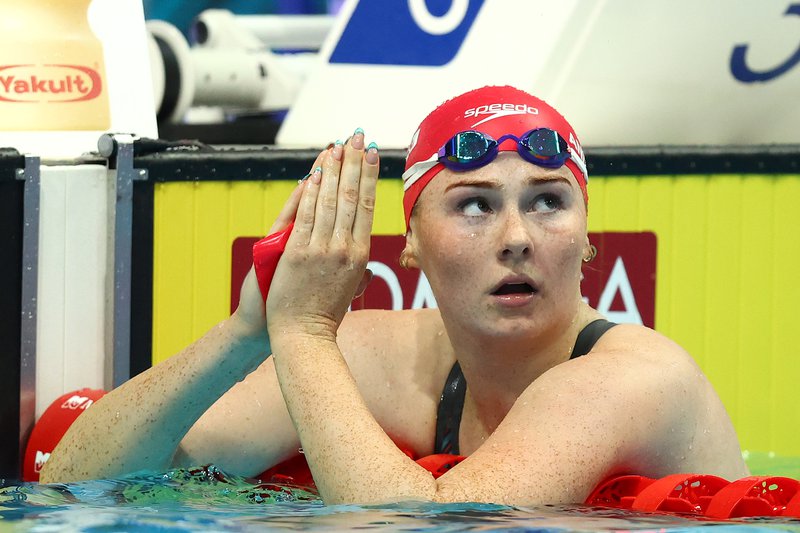 "I'm happy with that. Here, it's all about trying to get faster each round and progress, so I'll take that and hopefully tomorrow I can get a bit faster and look what I have to improve on tonight in the playback video, those one per centers, that would be good," she said.
"It's a big confidence boost. That's been my PB for two years, I've been struggling to get down to a 1:56-low, so I'll take it - but there's always ways to do better.
"Tom's got that first medal now. Hopefully it gets the ball rolling and we can keep collecting."
Molly Renshaw added another final to the list for GB, finishing eighth in the Women's 100m Breaststroke as she builds towards her favoured event over double the distance.
With a final that was packed with prestige, the Loughborough Performance Centre athlete had a great start, putting her right up there with the leaders after the first pullout. While she was not quite able to drop time from her semi-final performance, she again used her 200m prowess to power towards the wall, touching in a time of 1:06.60. 
"I'm happy with that, although I would've liked to have gone a bit faster. I just wanted to get out there and race. I took out the first 50m and felt it a bit more down the back 50m but I'm looking forward to the 200m now. I've got a day to rest and recover and we'll go again on Wednesday," she said.
"When we first got here, none of us massively felt like it was a World Championships, there wasn't too much pressure around it and it felt very chilled, and I think that's been a good approach. But as the days go on, we are building a bit of momentum and we are getting the medals now, so hopefully throughout the week, things will start picking up."
Earlier in the evening, Swansea University's Medi Harris produced a solid swim to take joint-seventh place in the Women's 100m Backstroke final.
Making her debut in a World Championship final - two days on from swimming her first ever race at this level - Harris' opening to the race was hindered by a starting error, which affected her reaction to the gun.
Despite that, she was well with the field at the turn and stayed in touch for much of the two laps, ultimately finishing just three-hundredths shy of fifth place.
"I think the semi-finals helped me because it was like the same atmosphere. I'm a bit disappointed with the time, but considering it was my first final, I can't be angry at it," said Medi.
"It's definitely inspiring to be in the same finals as the people I was racing. It's about me getting used to new stuff, like I've never had a break in the morning, no heat and then straight into the final."
Another admirable semi-final performance on the day came from James Guy, the Bath Performance Centre competitor smashing his previous best in the 200m Butterfly to book a lane for Tuesday's final.  
As has come to be expected with Guy, he took the race out ahead of the field, touching in first place at every single turn. Swimming out of lane one, he held on well in spite of his early exertions, keeping his head down to finish in a time of 1:54.91 – nearly 0.3 seconds inside his PB, and enough to qualify eighth for the final.
"That was always the plan, just to do my own race. One thing I've realised at these meets is you have to do your own thing and not look at anybody else. I knew I had to go out tonight and do my own race - and it paid off well. It's a personal best time, and into the World final. This is my fifth World Champs now and I never thought I'd be doing that in the 200m Fly at 26 years old against these young'uns!" he said.
"The confidence just follows through and shows everything is working. There are no doubts there, I'm really happy with everything, it was a great swim put together. I lost my headphones before the race so was a bit distracted, I've not got them back yet but I blocked that out! But got out there, paced it perfectly and did my race plan."
For full results from the finals, click here.
Visit our 'What's On?' page here for a full rundown on how you can watch and listen to every finals swim from Budapest.