Laura Stephens gives an insight into the intensity of her recent warm weather camp in Malaga as she prepares to race the best in world next month in Budapest.

Having bedded into a new training environment this season at the British Swimming Performance Centre, Loughborough, Laura Stephens is full of positivity as she approaches the second FINA World Championships appearance of her career to date next month.
In preparation her latest block of training included two weeks out in Malaga with her new coach David Hemmings, which the Tokyo 2020 semi-finalist found rewarding but far from a holiday.
"It was a really great group to be with, I think everyone there was training really hard – it was a tough camp!" said Stephens
"Dave really pushed everyone but equally we all rose to the challenge and there was definitely a sense of camaraderie between us all which made it fun. For me being my first one, though obviously I've been here [at Loughborough] for almost five months I really felt like I got a bit closer to the whole team."
With the focus fully on swimming, the 22-year old butterfly specialist further expanded on what the typical routine would entail during the warm weather camp.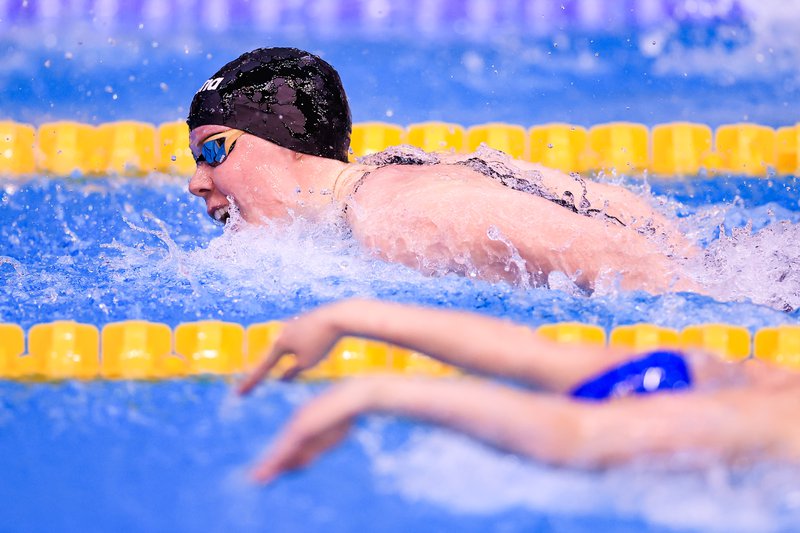 "It varies but most days there's a two hour swim in the morning. We could get up and have breakfast before and sometimes we'd even get up have breakfast, swim and then have a second breakfast. Some of us had three or four gym sessions a week on top of the swimming and then a second swim in the afternoon most days.
"We had one Sunday in the middle off and that was about it so it's quite intense. Between sessions you're normally quite tired and you don't really want to go out and do much walking around, especially when it was so hot as that would just mean getting dehydrated so we explored a little bit on our Sunday off but otherwise it was all pretty much swimming focussed."
As a member of the Great Britain Women's 4x100m Medley Relay quartet that took gold in Budapest at the 2021 European Championships, a return to the Duna Arena next month comes with aspirations from Stephens to drive individual performances on to higher heights – utilising the experience she's gained from competitive outings on the sport's biggest stages.  
"I'm definitely a lot more confident, I mean having gone through it all once you know what to expect a lot more. I think I'm equally more practiced at ignoring the distractions, the extra distractions that come at the larger level meets. I remember at the last world champs I got quite caught up in it all and even though I was happy to make the final, this year I want to be competitive for the medals so that would be my aim."
The final run in to the World Championships features an opportunity for many of the Great Britain team selected to polish their craft at the Mare Nostrum series, and the former Plymouth Leander swimmer spoke of what she hopes to get out of the racing exposure.
"It's really just race practice, and a bit of international experience in that there'll be some other fast girls there. It'll be good races and a bit more of a fight to get the hand on the wall first so I'm looking forward to that.
"Equally it's a chance to practice the different technical points I've been working on in training as like a final bit of fine-tuning before we start tapering into worlds."
CAMP DONE ✅

Last session of our 2 week Malaga visit & end of a challenging 💪 4 week block.

Thank you Sol Sports for being a top host. Recommended absolutely for other teams looking for a great camp!

Now ➡️ Mare Nostrum / Glasgow Meet

Let's RACE! 💥🇬🇧 @britishswimming pic.twitter.com/WhQWPTDy5q

— David Hemmings (@DaveHemmingsGBR) May 14, 2022
The aforementioned move to Loughborough this season comes after touching close to a decade in Plymouth, and Stephens was quick to thank her former coach Robin Armayan and her wider support in Plymouth for the role they played in helping her progress onto Olympic, world, European and commonwealth teams.
"Those eight years down at Plymouth took me from when I was fourteen and just a national qualifier scraping to make European juniors all the way through to being an Olympic semi-finalist - I owe that completely to Robin and everyone down at Plymouth. They were so supportive of me there and I can't thank them enough for being such an influential part of the journey and hopefully I'm now continuing in an upwards direction here.
"I felt there comes a point that you've been in one place for so long that you need a fresh start, you need to move on and I definitely felt that after the Olympic cycle and the challenges that brought with Covid etc. and the extra stresses of the Games being pushed on that extra year. Equally I finished my degree down in Plymouth and that chapter sort of ended as well and it just made sense to look for something new. After coming up here and seeing Dave and doing a trial I decided this was the place to be and I'm still pretty happy with my decision."
Beyond the world championships, a home Commonwealth Games in 2022 is also a point of excitement for Stephens as last week she joined the names selected to represent Team England, and having crowds back poolside for these major meets is a huge boost too, commenting:
"Swimming in front of a crowd for me always raises my game, I really enjoy having a big crowd and having everyone cheering. Hopefully at Birmingham we're going to experience that with the home crowd and it's so special for my parents to be able to come and watch me again – my mum's been following me around the globe for the best part of 10 years now so I know she absolutely loves it, and she's really happy to be back watching and supporting me too."
Read more about the British Swimming team set to compete at the FINA World Aquatics Championships in Budapest, Hungary across 17th June-3rd July 2022 here.