The opening day of the International Swimming League's European derby in London was full of close races and tight team battles, as the sold out crowd at the London Aquatics Centre witnessed an exciting two hours of racing.
With Energy Standard and London Roar both coming into the match undefeated, Imogen Clarke helped the away team off to a good start in claiming her best finish so far in the series with a second in the Women's 50m Breaststroke. 
A head to head followed between Duncan Scott (London Roar) and Max Litchfield (Energy Standard) in the Men's 400m Individual Medley, with Scott taking the touch for second to edge out Litchfield as the noise in the London Aquatics Centre appeared to raise another level.
Further excitement ensued in the all important relays, with Brits representing London Roar taking advantage of the double points scoring for clubs under the ISL format. Scott lined up alongside Adam Peaty for a second place finish in the Men's 4 x 100m Medley Relay, whilst Siobhan-Marie O'Conner led off a London Roar team to third in the Women's 4 x 100m Freestyle, a result matched by Scott and James Guy's quartet in the Men's 4 x 100m Freestyle.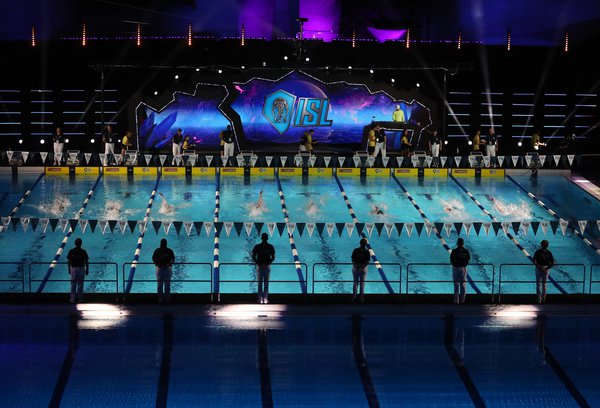 It was however Energy Standard who had stolen a march by the end of the closing night with Ben Proud's Men's 50m Freestyle and Georgia Davies' Women's 50m Backstroke top three finishes, and a short course personal best from Kayla Van Der Merwe in the Women's 200m Breaststroke further bolstering their tally to 238 points through day one.
Peaty helped close the points gap on the leaders to fourteen for London Roar with second place in the Men's 200m Breaststroke, casting off any disappointment from his earlier 50m event by producing a short course personal best over the distance, leaving it poised for a showdown for top spot on Sunday night.
With Aqua Centurion's following up in third place, there was a British short course record set by their ISL debutant Freya Anderson in the Women's 200m Freestyle as they finished ahead of Iron in the standings.
Watch day two from 5pm on Sunday with live TV coverage from the London Aquatics Centre on Eurosport and live streaming on the BBC Sport website here.
Team Standings Through Day 1:
Energy Standard, 238.0
London Roar, 224.0
Aqua Centurions, 178.0
Iron, 165.0