Freya Colbert secured a hat-trick of titles while Tom Dean, Katie Shanahan and Laura Stephens also caught the eye as final preparations for the upcoming British Swimming Championships continued at a strongly-contested Edinburgh International Swim Meet over the weekend.
As well as a host of Olympic and world champions from British Swimming taking to the Royal Commonwealth Pool, the Scottish capital also welcomed numerous top international medallists from across the globe as three days of action provided valuable top-level competition opportunities for those involved, with the British Championships - the key selection meet for this year's World Aquatics Championships - now only a few weeks away.
Of the Brits to impress in Edinburgh, Loughborough Performance Centre athlete Colbert was among the leaders. Freya won golds on each day of the meet, beginning with a convincing victory in the Women's 400m Freestyle ahead of Paige Madden and Mia Slevin (Derventio Excel) in third. 
Colbert - who now trains under David Hemmings in Loughborough after coming through the ranks with Nathan Hilton at Nova Centurion - followed that up with a win over double the distance, pacing herself to take 800m Freestyle gold on Saturday, before showing her versatility in the 200m Backstroke, a third event for the weekend that saw her touch first. Leah Crisp took 800m Freestyle bronze, while the other medals in the 200m Backstroke went to Loughborough University's Honey Osrin (silver) and City of Manchester Aquatics' Sophie Shaw (bronze).
There was a notable double gold for two-time Olympic champion Dean in Edinburgh. The David McNulty-coached man began the meet in fine style, with a pacey early-season swim seeing him lead at 50m, 100m and 150m and come out well on top of a packed field in the Men's 200m Freestyle on day one. He was followed home by Bath Performance Centre training partner James Guy in silver-medal position, while Jack McMillan rounded out the podium. Duncan Scott touched fourth before again illustrating his ability to go and then go again, returning to the pool later in the evening to triumph in the 200m Individual Medley.
After featuring strongly in the 50m Freestyle skins, Dean returned for another powerful performance on Sunday, as he got the better of Jacob Whittle to take the 100m Freestyle title too.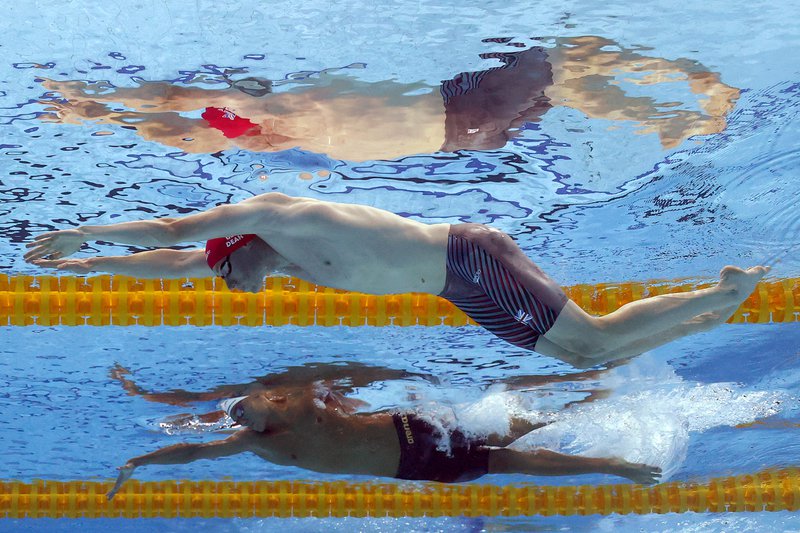 Speaking after his impressive 200m showing, Tom said: "I always say if I can go 1:46 in Edinburgh, I'm in a good place. I did it three years ago. I always know my fitness levels are good before we start tapering down so I am really happy with it, really chuffed.
"And most importantly I am really happy with how I executed, I wanted a bit of a back end – back in 27 zero, which is good for me."
Commonwealth and European medallist Shanahan was another to show good form just a few weeks out from British Championships, as she got to the wall first in an individual medley double. First up, the University of Stirling competitor, who is coached by Steve Tigg, put together a controlled swim across the longer 400m IM distance, winning by a good margin before following it up over half the distance to round out the meet on Sunday, claiming 200m IM gold, thanks in part to a stunning 50m of backstroke over the second leg to register a lead she never relinquished. 
She also won bronze in the 100m Backstroke, one one hundredth ahead of training partner Kathleen Dawson, who is continuing her recovery from a back injury that impacted her 2022 campaign.
Former City of Glasgow Swim Team athlete Shanahan reflected on her 400m IM performance by saying: "Getting any win at the point in the season is good, it's about building that confidence. Hopefully in the next few weeks I can sharpen up my skills. It will put me in good stead for trials."
In Friday's 200m Butterfly, Laura Stephens produced a statement performance to secure the gold by a distance, powering to one of the quickest times of her career to date - and a new meet record - as she went clear down the second length on the way to getting the better of Keanna MacInnes in second and Emily Large in third. 
There was a much closer finish in the Women's 200m Freestyle, where a thrilling contest down the final 50m ensued between Freya Anderson and Abbie Wood. Ultimately, Freya got the touch to take the win, two hundredths of a second ahead of Abbie, who repeated her result of silver in the 200m Breaststroke, an event won by Lily Booker. 
Anna Hopkin's meet included a solid victory in the 100m Freestyle, as well as some good pace in the 50m skins contest. 
Adam Peaty continued his build towards Sheffield next month by winning the Men's 100m Breaststroke ahead of James Wilby, with Wilby getting the win in the 200m event, where Greg Butler was third. Elsewhere, Brodie Williams got the job done to win the 200m Backstroke as Luke Greenbank took bronze, while there was a stunning tie for the title in the 100m Backstroke, where Bath Performance Centre teammates Cameron Brooker and Jonathon Adam touched the wall at exactly the same time to share the gold. 
Kara Hanlon (silver) and Imogen Clark (bronze) both got on the podium in the Women's 100m Breaststroke, fresh from good showings at the TYR Pro Series meet in Fort Lauderdale the previous weekend, while Evan Jones claimed silver in the Men's 400m Individual Medley. Over the distance events, Fleur Lewis won Women's 1500m Freestyle silver, Toby Robinson matched that in the men's event and won 800m bronze, while Luke Turley was good enough for silver in that one, to add to his 400m bronze. Elsewhere, Lucy Grieve won 100m Butterfly bronze, with Olympian Jacob Peters showing good form in the 50m Butterfly skins earlier in the meet. 
Relive every session from Edinburgh with the livestream playlist, or check out the full results list. 
Tickets for the upcoming British Swimming Championships are now on sale through The Ticket Factory.