Georgia Davies and the men's 4 x 200m freestyle relay team bagged Britain's second and third golds of the Glasgow 2018 European Championships.
Davies, who broke the European Record in the heats yesterday, continued her winning ways in the 50m backstroke, forcing Russia's Anastasiia Fesikova into silver and Finland's Mimosa Jallow into bronze medal spot.
The 27-year-old said: "I never would have expected the record to go in the heat and I think that meant I put a bit of extra pressure on myself and thought that people were going to expect me to go faster.
"When it comes to the final times are just so irrelevant. You just have to swim your own race and it's about who can get their hand on the wall first.
"I didn't mind about the time tonight but I really wanted to win."
Davies started a gold rush as shortly after the team made up of Calum Jarvis, Duncan Scott, Tom Dean and James Guy beat Russia convincingly in the 4 x 200m freestyle relay.
It was Scott's second medal of the night, having already picked up silver in the 100m freestyle behind Italy's Alessandro Miressi.
He said: "It's a team with a couple of new faces and everyone executed their legs really well.
"In the 100m I was just happy to get through each round. It was one of those races where I could just as easily have finished sixth."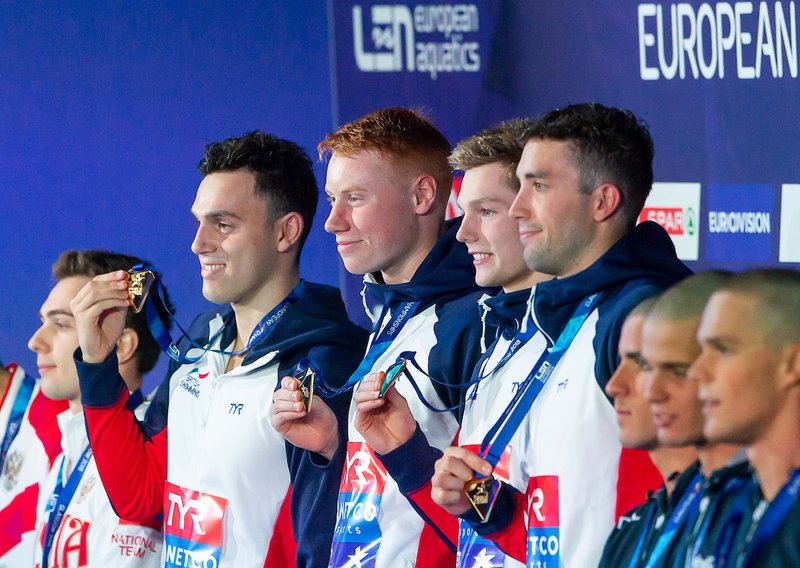 Cameron Kurle and Stephen Milne swam in the heats.
Alys Thomas was dominant in her heat in the 200m butterfly, but moved onto the final in the second fastest time behind Germany's Franziska Hentke - 17-year-old Emily Large put in a respectable performance in only her second senior competition to finish 10th.
Ross Murdoch and James Wilby both made it through to the final of the 200m breaststroke, Murdoch beating Wilby's time for the second time in a day, after the reverse result in the 100m saw Murdoch eliminated after the heats. Murdoch finished third fastest qualifier and Wilby was fifth, but said he had more to give in the final tomorrow despite a packed competition schedule.
Max Litchfield and Mark Szaranek also continued their strong heats form into the semi-finals of the 200m IM finishing in second and fourth respectively. Holly Hibbott and Ellie Faulkner then qualified for the 200m freestyle event.
In the 100m breaststroke final Siobhan-Marie O'Connor finished fifth and Brodie Williams and Luke Greenbank failed to progress to the final of the 100m backstroke.