Great Britain's Mixed 4x200m Freestyle Team took gold on the penultimate night at the European Aquatics Championships in Rome, as Medi Harris added a thrilling silver on a productive night for British Swimming at the Foro Italico.
Tom Dean, Matthew Richards, Freya Colbert and Freya Anderson lined up for the Brits in one of the relay events in which there was a European title defence on the line. It was Dean who opened up the race and set the pace, leading the entire way and stretching clear down the final 25m before handing over to Richards with the team a second ahead of the chasing pack.
Richards - who had set a new personal best in the heats of the 50m Freestyle at the start of the day - did well to maintain the lead, as he fought off strong challenges from the French and Italian teams with another of those late bursts to give Colbert a slightly increased gap at the halfway stage.
A persistent Charlotte Bonnet of France gave Colbert stern opposition across the third leg of the race, but the 18-year-old showed good composure and managed to pace her swim well, delivering a similarly powerful finish after the final turn and handing over to Anderson with a 0.2-second advantage on the anchor.
A final showdown between the two nations in the centre lanes then ensued, with Lucile Tessariol of France not letting up from Anderson as the pair turned almost exactly even at the 700m and 750m marks. It was Anderson, though, who used her superior endurance to overcome the challenge, emphatically pulling away down the final 50 metres to give Great Britain their third swimming gold medal of the competition.
There were also European titles for Kieran Bird, Jacob Whittle and Lucy Hope who, alongside Colbert, helped secure GB that crucial centre-lane berth in the morning heats.
Reflecting on the victory in the evening, Dean said: "We feel really good. We are defending champions in the Mixed 4 x 200m, so we wanted to come back here and defend that title. It's been a long summer of racing for us. We knew what we had to do. We knew we weren't going to be able to go out hard and really attack it. We knew we had to hang on. We had to execute our individual race plans and have strong back ends in each and every one of our 200s and everyone did that here. 
"It's so easy in relays to get ahead of yourself, to use the energy and take it out too hard and pay the price in the back end. It was four excellently executed swims and that's just what you've got to do to win relays."
Richards added: "France inched us out on that Mixed 4x100m Freestyle Relay and I think there was that little bit of wanting revenge today. We managed to get that and as Deano said, everyone put on a really mature swim and a very good show and that's all you can ask for at this point in the season. Everyone executing individual swims to make a fantastic team time is brilliant. Going forwards, we're defending champions. Now that's our second year running being European champions in the 4x200 mixed and hopefully we can continue that reign."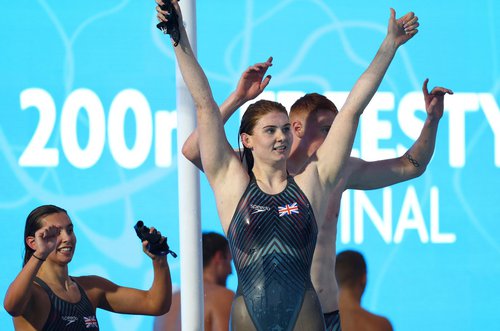 Straight before that memorable finale, Medi Harris delivered her maiden individual international medal for GB with silver in the Women's 100m Backstroke.
Following quick starts from the two swimmers either side of her in lane six, Harris managed to stay with the rest of the field to get to the wall within half a second of the leaders. It was from then where she came alive, as she powered through the field to bring herself alongside top seed and leader Margherita Panziera into the final 10m, ultimately seeing herself just touched out into second place by six hundredths of a second.
The result is yet another highlight of what has been an impressive breakthrough summer for the athlete, which has seen her now pick up four medals at these European Championships.
"I knew it was going to be hard to go in there, go fast and try to get on the podium, but I just tried to keep my head down all day, relax and try to enjoy the race. That's what I've been told to do, so it's what I tried to do!" she said.

"It's definitely what I wanted. I was a bit disappointed after my 50m, so I think I was going into this one a little hungrier for it, because I wanted an individual medal. I'm so pleased I was able to do it, to go in fourth and come out second is not a bad thing to do, so I'm really happy."
The first finals appearance of the day came from Katie Shanahan, with the 18-year-old continuing her breakout senior year with a centre-lane swim and strong performance in the final of the Women's 200m Individual Medley.
Shanahan kept with the field after the butterfly leg, before her trademark backstroke surged her into the second place at the halfway turn.
The group then bunched up following what were numerous charges from several swimmers on the breaststroke to push her out of the medals at 150 metres. Despite a good push on the freestyle, Shanahan eventually touched just outside the medals in fourth place after a solid last length, rounding out her individual swims at a meet that has seen her claim a memorable 200m Backstroke silver and drop a huge personal best earlier in the 200m IM rounds.
"It's a bit bittersweet. To come fourth is not the best, but to come fourth in that field, I'm just really proud of myself - there's Olympic, world champions in there, Katinka Hosszu, the world-record holder. So to come fourth in that field, I'm not exactly sad about that. I just went in there to try to do another good time, which I did, I knew it was going to be hard to get a medal because I knew these girls would go a lot faster tonight. I'm just happy with the swim," she said.
"I think this summer has been very unexpected. I've surprised myself and a lot of other people as well with how well I've done and how many medals I've got. To come away from my first Commonwealth Games and my second Europeans and to get a medal in both of them, I'm just delighted and hopefully I can carry that momentum on into next season."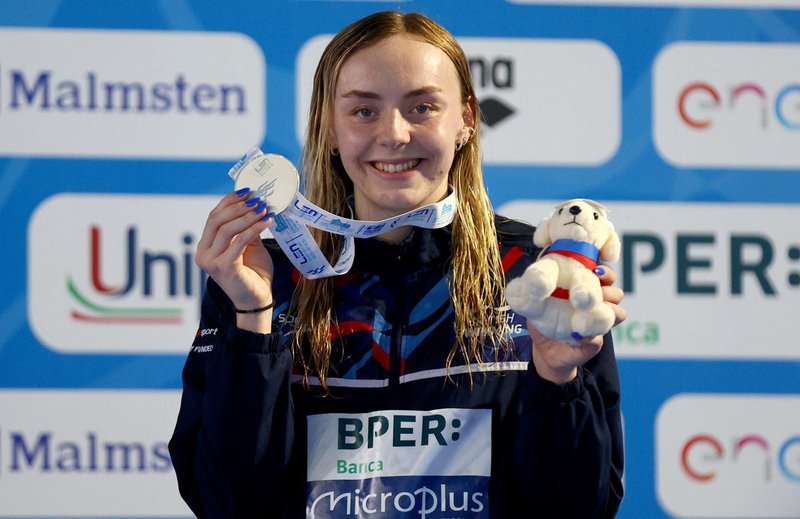 The other British involvement in a final on day six saw Anna Hopkin take seventh place in the final of the Women's 50m Freestyle.
The 26-year-old has already won a medal of each colour so far at these Championships and she again showed good sprinting form as she ran with her adjacent swimmers right the way through the race, coming up alongside the chasing pack before touching in seventh – just two tenths of a second off a bronze medal.
Ben Proud was back in the pool for his only event of the meet, as he surged into the final of the Men's 50m Freestyle. Having already won Commonwealth and World titles in the event this summer, he continued his dominance as he produced a textbook performance, coming up half-a-body length ahead of the field before cruising to victory to qualify fastest for the final tomorrow night.
The GB pair of Keanna MacInnes and Laura Stephens started in lanes four and five respectively in the first semi-final of the Women's 200m Butterfly, with the two swimmers knowing they both had a great chance of making the final.
It was MacInnes who started the better, as she took the first half of the race out half-a-body length ahead of the field, with Stephens close behind. It was Stephens who then inherited the lead down the third length, as she touched first at 150m, her compatriot in second.
The final dash for the wall saw the pair draw level and MacInnes then move back into the lead, with the touch seeing Keanna take first and Stephens second in the race, a result that seeds them second and third respectively for what should be an intriguing final. 
Also in semi-final action were Imogen Clark and Kara Hanlon, the pair vying for a place in the final of the Women's 50m Breaststroke.
Clark went in the first semi-final and made a massive impression, going stroke for stroke with home favourite and top seed Benedetta Pilato. Just behind Pilato, Clark reached the wall second and qualified in third for the final, in a time that was just a tenth of a second outside her personal best and British record.
Hanlon swam in the second of the two races, as she managed to continually gain on the field after the start – eventually finishing in sixth place and just missing out on the final in 10th overall, not far off her own PB. 
Clark, meanwhile, was overjoyed with her swim, saying: "I'm proper chuffed with that, it's going to be a great race, you've got the world's best in there! Ruta [Meilutyte] used to hold the world record, Bennie [Benedetta] holds the world record, what a race to be a part of.
"I always seem to rise to the occasion, I think it's that I get excited for it, I don't get that many opportunities to go and race these girls, the fastest in the world, so when I do, it just really spurs me on to see how I can stack up against them."
The final individual representatives for British Swimming came in the Men's 100m Backstroke semi-finals, with Jonathon Marshall and Jonathon Adam both aiming for progression as they build on their early career experiences.
Both put in admirable swims on the night but missed out on the final spaces, with Marshall taking 11th position and Adam in 14th.
For more info on results, start lists and how to watch every session of swimming on the BBC, click here.