Glasgow's Tollcross International Swimming Centre is ready and poised to host the 20th edition of European Short Course Swimming Championships, which kick-off in earnest on Wednesday 4th December.
Europe's best swimmers will do battle once more, as they did in front of the typically vocal Scottish crowds last summer during Glasgow 2018, but this time the 25 metre pool will only heighten the sense of atmosphere.
Key names to look out for in the British team include Glasgow born Duncan Scott, the local hero joined by his 2019 World Champion teammates Luke Greenbank, James Guy and James Wilby. On the female side World Championship medallists Freya Anderson and Georgia Davies are included, the pair combing with Adam Peaty and James Guy to win Mixed 4x100m Medley bronze at the World Championships in July, but both women will have eyes on individual medals in Glasgow as well as relay opportunities.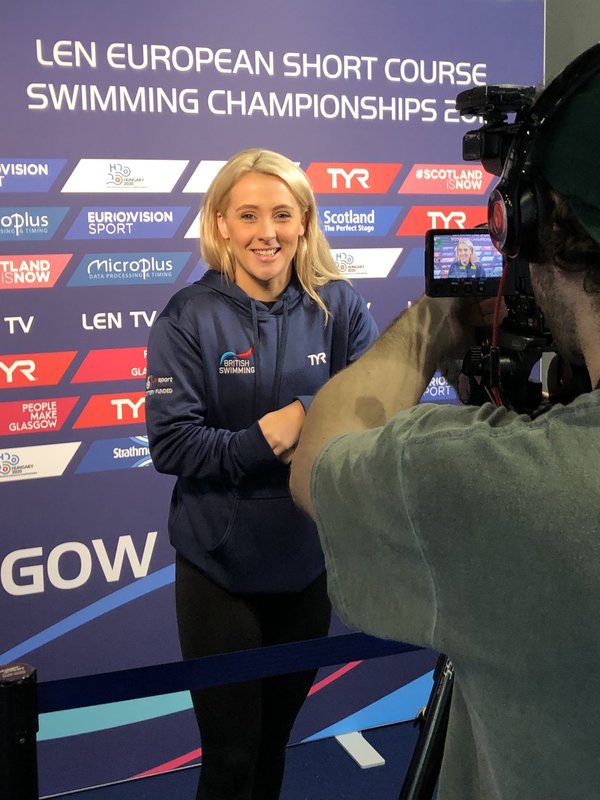 Olympic silver medallist Siobhan-Marie O'Connor also takes her place, the individually medley specialist attending the press conference on the eve of the championships, partaking in the events 20th birthday celebrations. O'Connor has experienced Glasgow's electric atmosphere numerous times in recent years, commenting:
"It's great to be back here in Glasgow with another opportunity to race in front of a home crowd and I think the team is really looking forward to this competition. Obviously it's an important year ahead and it's great to be here at such a great pool where lots of us have really fond memories.
"I think my personal favourite memory of Glasgow is the 2014 Commonwealth Games, which is probably one of my favourite weeks I've had in swimming, with my family able to come and watch, a home crowd, and I just think Glasgow did such a fantastic job of hosting.
"I love racing in front of a British crowd; they're so passionate and it's always a great experience. We've been very lucky as a British team to compete on home soil on many occasions, my first being London 2012 and there's been so many since then, with Glasgow having a great legacy of swimming events. Hopefully this week will be more of the same!
"I've always really enjoyed the European Short Course - it's a great competition and I'm looking forward to continuing to build through this year. The team is in a really good place so hopefully we can bring back some medals."
Held every two years, the event will see over 500 athletes from almost 50 European nations make their way to Glasgow to compete across five days of fast-paced swimming action. Contested in a 25m pool, the races feature more turns and closer finishes, making it a real spectacle for fans of the sport. The event will be hosted by British Swimming in collaboration with partners Glasgow City Council, Event Scotland and UK Sport.
Kicking off on Wednesday 4th December, crowds will see Europe's best do battle, 
with tickets for all ten sessions still available
, albeit some in limited numbers. For those that can't make it to Glasgow, finals sessions will be streamed live on BBC iPlayer, the BBC Sport app, and via the 
BBC Sport website
.