Max Litchfield, Duncan Scott and Georgia Davies all earned themselves some silverware on the second night of action at the European Short Course Swimming Championships, to take Great Britain's medal tally to five.
Contesting the Men's 400m Individual Medley, Litchfield set his stall out from the gun, taking the race to the best in Europe and coming out on top. A brilliant all-rounder, the Dave Hemmings coached swimmer was formidable as he held off those in the lanes either side of him, ultimately powering away to gold on the final freestyle leg.
Collecting his first senior international title, Litchfield could be proud of his efforts, which ensured that the British national anthem was heard for the first time this week at Tollcross.
Medal round his neck, the National Centre Loughborough swimmer said:
"To get the win here, in front of a home crowd, is just awesome and so I'm really pleased and looking forward to the rest of the week now. It still feels weird racing internationally in December, but it's nice to have that competitive nature and swimming for GB always helps as do the home crowd who are always behind us. This has been a great pool to me over the years and it's so nice to get the win."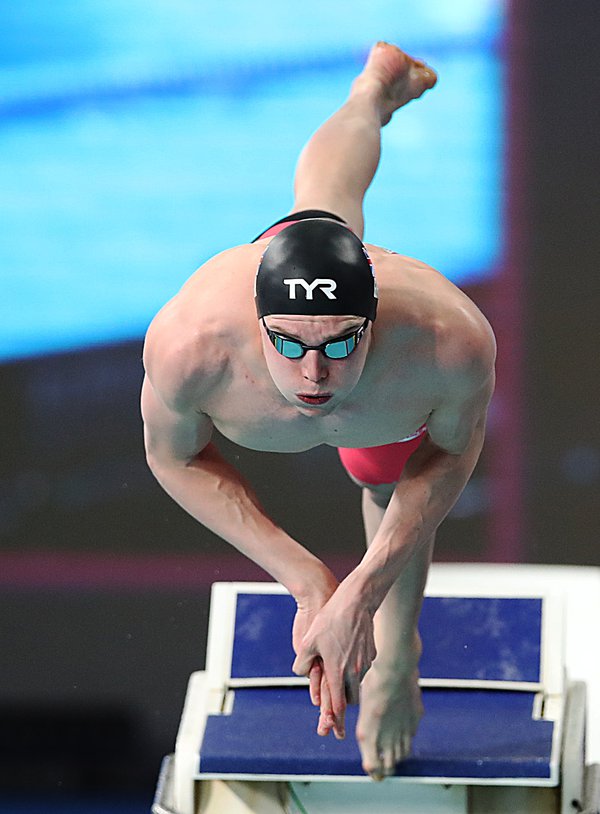 Duncan Scott once again underlined his status as one of the rising stars in world swimming as after breaking the British 200m Freestyle record this morning he secured silver with another strong swim. Having swum gun to tape in both this event and the 400m Individual Medley this morning, Scott was aiming to bring his A game for the third time in a day, which he certainly did to earn himself a trip to the podium in front of a home crowd.
Leading at halfway, the Stirling man knew he was in a race as those around him were breathing down his neck, but he kept his focus on his race, executing a classy swim in front of the adoring Glasgow crowd.
Of his efforts, Scott said:
"It was the second fastest I've ever been, so that's good. The back end wasn't as good as this morning, but it wasn't that far off what I went this morning and it's been a good three races of high intensity - I've learnt quite a bit.
"I'm here to focus on the heats and I'm trying to swim as fast as I can in the morning. I'm here to challenge myself, but I guess there's always a little bit in you that will think 'my PB would have won', but if that's the situation I'm in now then it's a good position to be in for later competitions, to know that if I swim my best times I'll be in with a shot of a medal."
They often say fourth is the worst place to finish but James Guy was pleased with his swim, which saw him set a new 200m Freestyle personal best for the first time in a number of years. Attacking the race, the National Centre Bath swimmer was pleased with the execution of his skills, something he came here to work on.
"It was a class field and we know Rapsys and Vekovishchev have got amazing turns and I knew Duncan would have a good swim. However that shows what my weaknesses are and that is my turns, but through the water I think I'm actually pretty good and we know long course is a different game. That time for me there is my first PB in the 200m Free for a long, long time, so I'm so happy with that and it shows what I'm doing in the pool is working."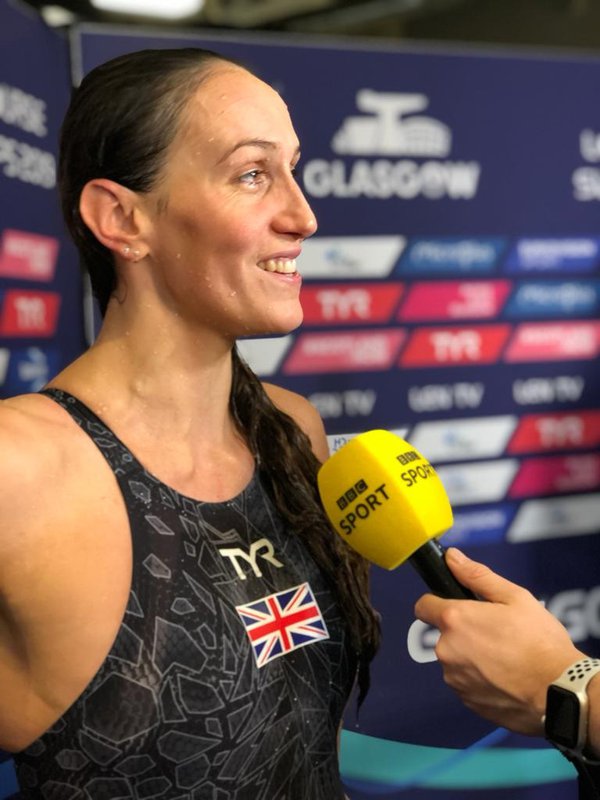 The third and final medal of the night came in the Women's 100m Backstroke, as Georgia Davies showed further progress, improving on her semi-final swim to bag bronze. Getting better with every round, Davies produced a quality swim in the final to get up for bronze and was naturally delighted, commenting:
"I have to say I'm a bit surprised, but nonetheless I'm really thrilled to medal in front of a home crowd. We've been doing so much racing this winter block and I'm really enjoying racing as I build towards getting faster for the Olympic trials and then hopefully the Olympics."
Another swimmer happy with his efforts was Ross Murdoch, the Steve Tigg coached breaststroker finishing seventh in the 200m Breaststroke final, going almost a full second quicker than he did earlier in the day. Getting out quickly and committing to his race plan, Murdoch couldn't quite haul himself into a medal place but was pleased with what he had put into practice in a 25 metre pool.
"It was a second faster than the heat this morning, a lot faster than the ISL the other day and I couldn't really have done much more to be quite honest. I said this morning that I just wanted to hit all the walls, I think I did a really good job of that. I was pretty sure that if I hit all my walls I could dip under 2:04. That's only the second time I've ever done that and it puts me in a really good position this year, knowing that I can identify problems in the heat swim and sort them out in a matter of hours. That gives me a lot of confidence for the rest of the season."
Freya Anderson continued where she left of in the morning, winning her semi-final of the Women's 100m Freestyle to secure lane four for tomorrow's final, bettering her personal best for the second time today. In the previous semi Anna Hopkin touched second, quicker than in the heats, which saw her into the final fourth quickest. Both women will have eyes on silverware tomorrow night.
Another athlete who will be in final action tomorrow is Siobhan-Marie O'Connor, the Olympic silver medallist looking in fine form as she improved by a full second from her 100m Individual Medley heat; if she can deliver a swim of a similar calibre she will be in the mix at the sharp end of the race.
After winning bronze last night in the longer event, Luke Greenbank swam a personal best to secure himself a place in the Men's 100m Backstroke final, however Joe Litchfield just missed out, despite producing a personal best of his own. Greenbank set his race up in trademark style, finishing stronger than anyone in the field, clawing back a number of places to advance. The Mel Marshall coached swimmer will hope to up his game once more in the final as he aims to double his medal tally.
As they did this morning the British 4x50m Mixed Medley Relay quartet rounded out the session, the same personnel taking to the water, with Scott McLay the only member of the team not in action earlier in the session. As per the heat Georgia Davies led the team off, handing over to Ross Murdoch for the breaststroke leg before Anna Hopkin and McLay swapped strokes, the Stirling man swimming a quick final freestyle leg to bring the team home seventh, improving their time from earlier in the day.
Full results can be found here
Tickets for the remainder of the European Short Course Swimming Championships can be still be purchased here (limited availability for some sessions), with live streaming of all of the final available via the the BBC Sport website.