Britain's Gold rush at Glasgow 2018 continued with another relay win in the 4 x 100m mixed medley.
The team, made up individual gold medallists Georgia Davies and Adam Peaty were joined by James Guy and Freya Anderson, secured the win in a new European Record time of 3.40:18.
Russia were pushed into silver medal position and Italy bronze.
Peaty said: "I was probably feeling about a nine out of 10 today, after the World Record I was a bit sore, but it was great to get back into the pool and win."
There was a silver medal for James Wilby in the 200m breaststroke, behind the Russia's Anton Chupkov in a new European Record time of 2:06.80. Chupkov shaved 0.19 seconds from his own record. 
He said: "I'm generally very happy - I'd never complain to come away with a medal.
"I've had such a great year with the 100m and 200m, and I'm looking forward to the next two years working towards Tokyo.
"I love it here at Glasgow, it's a great pool and a great atmosphere."
Ross Murdoch missed out on a bronze medal by the narrowist margin - just 0.01 seconds separating him and Italy's Luca Pizzini.

In the 200m butterfly, Commonwealth Champion Alys Thomas, 27, came away with a bronze behind Hungarian Boglarka Kapas and Russian Svetlana Chimrova.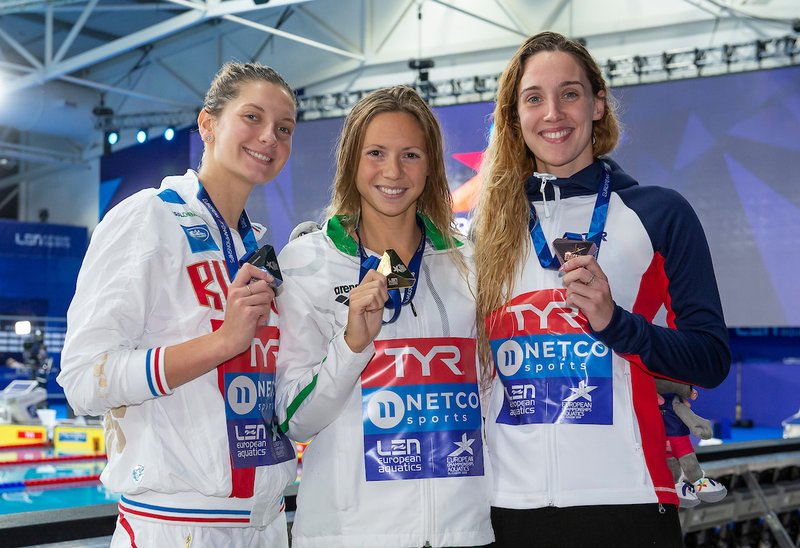 Max Litchfield then completed Britain's medal haul for the evening, winning his first major medal since returning from a shoulder injury.
He won a bronze in the 200m Individual Medley behind Switzerland's Jeremy Desplanches and Germany's Philip Heintz. Mark Szaranek finished in fifth place.
In this evening's semi-finals Georgia Davies secured her place in the 100m final coming in sixth fastest, James Guy and Duncan Scott both secured places in the 200m freestyle final as did Molly Renshaw and Chloe Tutton in the 200m breaststroke.
Ben Proud was again second fastest overall in the 50m butterfly semi - again behind Ukranian Andriy Govorov, but pledged both had more to give in tomorrow's final.
Ellie Faulkner narrowly missed out on a medal in the 200m freestyle, with Holly Hibbott in seventh.