Kathleen Dawson overcame a re-swim to make it a Friday night to remember at the European Aquatics Championships as Great Britain struck triple gold in Budapest.
First up was Dawson, who is enjoying an unbelievable breakthrough year and broke the Championship record to seemingly take the Women's 100m Backstroke title. However, on a night where there were twists and turns aplenty, a fault with the start equipment, which hampered Louise Hansson in lane eight, meant the race would be re-swam at the end of the programme.
Showing iron will, Dawson did it again, much to the delight of the British team in the stands, rightfully claiming her maiden European crown by winning that second final. The Bradley Hay and Steve Tigg-coached athlete held back down the first 50m compared to her heat swim, before bursting clear in the closing stages to reign supreme.
A delighted Dawson said afterwards:
"I was ecstatic when I first swam my 58.1, and then I was part way through my swim down when I got told that we'd have to re-swim it. I was disappointed in the moment, and I put my hands on my knees - but then Steve straightaway was like, 'come on, you did this last night, you can do it again'.
"Sure enough, I was able to go in and go through the process that I did last night and produce the swim I did. It's been so consistent this whole competition, I'm so impressed with myself. For me, it was more that I was able to swim that time - and the Champs record, that got taken away from me.
"But I knew that as soon as I had that next chance to get that gold again, I knew I was going to be number one, that I was going to be stood on top of the podium. It just shows that I've deserved it. To have come from third place five years ago, and then not have even made the final in Glasgow, I couldn't be more proud of myself."
Training partner and teammate Cassie Wild also endured the same rollercoaster journey, fifth in both races, but remarkably improved on her time in the re-run. Of the crazy proceedings, she said:
"I didn't quite believe it at first, I thought it was a wind-up! I just phoned my coach, Steve, talked about the best ways to recover and getting a new mindset. Some people might just be like, 'I don't want to do it again', so I thought it might be more of a mental game than a physical thing. I'm happy to have gone quicker. I was hoping to maybe sneak on the podium, but that was a really tough swim, so I'm still pleased with myself."
Molly Renshaw was another Brit to stand proudly on the top step of the podium and hear the national anthem belted out around the Duna Arena, as she lifted the Women's 200m Breaststroke crown.
The Dave Hemmings-coached breaststroker was cool, calm and collected as she clinched her maiden international title with a confident performance. To the fore throughout, Renshaw pushed the pace from the halfway mark, moving clear of her rivals and truth be told, the result never looked in doubt.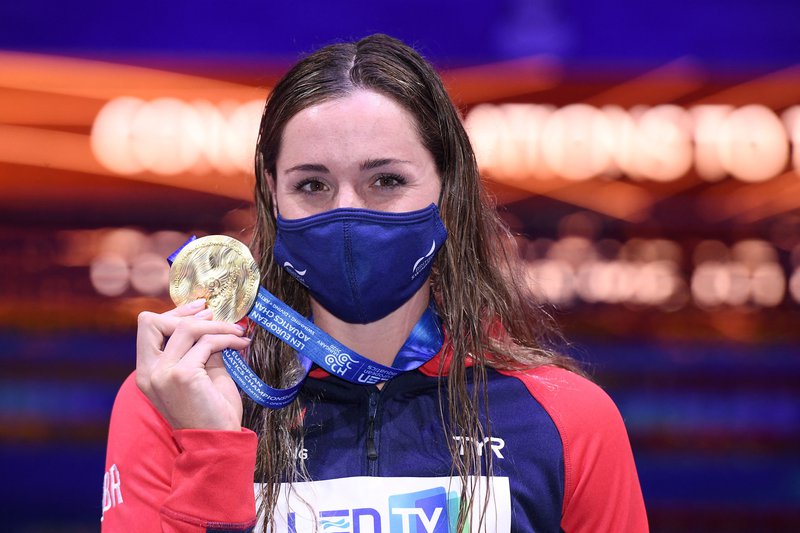 Medal round her neck, she said:
"It was a really tough race - I definitely hurt more than I did last night but I just tried to keep my cool down the last 50m - I'm over the moon with that. I was half-a-second off my best time, so to be doing that in hard training, I can't ask for much more and it's a great stepping stone towards the Olympics.
"You always dream of winning events. I won my first Europeans medal back in 2014, and I have the silver and bronze in this event, so I feel like winning gold has come at the right time - and it's just making me excited for the summer."
Training partner Abbie Wood also produced a quality swim for fifth place, a shot at the podium just slipping away in the latter stages of the race. Wood was back in the water less than 20 minutes later for the semi-finals of the Women's 200m Individual Medley, and was seemingly sufficiently recovered to book her ticket into the final. Aimee Willmott contested the first of the two races, improving on her heat swim, but it wasn't quite enough to join her teammate tomorrow.
The third of Britain's golds on a night to remember came in the Women's 4x200m Freestyle final, Lucy Hope, Tamryn Van Selm, Holly Hibbott and Freya Anderson, as well as Emma Russell in the heats, combining to put clear daylight between themselves and their rivals with a memorable performance. Hope led the team off, a swim close to her lifetime best setting things up perfectly for GB debutant Van Selm to move the team into the lead, which National Centre Bath freestyler Hibbott only extended.
With Anderson diving in with a commanding lead, the result already seemed assured, but the individual bronze medallist didn't let up, powering down the four lengths of the pool to stop the clock in 7:53.15, some three seconds clear of the rest.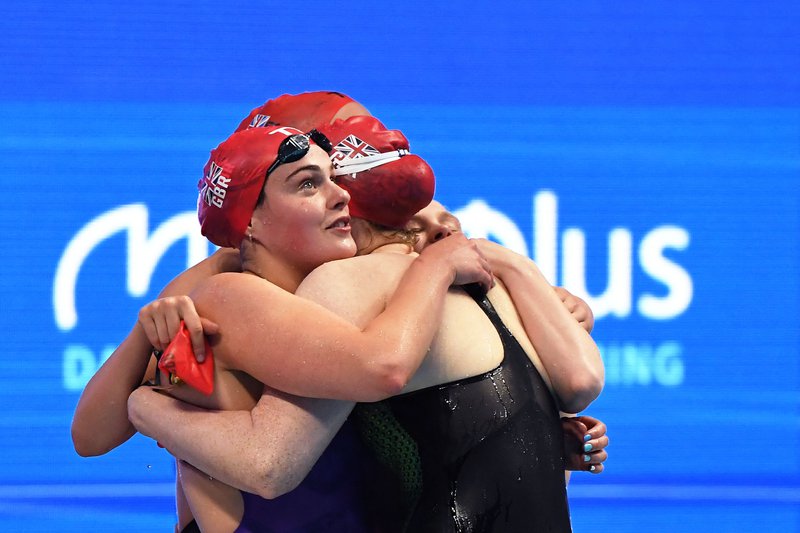 Speaking afterwards, Hope said:
"I didn't really know how it was going to go there. My 200m has been a bit off this week, but I knew I just wanted to go as fast as I could to get the girls in the best position I could - it's great to come away with the gold."
The medals kept coming, the Men's 200m Freestyle final an absolute cracker of a showdown, as it so often is, with Britain scooping two of the three medals on offer courtesy of terrific swims from Duncan Scott and Tom Dean.
It was Dean who was out quickest, the David McNulty-coached swimmer leading at the first turn, but it was nip and tuck throughout, with tenths of seconds separating the main protagonists in the centre lanes. Scott, guided by Steve Tigg at the University of Stirling, took up the charge at 150m, turning for home with a marginal lead, with four men right on his shoulder, one of those Dean.
Battling hard down that final length both Brits, who've had busy schedules this week, had to dig deep into their reserves, with Scott touching second for silver and Dean grabbing the bronze.
Pleased with his efforts, Scott said:
"It has been a tough couple of days, but I'm really happy with that. The 200s, for me, it's another learning experience doing back-to-back international 200s, which was good last night and the night before.
"Tonight, it was nice to have a morning off and then come back a bit fresher. I'm really happy with that, 1:45.1 I'm really pleased with. I gave it a good effort to 150 and tried to hang on, but there's some boys in there coming back fast and swimming really well."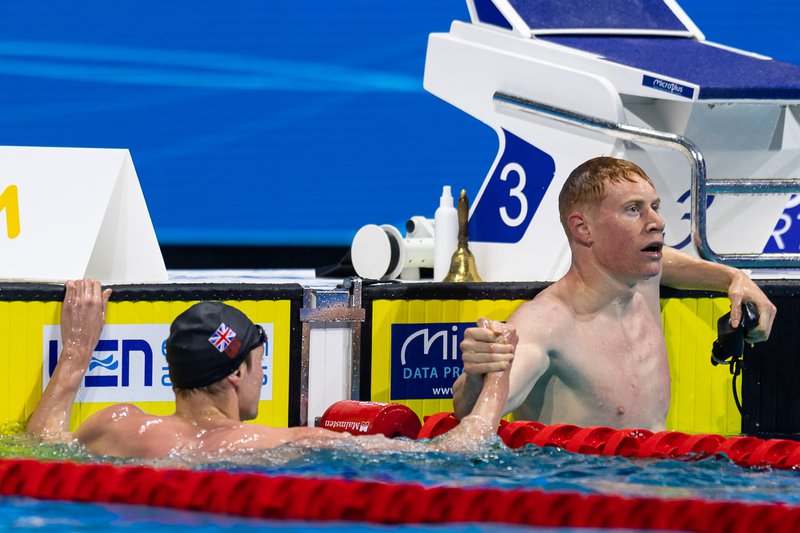 Dean added:
"The momentum in the GB team is unlike anything I've ever felt - and I know I've only been on three or four international teams, but this is just something really special.
"Look at Kathleen Dawson, look at Molly Renshaw, and that's just tonight, we've had five days of this. The relays have been good fun, but the real winners at this comp is GB and the momentum we've carried through from such an incredible trials. It just makes me so excited for two months' time out in Tokyo."
Luke Greenbank lowered the British 200m Backstroke record for the second time in a day, a stunning 1:54.43 performance seeing him secure lane four for tomorrow night's European final. Having taken seven tenths of a second off his old record this morning, the Mel Marshall-coached man was at it again, lowering the mark by another 0.2 to qualify fastest for tomorrow night's medal showpiece.
In his third 200m Backstroke of the day, after a swim off secured him a place in tonight's semis, Brodie Williams ran out of steam, but can be proud of his efforts.
Adam Peaty continued to assert his dominance on the breaststroke events, winning his heat of the Men's 50m Breaststroke semi-finals, to progress to the final top of the pile. Swimming from lane one, James Wilby couldn't do enough to join his compatriot, so will now turn his focus to a potential swim in the medley relay this weekend.
Both Anna Hopkin and Freya Anderson made light work of advancing to tomorrow evening's Women's 100m Freestyle final, ensuring they'll be in the thick of what is set to be a very close medal shake-up. It was Hopkin, in lane four of semi-final one, that led the charge at the turn, finishing strongly to touch second, just ahead of Anderson on her inside, both with sub-54 times.
Full results can be found here