World Championship 200m Backstroke medallist Luke Greenbank bettered his own British record by almost a second during Friday's morning session at the European Aquatics Championships.
After a personal best in the 100m Backstroke final the previous evening, all signs were that the Mel Marshall-coached swimmer was in the form of his life, a point he proved with an electrifying swim here. Through halfway just outside European record pace, it was Greenbank against the clock, such was his lead, but few could have anticipated a swim of this magnitude.
Taking a staggering 0.7 seconds off his old mark, the National Centre Loughborough man headed qualifying by more than a second – and he'll head into tonight's semi-finals full of confidence.
Afterwards, the man from Cockermouth said:
"I'm absolutely over the moon with that. I went into it looking to put down a good marker and set the standard high, and then try and build on that in the semi and the final. I knew I was capable of going 1.55, but to beat that by a second [is great]! There's definitely some more in there as that felt really good and controlled – it's always going to be hard, but I think there is definitely more in there."
There was further drama, however, as added on to the end of the session, Brodie Williams - who works under Jol Finck - would contest a swim off for the final place in the semi-finals. Trailing throughout, the National Centre Bath man timed his effort to perfection, powering home down the final 50m to out-touch his Italian rival, improving on his earlier swim.
Of the experience, Brodie said:
"That's my first ever swim off, and for it to be a 200 was extremely difficult! To be honest, it felt a bit better than earlier, a lot smoother, but hard work! I just thought that if I could stay with him I'd maybe have him in the last 50 – I was feeling quite rough to 150  but I just made sure I saved my legs for the last wall and thankfully I came through. I think I'll go and have a nap now and hopefully improve again tonight."
Despite solid swims, there was no place in the next round for Elliot Clogg or James McFadzen.
Abbie Wood was another Brit to put out a statement of intent, this time in the first round of the Women's 200m Individual Medley, qualifying some half-a-second quicker than anyone else. Going in heat four, she was never troubled, and will be joined by 400m IM silver medallist Aimee Willmott, who advanced inside the top eight times overall.
Senior GB debutants Alicia Wilson and Katie Shanahan also towed the line, with both women quick enough to advance, were it not for LEN's two per nation rule. For youngster Shanahan, a classy swim was rewarded with a shiny new personal best, and afterwards she commented:
"I'm really, really happy with that. The morning swims, I always struggle to get into it, so to improve on trials, I'm over the moon.
"It's been a really good experience – I've watched these swimmers for years and years and to actually be on a team with them, watching them, seeing how they act, what they're doing before they race, I'm honestly learning so much from it and I'm just so happy to be on the team and soaking everything up."
Adam Peaty once again showed his rivals a clean pair of heels with a swift heat swim in the Men's 50m Breaststroke -  even by his extremely high standards. With two golds already secured this week, Peaty will be hoping to add a third in this event tomorrow evening, and will be joined in the semis by James Wilby - Ross Murdoch was the man to miss out.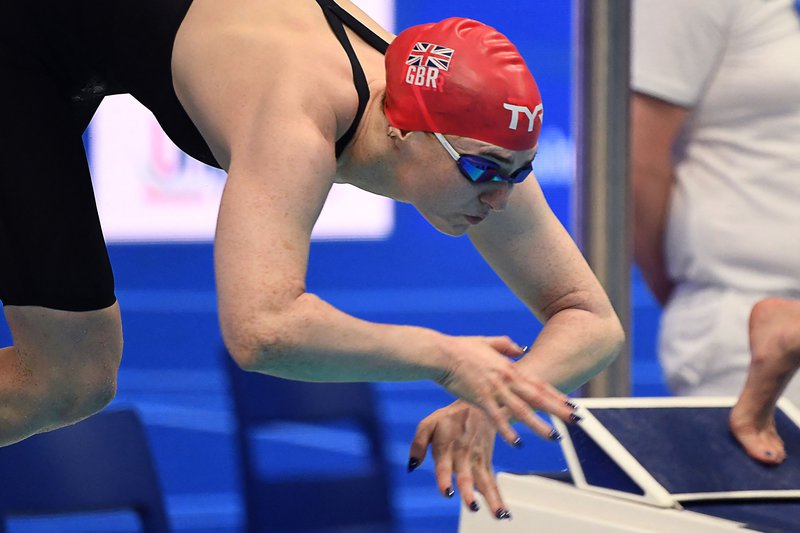 A pair of business-like performances saw Anna Hopkin and Freya Anderson progress into the next round of the Women's 100m Freestyle, but that meant there was no place for Lucy Hope or Evelyn Davis. Hopkin cruised to victory in the final of the eight heats, advancing second quickest overall, whilst Anderson bided her time, moving through to second in the later stages of her heat. Both women will expect to secure a final berth this evening.
A young and inexperienced Women's 4x200m Freestyle Relay quartet were not fazed by the task at hand as they safely navigated the preliminary round to mean Great Britain have a shot at a fifth relay medal of the meet this evening.
Fresh from her 100m heat, Lucy Hope was back in relay action, having been part of that historic Women's 4x100m Freestyle triumph earlier in the week. Hope put the team right in the thick of the action, third after leg one, with 17-year-old Tamryn Van Selm next into the water, maintaining their position with the quickest split of the quartet.
Holly Hibbott, who starts her 400m Freestyle campaign tomorrow, moved the team into second, before Emma Russell battled her rivals, who were all alongside her in the three lanes to her inside, ensuring Britain would progress fourth quickest into the final.
Prior to the swim off, the Men's 800m Freestyle was the last slated event, Kieran Bird and Daniel Jervis going in the final two heats, however neither man was able to deliver the top eight time needed to make the final.