World champion Luke Greenbank showed his class in the Men's 200m Backstroke heats on Sunday morning of the British Swimming Selection Trials with a controlled but quick swim, to easily book lane four for tonight's final.
Greenbank – who trains under Mel Marshall in Loughborough – is already pre-selected for Team GB as a result of his World Championship medal in this event in 2019, with this performance showing why he went and broke the British record back in March. This morning, a composed swim saw him a mere 0.3 seconds outside the Olympic consideration mark, with Elliot Clogg his closest rival.
Opening the morning's proceedings on the final day at the London Aquatics Centre, Sarah Vasey led the way in the Women's 100m Breaststroke heats in her first and only event of the meet, setting herself up well to meet the Tokyo requirement time in the evening.
The Loughborough National Centre swimmer was one of three from her training centre among the top four qualifiers, with Molly Renshaw and Abbie Wood – who both made the 200m Breaststroke consideration time earlier in the week – placing second and fourth. Kara Hanlon of Edinburgh University was third-quickest.
In the Women's 50m Freestyle, Anna Hopkin picked up where she left off in going under the 100m Freestyle consideration time on Saturday night by laying down a blistering display in the heats here.
Another of the Marshall cohort, Hopkin came up first and never let up in her race, qualifying fastest, only two tenths away from the Tokyo requirement mark. Isabella Hindley and Lucy Hope will be either side of her in the final.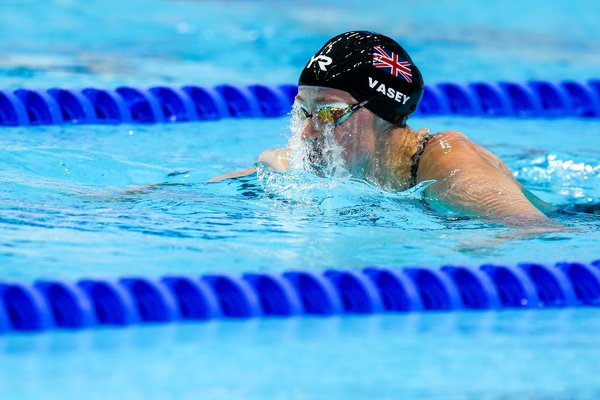 David McNulty-coached Tom Dean looked on fine form in his main event, the Men's 200m Freestyle, winning the first of three races and dipping inside the Tokyo time in the process. The second heat provided the closest racing, Matt Richards edging out long-time leader James Guy on the touch, both men inside that required time, whilst Duncan Scott was made to work hard to win the third race, Calum Jarvis on his far side also going under the time.
Arguably the deepest field of the week, both Joe Litchfield and Cameron Kurle were also less than two tenths outside that consideration mark, making tonight's final one not to be missed.
The first of two Men's 1500m Freestyle races rounded out the morning session, Jackson O'Rourke posting the fastest time, although all eyes will be on the likes of Dan Jervis in race two this evening.
---
DAY FIVE FINALS SCHEDULE
Men's 1500m Freestyle, fastest heat
Women's 1500m Freestyle, fastest heat
Women's 100m Breaststroke
Men's 200m Backstroke
Women's 50m Freestyle
Men's 200m Freestyle
---
FOLLOW IT ALL