Olympic champion and world record-holder Anna Hopkin is part of a British Swimming cohort currently out on Australia's Gold Coast as part of a warm-weather training camp to kickstart 2023 and build foundations for the work that lays ahead, as preparations build towards this year's World Championships in Fukuoka and Paris 2024.
The 26-year-old freestyle specialist continued to make an impressive string of podium appearances during a packed 2022 season, following on from a haul of five European medals - including four golds - and that Tokyo triumph in 2021.
A 2022 which saw Hopkin win a medal of every colour at Rome's European Championships, preceded by three medals at Birmingham's Commonwealth Games, was then rounded off with a bronze medal at the World Short Course Championships last month.
All eyes are now on what lies ahead - but reflecting on her year, the Loughborough Performance Centre athlete gave a well-rounded opinion on her achievements and learnings.
"I think 2022 was a bit of a mixed bag. Overall, I would have liked to have swum better, especially as an individual but I gained some really good race exposure given we had three major long-course Championships and I think I handled the volume of racing really well," she said.
"I also had some good relay success at both Europeans and Commonwealths as well as finishing the year off with an individual bronze at the World Short Course Championships which was definitely a highlight for me. I think other [highlights] would be retaining our European title in the 4x100m Freestyle Relay, after a very long season we still managed to put together a really good race which bodes well for the coming years, then getting that 50m Freestyle bronze at World Short Course. I really wanted an individual medal this year and I fell short a few times so to get one at the last competition of the year meant a lot."
Due to the close time proximity of the current Gold Coast training camp to the short course meet in Melbourne, Hopkin spoke about what her and some of the other Loughborough-based GB swimmers got up to in the meantime.
"I stayed in Australia so we spent a few extra days in Melbourne then flew to Sydney for Christmas and then to the Gold Coast, hired a car and drove up to Sunshine Coast for a few days. Then we drove to Brisbane for new years and then back to Gold Coast to start the camp. It felt like we got a good amount of time to decompress and explore as well as training in some beautiful locations," added Anna.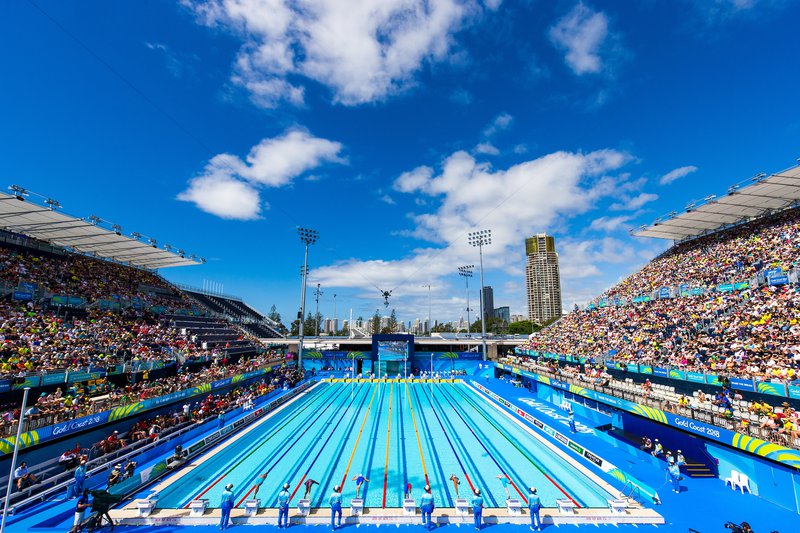 The camp itself is a crucial next step in the athletes' development as they prepare for the Paris 2024 Olympic Games, with each individual's programme very much building towards World Championship targets this year.
They provide a valuable opportunity to expose the athletes from the Bath and Loughborough Performance Centres to a warm-weather environment, which will be akin to that of the next edition's Commonwealth Games in the same country.

For those who are used to doing their eye-catching numbers of metres in their home pool, it is also a valuable opportunity to expose them to the City of Gold Coast's warm-weather environment, which can have various training benefits. 
Hopkin was keen to point out those benefits, as well as how well the group are responding to being out together in that environment - with positives in and out of the water.
"I think these camps are really useful, it focuses the mind to push harder for that block we're away and there's no home distractions to take away from training. Training is also really tough in the heat - even when you're in the pool, the air temperature is much higher than we're used to which adds an additional challenge," she said.
"The atmosphere is really good, it's a small, tight-knit group and we all push each other. There's a lot of hard work to come but we're very lucky to be able to train in such a beautiful part of the world in the sunshine."
"I think schedule wise, it's pretty similar. We still do the same amount of sessions, although we tend to add in more circuit training and have more time to focus on pre-pool and post-training recovery. Generally, training is just a step up from what we would do back home because we have a short amount of time to make as many gains as possible."
Following on from what was a busy 2022, the attention of Hopkin and the rest of the British swimming team turns to Sheffield for the British Swimming Championships in April, which will serve as the key selection meet for Fukuoka's World Aquatics Championships in July.
Anna is already recognising how she has improved from last year, as well as what she intends to achieve on the world stage in 2023.
"I think I am always looking to improve on the small details, technical efficiency is very important to me so ensuring my stroke doesn't break down even when I'm tired. Also figuring out what works best for me in the transition from training to competition to make sure I'm in the best shape to race fast. I think we learnt a lot last year so it will be good to put that into practice.
"My targets are to make the World Championship team this year and hopefully get on the podium there if I do."