Joe Litchfield and Abbie Wood were among the standout British performers on the opening day of the new International Swimming League season in Budapest, as competitive swimming made its long-awaited return. 
No fewer than 12 Brits were involved on an afternoon that ended with Cali Condors in the lead at the halfway stage of qualifying match one, with reigning champions Energy Standard, LA Current and New York Breakers following in their wake. 
Litchfield was in action in three separate individual events in the Duna Arena's short-course pool, with his best result coming in the Men's 200m Individual Medley. The National Centre Loughborough man finished third for the Breakers, with brother and Energy Standard rival Max Litchfield coming fifth and Mark Szaranek (Cali Condors) seventh. Versatile Joe also contested the 100m Butterfly and the 50m Backstroke. 
The British swim of the day came in the same category, as Wood (New York Breakers) secured a valuable seven points for her franchise by finishing second in the Women's 200m Individual Medley on her return to competition.  After going out early with world-class Melanie Margalis, the Dave Hemmings-coached swimmer held on well for a comfortable second place in a strong field.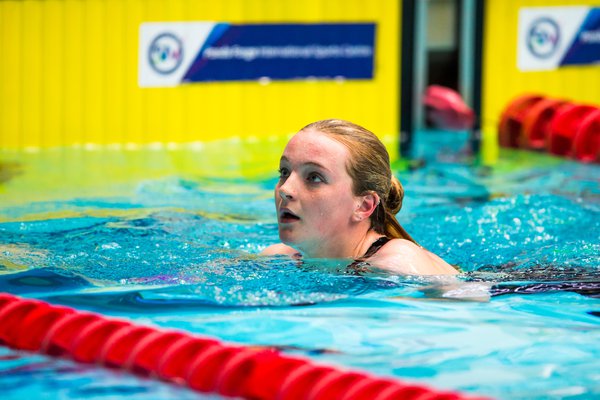 Her National Centre teammate Molly Renshaw had earlier placed third in the Women's 200m Breaststroke, in another solid swim for the New York-based Breakers. 
In the shorter 50m Breaststroke contest, Imogen Clark (Energy Standard) and Sarah Vasey (New York Breakers) claimed fourth and sixth-place finishes respectively, while triple World Championships medallist James Wilby was fifth in the Men's race. Wilby was earlier sixth in the 200m version. 
Among the other British competitors on the opening day in Hungary were World-medallist Georgia Davies – who finished fourth in the Women's 50m Backstroke for Energy Standard – and Matt Richards (New York Breakers), a sixth-place finisher in the frantic Men's 50m Freestyle, a few months after his move to the National Centre in Bath. Ben Proud was eighth in that race. 
Medley specialist Max Litchfield was fifth for Energy Standard in the Men's 400m Freestyle, while Chloe Golding placed sixth in the Women's 200m Backstroke and eighth in the 50m version. 
The opening match of the 2020 campaign will come to a close on Saturday, before four more teams – including Brit-heavy London Roar – begin their bids for the title in match two on Sunday and Monday.