A ticket to Tokyo 2020 is all but confirmed for Loughborough University's Alice Dearing, with her fourth-placed finish in Setubal earning TeamGB a quota spot in the Women's 10km Marathon Swimming event.
The task at hand for Dearing was to finish in the top nine and be the first British athlete across the line in Saturday's FINA Olympic Marathon Swim Qualifier - an achievement in which she duly delivered.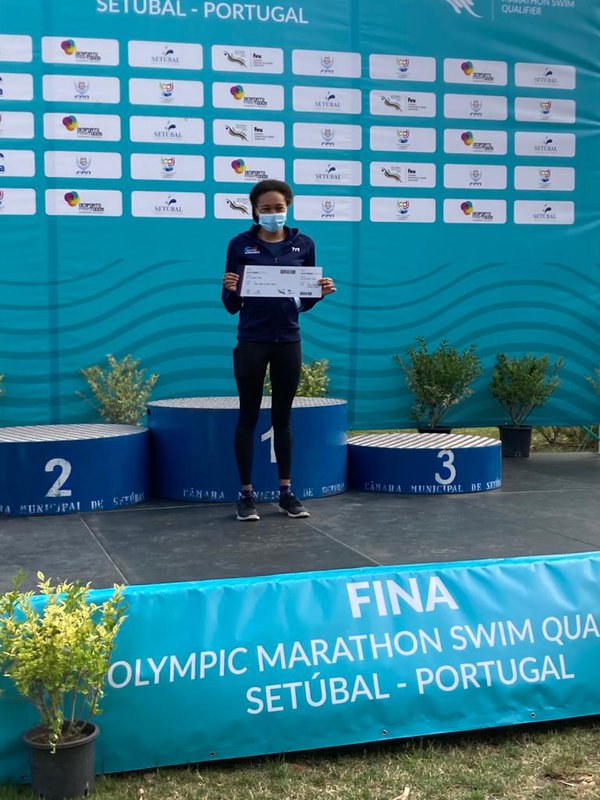 A 47-strong field lined up for five laps along the Portuguese coastline, and the pace was on from the very beginning in a race that offered nations their final chance to book a spot at this summer's Games in the Women's 10km event. Both British athletes, Dearing and Danielle Huskisson, stayed well positioned throughout the early stages as the leading bunch slowly dwindled in number, lap by lap. By the 8km mark, University of Stirling swimmer Huskisson sat in seventh, but it was the 2016 World Junior champion, Dearing, who managed to react to a further injection of pace shortly after the bell to break away with a definitive pack of five.
That move ultimately broke the elastic with the rest of the field, and on the surge homebound, Dearing was able to stay on the feet of the podium trio of Anna Olasz (HUN), Paula Ruiz Bravo (ESP) and Kate Farley Sanderson (CAN) all the way to the finishing board. Dearing's fourth place performance ultimately means she will be nominated to the Team GB selectors for the quota place her result at the FINA Olympic Marathon Swim Qualifier has earned Great Britain.
Speaking after the event, Dearing said:
"I'm really excited, relieved, grateful, it's a huge mix of emotions. I can't quite believe it, I've been daydreaming about this day for the past year and a half, ever since the first lockdown came in. 
"So to have the day arrive, have everything fall into place, thankfully, have such a great team around supporting me, to get in, swim to my potential and qualify the Olympic Games place is just a bit surreal right now, I can't quite process it. It'll probably take me quite a while to sleep tonight!
"I'm just so grateful to everybody who has helped me along the way, everyone who has believed me, encouraged me. When I was younger, I never really thought about being an Olympian - I thought 'oh wow, it would be so cool', but I knew how much hard work went into it and honestly didn't think I was cut out for it. So I'm really proud to have proved myself wrong, in a way, and to achieve beyond my wildest dreams.
"I was happy to make nationals, I was happy to make regionals, I was happy to make counties - and to be put up for selection for the Olympics, it's an incredible achievement and I'm so relieved and grateful and happy for everything I've invested."
Danielle Huskisson's fine swim secured a final finishing position of 13th overall.

Find full results from Setubal HERE, with the upcoming Men's race (featuring Hector Pardoe and Tobias Robinson) starting at 4pm on Sunday streaming on the FINA Youtube Channel.
Women's Race featuring Alice Dearing and Danielle Huskisson
Men's Race featuring Hector Pardoe and Tobias Robinson
Start time 4pm, Sunday 20th June 2021