Mel Marshall is set to play her part in helping UK Sport's bid to boost the representation of women in elite coaching across a range of sporting disciplines.
UK Sport are today (12th November) launching a new leadership programme as one step in a plan towards more than doubling the representation of female coaches in the Olympic and Paralympic high-performance community by the time of the Paris Games in 2024. 
Loughborough National Centre Lead Coach Marshall - who has coached Adam Peaty throughout his rise to becoming Olympic, world, European and Commonwealth champion - is one of six of the top female coaches in the UK who will provide key support and development opportunities for the next, aspiring generation of elite coaching staff. 
Paula Dunn (para-athletics), Kate Howey (judo), Bex Milnes (para-triathlon) and Tracy Whittaker-Smith (trampolining) will join Marshall in offering a unique chance for other female sporting personnel to learn from them, observe them in their coaching environment and develop a deeper understanding of high-performance coaching. Karen Brown, who spent more than 15 years as a coach for Great Britain Hockey and England Hockey, will also act as a mentor throughout the programme. 
It is an initiative that former World Championship medallist Marshall feels strongly about - and she is relishing the chance to get started. 
"It's important that people see what is possible, and I am honoured to be part of this project with UK Sport and with a group of extremely successful female coaches from across the Olympic and Paralympic environment," said Mel, who is currently out in Budapest as Lead Coach of London Roar in the International Swimming League (ISL).
"We have to talk about opportunities for women in high-performance coaching and we shouldn't be afraid to have those conversations, talk about our ambitions and challenge those not supporting them. 
"UK Sport are leading the way on this through their ambition, and I am extremely excited to be a part of the project and am looking forward to sharing my knowledge and experience with up-and-coming coaches, as well as everyone else involved."
UK Sport is working with Performance Directors, Coach Developers and Talent Pathway Managers within the high-performance community, as well as UK Coaching, to nominate female coaches who the group collectively agree have potential to coach at the Olympic and Paralympic Games at Paris 2024 and beyond. The nomination process will close shortly and coaches will be finalised by the end of the year.
The leadership programme forms part of UK Sport's long-term plan to address the current under-representation of women coaches at all levels of the talent pathway within the high-performance community. Significantly increasing the number of female coaches available for Paris 2024 is the first target of this long-term plan.
UK Sport CEO Sally Munday said: "UK Sport is determined to see greater diversity across the high-performance community and this programme will focus on seeing more women at the top end of high performance. Coaches, alongside athletes, are at the heart of our high-performance community and we firmly believe that a more diverse cohort of highly skilled coaches will help more of our Olympic and Paralympic athletes realise their potential.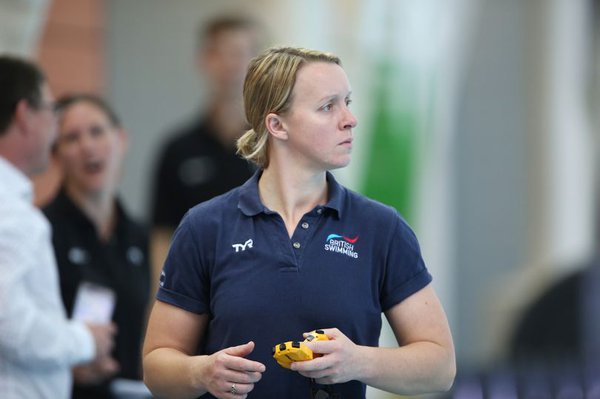 "There are currently far too few female coaches operating at the highest level of performance and we are committed to addressing this reality and, working with our stakeholders, driving the change we want to see."
The programme arises from UK Sport's People Development Team, working in partnership with sports and stakeholders to address diversity and inclusion ambitions, removing barriers and introducing bespoke programmes, with gender the first characteristic and other initiatives to follow. 
At present, approximately only 10 per cent of coaching positions within the high-performance community in the UK are held by women. The first target of UK Sport's long-term plan is to ensure that by the Olympic and Paralympic Games in 2024, the number of female coaches available to Team GB and ParalympicsGB has more than doubled to 25 per cent.
British Swimming is proud to lead the way on gender balance within elite coaching, with the likes of Jane Figueiredo, Jacqui Marshall and Paola Basso all doing a fantastic job in our other aquatics disciplines.