With the ISL Grand Final taking place in Budapest this weekend, we caught up with Medley man Max Litchfield, as he prepares to do his bit to defend the team title.
Lining up for Energy Standard, who took the ISL title in its inaugural season in 2019, Litchfield reflects on a busy six weeks as he prepares to dive into the pool in Duna Arena for one final time in a bid to help the reigning champions defend their crown. 
So what exactly has life been like inside the ISL bubble?
"It's probably not been quite as intense as I thought it was going to be – you can socialise and stuff, so you're not just locked in your room and that's it, so we've been able to keep our sanity! So even though we can't go off the island, it's not been that bad. The island is lovely little place and we can get out and wander, so it's been good.
"Even if we were fully locked down and could only be in our rooms, it would still be better than not having this opportunity. We're very lucky to be out here and be able to race – the fact that it's the highest level competition we've had the opportunity to do this year means we're all just very grateful."
With the majority of swimmers back home in Britain out of the water due to the second lockdown, the aquatics community is having to learn to be flexible, as at the moment it seems best laid plans can be torn up in an instant. Whilst grateful to still be doing what he loves, that flexibility was needed by Max from the moment he arrived in the Hungarian capital. Being apart from his coach, Dave Hemmings, for such a long period was made even trickier, as he explains:
"Dave set out a big plan at the start and he's one of the best planners in the world, but we got out here and got the news that everything was going to be condensed and that the final would be out here instead of in Japan in December. So immediately the plans had to change! 
"It's all about being flexible and we've already learnt this year about how being flexible is key. During lockdown we changed our training programmes up for land-based training and it's just the same sort of thing.
"The guys out here have been great in terms of providing what I need and if their sessions don't fit with what I need to do, then I just do my own thing, but if they do I'll train with them. It's been great to train with a different group actually, training with different people and different coaching styles, it's all about learning. Getting to train with people like Chad [le Clos] as well – getting to watch what he does, day in, day out, has been good.
"The bottom line is that you've just got to be flexible. I've done it before, although this is perhaps a bit longer being six weeks, but I did it at the Olympics where I was without Russ [Barber, City of Sheffield Head Coach], so I've done it before and you've just got to get on with it and deal with the hand you're dealt."
With the second season of the ISL reaching its climax this weekend, anticipation is high, given the quality of swimming on display over the last four weeks. So what does Max make of it, having been inside the arena to witness it live?
"There has been some incredible swimming. When you consider we've had three world records, four unofficially, it's been an incredible meet, despite what's been going on this last year. It's an incredible thing to be here, be able to race and to see people racing so fast as well is awesome.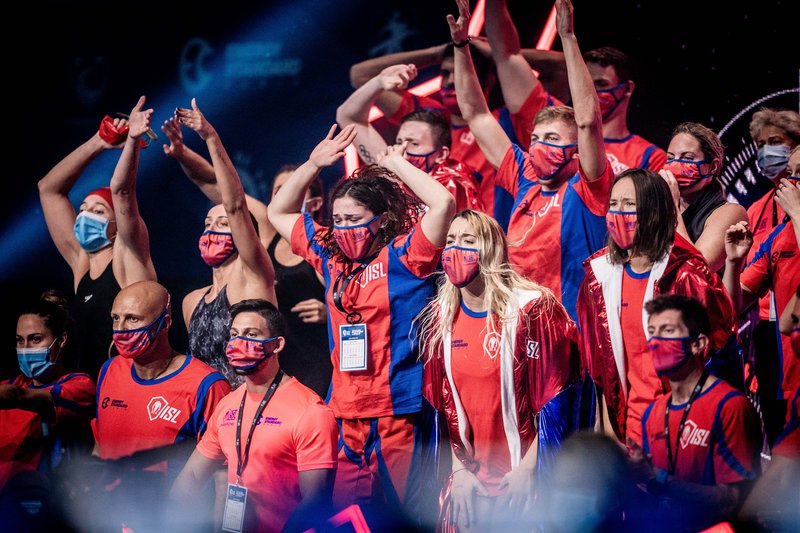 "We've got one more meet this weekend, in the final, and hopefully I can put some good performances in personally, for the team, and hopefully we can go on to defend our title from last year."

With his Energy Standard team heading into the weekend's Grand Final as defending champions – and arguably favourites, alongside Cali Condors, to lift the ISL trophy – it will be a case of who can bring their best form when it matters most. 
Based on the improving performances of the Brits over the past four weeks, it looks like their teams will be able to count on them to deliver top swims at the business end of the meet, as Max notes.
"We often see a lot of people in their first swims go really, really quick and then drop off towards the end, whereas for the Brits we didn't start as fast as some of the others guys but we've come strong towards the end of the meet when it really matters most."
On a personal level, Litchfield will certainly be hoping to produce his best showing on Saturday and Sunday, as the middle part of his 2020 ISL campaign was hampered by illness.
"I don't really know what it was but a few people came down with a little bug, and I had a fever, but thankfully it wasn't COVID, which was one of my stresses at first when I started feeling unwell! It took me out of the pool for five days, but I think sometimes it takes more out of you than you actually think – you might feel back to normal but you're probably not. The last two meets for me were good performances, but not quite reflective of where I think I can be; however the end of the last match was better, with a season's best in that 400IM, so add in another week of rest and recovery ahead of this weekend and I think it'll be better again.
"That swim in the IM has definitely given me confidence, and like I said, it was a season's best. I was closing well at the end, which is one of my processes, trying to finish fast.
"In terms of time, I'm not really looking at that – it would be nice to finally break that four-minute barrier, but at the end of the day it's about racing and getting your hand on the wall first, so I'm just going to race my own race, put in place the processes I've been working on in training and enjoy it."
Watch the final this weekend live on BBC Sport online (and the red button Sunday) or the Eurosport player | 1-3pm, Saturday 21st | 5-7pm, Sunday 22nd.