Lewis Burras, Jacob Whittle, Matt Richards and Tom Dean combined to smash the British Men's 4x100m Freestyle Relay record, while Ben Proud and James Wilby produced eye-catching swims of their own to secure final berths after a busy opening day at the World Aquatics Championships in Budapest. 

The men's relay quartet – which saw double Olympic champion Dean come in for five-team Olympic medallist James Guy after the heats – clocked a blistering 3:11.14 to go nearly half-a-second inside the previous best British mark, set at the European Championships in the same pool 12 months ago.
Burras again put in a solid opening leg, before handing over to Whittle, in second after anchoring the morning effort. He kept the Brits in contention, with Richards following suit courtesy of another well-paced two lengths. It was then over to Dean, who showed no signs of rustiness in his opening swim of the meet by recording a stunning 46.95 split.
Agonisingly, it was not quite enough to haul in Italy in third, meaning a fourth-placed finish for GB – but the team are under no illusions that this is only the beginning for an event that can go from strength to strength in the coming years.
"It's really special. It's the first time us four lads have swum it together, it's quite a young team, the first time Burras is on the team with us," said Dean.
"It's so special, the British record, it just shows how strong we are with two years to go still to Paris. It's like the 4x200m Freestyle Relay before Tokyo – the Worlds before, we came fifth and then we went and won it at the Olympics. We're heading in the right direction."
Whittle added: "This team is definitely moving forward and we are definitely getting a lot closer and learning how to swim it properly. I feel like we went in a bit blind in Tokyo, but we are definitely learning and getting better."
A maiden World Championship experience is one that Burras will never forget, with the sprint freestyler saying: "I've never experienced anything like that before, great support from the crowd. Just going off the back of what these boys have said, it's the start of something special. We have so much room for improvement, and to get to know these boys over the next year two years and beyond is an honour."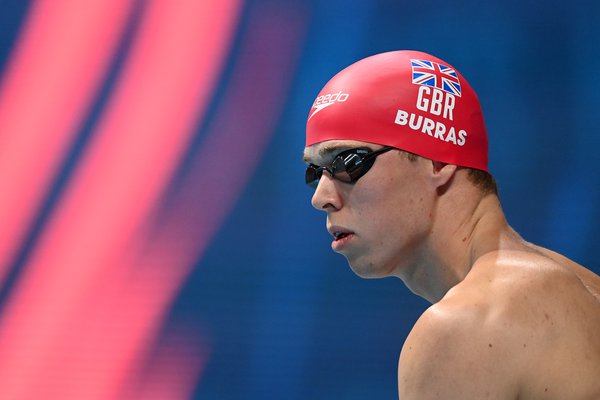 Richards concluded: "I'm sore! It's good, like the other boys have said, we're in a great place. It's tough to come away from it, missing out on a podium by that much, but I think it just makes us hungrier and we'll come back stronger.
"For myself, it's been a tough season, it hasn't been quite where I wanted, but it's nice to see I'm back at the sort of times I want to be doing again, and we're all on the up and up heading towards Paris."
The Women's 4x100m Freestyle Relay brought the curtain down on Saturday evening's entertainment, with Britain's foursome finishing fifth.
Anna Hopkin led off and was followed by Lucy Hope as they tried to lay a platform for the back half in another race of the highest pace. Abbie Wood swam well so soon after having contested the semi-finals of the 200m Individual Medley, while Freya Anderson – who raced the 400m Freestyle heats in the morning – showed that characteristic back-end speed to deliver a fizzing 52.70 split last up.
Reflecting on the performance, Hopkin said: "It was good, it's a good relay to get the week started with. It's one we are hoping to build on through Paris, so getting a lot of experience with it is going to help us do that."
Hope added: "The four of us have been a team since last year, we had Medi [Harris] in this morning to help us get through and then we have another couple of girls at home that are there or thereabouts. If we can get a group of six or seven girls, to be able to rest people for finals even, come Paris I think we'll be really competitive."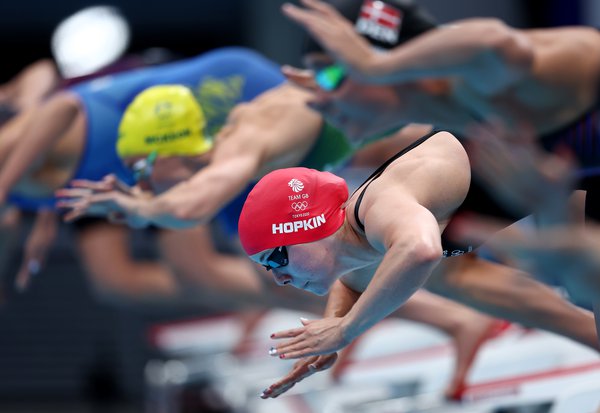 Off the back of a double swim in the evening session, Wood reflected: "I'm quite glad I had the relay to keep me going otherwise I'd have just been sat around and feeling sorry for myself. To come and race with the girls again really picked up my spirits. I love being on this relay team and hoping to build into Paris and maybe one day being as successful as the boys have been, they set a really good example. It's exciting for what is to come."
Anderson, meanwhile, concluded with a reflection on day one: "It's nice, I feel settled into the arena now, the atmosphere is really good. It gets me excited. I've got a day off tomorrow and then we'll get the ball rolling again."
Earlier in the session, Ben Proud set up the opportunity for himself to repeat history in the Men's 50m Butterfly as a stunning semi-final swim saw him qualify fastest for Sunday's final.
Ben claimed the world title in this event at the same Duna Arena pool in 2017 – and in the same lane six that brought him that gold and a British record time of 22.75 half-a-decade ago, he was fastest off the blocks and then blasted down the one length to touch a mere 0.01 seconds off that mark, a time of 22.76 securing him lane four in what is set to be a stacked final.
Not that Proud will be feeling much pressure come the showpiece.
"Today, being the first day of the competition, I'm just trying to shake out all the cobwebs after not racing. I find it funny to come back to Budapest, swim in lane six and go almost exactly the same time as I did when I won it five years ago. I've got very special memories of this pool, I love swimming here," he said.
"Tomorrow will bring about its own challenges, especially going into the final first, that brings about a whole different set of challenges. But I came into this meet to have fun and enjoy it - if I get on the podium, that's amazing, if I come eighth, that's also fine.
"I've come here just to warm up into the year, heading into the Commonwealth Games and then building through over the next couple of years into Paris. That's the thing about the first race, you get to see how your week is going to go - and I feel like it'll be good fun this week." 
James Wilby paced his Men's 100m Breaststroke semi-final effort brilliantly as he put himself in contention for another global medal in this event, three years on from a silver at Gwangju 2019.
Wilby took a step up from his heats swim – a race that required "slightly bigger tweaks than maybe I was expecting", by his own admission – and looked in control throughout, coming back well in the final 25m to touch second in his heat and go fourth-fastest overall.
It sets up an intriguing final on Sunday, and Wilby feels he is building well into it.
"That was really good. I think this morning was a case of seeing where we're at, it's the first big exposure we've had for a long time, so it was always going to be a bit of an unknown. This morning was quite relaxed, so this evening, I put quite a lot of things right to put myself in a good lane for tomorrow night and that's always the objective for these sorts of competitions," he explained.
"It's quite a busy schedule for someone like myself on the breaststroke events, so it's about progressing through the rounds and then putting in a performance when it really matters.
"To be honest, I came out of this morning and knew I'd got to make some slightly bigger tweaks than maybe I was expecting, but that swim there was really where I'd like to be for a semi. I know there's so much more there, being in among the mix instead of outside on the wings.
"It's just having that rest down going into finals and also all the final strategies that we have. I'm actually quite excited for tomorrow night, it's looking like it's going to be a really good race."
Laura Stephens' first Worlds 100m Butterfly final saw her move things on well from the heats and place 15th overall at the start of this week's competition.
The Loughborough Performance Centre athlete knocked three quarters of a second off her morning swim in a display that has given her confidence for the rest of the meet.
"Moving it on from heats to semi-final was the aim in that swim. It's my first World Championship semi-final in the 100m Butterfly, so that's a really big step forward - and also for me, just feeling comfortable out in the arena, having fun, and that's what I did," she said.
"This is a really nice stepping stone towards the 200m, and now I'm just excited for that one."
In the Women's 200m Individual Medley, Wood missed out on a final berth after a tough semi-final saw her place fifth in her race and go 12th-fastest in the field.
Abbie had some work to do at the halfway stage and, while it looked like she had done that work well in moving up on the breaststroke leg, she was caught by a couple of rivals in the final 50m of freestyle. It was a quick turnaround from there, though, as she prepared to play her part in that Women's 4x100m Freestyle Relay.
For full results from the finals, click here.
Visit our 'What's On?' page here for a full rundown on how you can watch and listen to every finals swim from Budapest.