Siobhan-Marie O'Connor, silver medallist at the Rio 2016 Olympic Games, has brought to a close her highly decorated swimming career.
One of Great Britain's most successful swimmers of all-time, O'Connor has won gold at World, European and Commonwealth level, not to mention countless national titles and British records across the medley and breaststroke events, but Olympic silver will always be a highlight.
O'Connor's class was apparent even before she became the youngest swimmer on the Team GB squad at London 2012, with eye-catching junior displays and a British title in the 200m Individual Medley seeing her on the plane to the 2011 World Championships in Shanghai as a 15-year-old - the first of five successive Worlds appearances for the Bath-born athlete.
The experiences gained on the biggest sporting stage of them all at the London Aquatics Centre - which included her competing in the Women's 4x100m Mixed Relay final - and at another World Championships a year later played a big part in Siobhan's first medal-laden year on the international circuit in 2014, 200m Individual Medley gold, and silver in the 200m Freestyle and 100m Butterfly among a haul of six at the Commonwealth Games in Glasgow.
There was more memorable success for the versatile swimmer the following year, as a third Worlds outing saw O'Connor as part of a history-making relay quartet, the British team winning the inaugural Mixed 4x100m Medley Relay in a world-record time. An individual bronze in the 200m IM was another insight into the Olympic highlight that would soon follow.
While 2016 began with two relay golds and a 200m IM silver at the European Championships in London, the year will always be remembered by Siobhan for that unforgettable swim in the Rio 2016 pool, as she pushed the legendary Katinka Hosszu all the way in the 200m Individual Medley final, ultimately claiming silver and clocking a new British record in the process.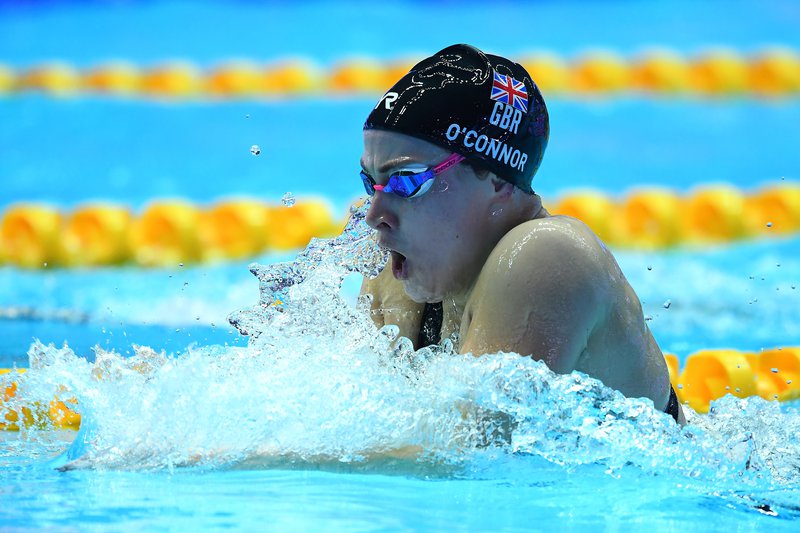 The years since have included a further bronze at European level, plus another Commonwealth crown in her favoured 200m IM event and another couple of relay medals at the 2018 Gold Coast Games for good measure. O'Connor's versatility also saw her take a valued place in the London Roar squads for the first two International Swimming League campaigns.
The bulk of her senior career was spent under the guidance of David McNulty at the Bath National Centre, with McNulty overseeing that memorable silver swim in Rio - but the 25-year-old did make the switch to the Loughborough National Centre following Worlds in 2019, where she joined up with David Hemmings' team.
What makes it even more impressive is that Siobhan has put together that decorated career while living with ulcerative colitis, a condition to which she has worked to bring a wider attention. The work she has done to raise awareness of the condition and its impact has helped so many others.
Reflecting on an unbelievable career and the decision to hang up her cap and goggles, O'Connor said:
"Stepping away from the sport I love has been the hardest decision I have ever had to make. I am very disappointed that I haven't been able to compete at the Tokyo Olympics this summer, but I am so proud of all that I have achieved in my career.  I can look back and say I was lucky enough to be able to achieve my dreams and all that I ever set out to do in the sport. I have been blessed with so many amazing opportunities during my time as an athlete that I will forever be grateful for. I have travelled the world, worked with incredible and inspiring people and made friends for life.
"I first fell in love with the sport when I was nine years old, and back then I never could have imagined all the places it would take me and the memories I would make. I followed my dream and I'm so glad I did. None of it would have been possible without the unwavering support of my family, friends, coaches, team-mates and sponsors. Those who supported me on my journey made the tough times easier, and the good times even more special. No words will ever be able to describe what their support has meant to me and how grateful I am. I would like to thank those people for believing in me and allowing me to live my dream." 
On just what an impact she had on swimming in Great Britain, long-time coach McNulty added:
 "We took Siobhan into the Bath National Centre aged 14, and she quickly became a great member of the squad. Shortly afterwards, Siobhan became European Junior champion in the 200m and 400m Individual Medley, and one key milestone then was when she gained selection for the home Olympic Games in London in 2012. She was the youngest member of the British Swimming team at the Games and she went on to become an Olympic finalist at just 16.
"Highlights over the next few years of Siobhan's career include her becoming Commonwealth, European and World Champion, as well as being a member of the world-record breaking mixed medley relay team. But for me and everybody who is involved in swimming, the highlight of her career would be the amazing silver medal winning performance in the 200m IM at the Rio 2016 Olympic Games in a time of 2:06.88, a swim I still feel is up there with one of the best British Olympic performances in history. This was also very special to myself, Siobhan and the team at the Bath National Centre because we all knew the day-to-day challenge that Siobhan was coping with with her ulcerative colitis.
"It gives me amazing pleasure and pride to look back on that outstanding Olympic dream and journey that resulted in an Olympic silver medal. I would like to say a massive well done to Siobhan on an outstanding journey both in and outside of the pool. It was a huge pleasure and privilege to be a part of that as your coach. I'm so proud of you, have a great retirement."