Great Britain enjoyed a night to remember in Budapest, with three medals - two of them gold - a trio of British and two Championship records all secured on the second night of the European Championship swimming action.
Adam Peaty, as he has done for seven years now, led the way, defending his European title in the Men's 100m Breaststroke with a powerful swim, his teammate James Wilby also producing a high quality display when it matters to bag bronze thanks to a stunning back end.
On a busy night for the GB team, a pair of British records would fall in the semi-finals courtesy of Molly Renshaw and Kathleen Dawson, before the Mixed 4x200m Freestyle relay squad notched up a further gold medal, adding a British and Championship record for good measure.
All eyes were on Peaty, though, in what was a deep 100m breaststroke field. But despite being challenged down the first 50m he showed his class, stamping on the accelerator to draw clear down the final 25m to win by half a second.
This was the Mel Marshall-coached swimmer's 13th European gold, and afterwards he commented:
"That was good, it was a very tactical race. That's right at the edge of what I can do mid-season, with my moustache! Coming out here, I just wanted to enjoy it. Once I hit taper and am properly shaved, I'll have a nice bit of preparation into the Olympics and it'll be a good time.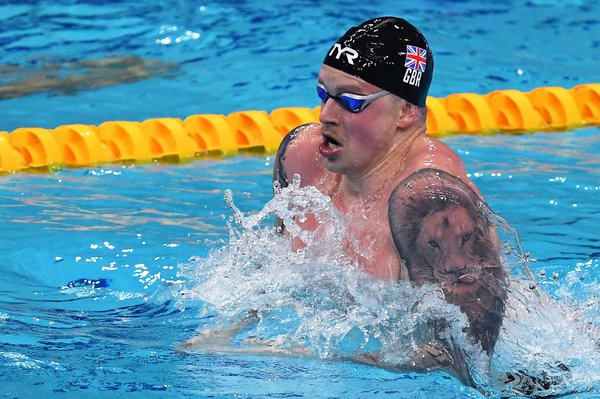 "It's always nice to have something to improve on. Coming into this week, I was already doing hard sessions and then had a bit of rest coming into this. It's just testament to how powerful my stroke is feeling, so come the Olympics, it's hopefully going to be a good show. 
"It's going to be a tough battle in Tokyo. There's going to be a lot of guys going low 58s or 57 high, and it's going to be an interesting time for 100m Breaststroke."
World silver medallist in this event, Wilby showed good progress through the rounds, using his strength down the final length to move from fifth into that bronze medal winning position, posting his second fastest time ever in the process.
The Dave Hemmings-coached breaststroker, like Peaty, is still in solid training, so was very pleased with the outcome:
"I always enjoy going GB 1-2, but at this time in the season, in hard training, I'm happy with that. I was here to learn and put in some fast races, but then move it on quite a bit come the summer – that's what we're all focused on and that's the priority, so anything here is just a bonus."
At the other end of the programme, the Mixed 4x200m Freestyle relay ensured we would hear the national anthem for a second time, as Tom Dean, James Guy, Abbie Wood and Freya Anderson led from start to finish to strike gold. 
Dean, Guy and Anderson came into the line-up to replace Calum Jarvis, Joe Litchfield and Lucy Hope, who played a vital role in qualifying this morning, and they justified their selection with classy lead-off and anchor legs respectively. Sandwiched in between, Guy was brilliant, as he looks to be getting back to his very best form, whilst Wood held of Federica Pellegrini to post the fastest split of her career.
Combined, those four ensured the team would leave Hungary with both a British and Championship record to their names.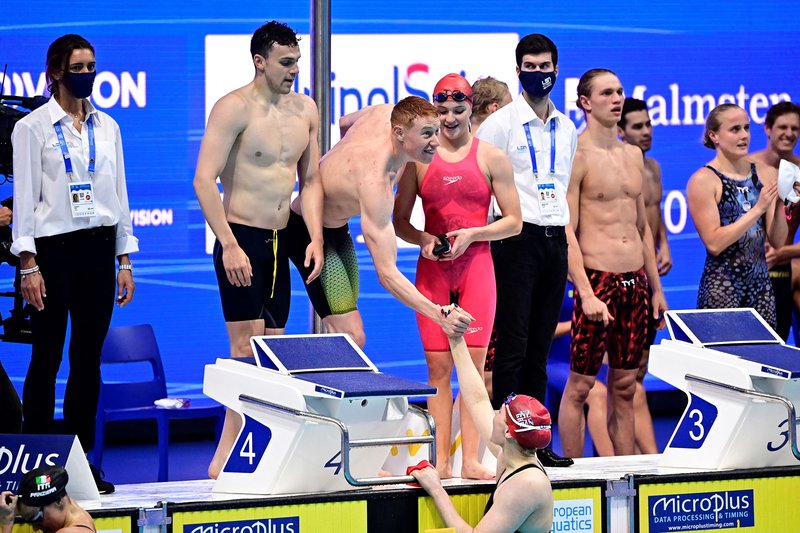 Speaking to the BBC afterwards, Guy said:
"This is quite a new team and quite a new event for the world of swimming, but tonight it was a really good swim by all four of us. The main focus here is just trying to progress things on, as the main meet for us is obviously the Olympic Games, but it's another gold for the team and four really good swims."
Wood added:
"It's been nice to be part of the relay teams for a change. I've got a day off tomorrow and then it's the start of my individual events, the 200 breast and 200 medley, but this has definitely built my confidence ahead of those events, which are more in my comfort zone!"
Anderson, who at 20 years of age has already won six European medals, remarked:
"This is a nice confidence boost and a really nice way to get into the meet, to go out there with your team – to have two golds is just a bonus! I'm really excited to get going on the individuals now."
Anna Hopkin was the other Brit in final action on Tuesday night, as she lined up in lane one of the Women's 50m Freestyle final. The splash and dash event relies heavily on a strong start and finish, which the National Centre Loughborough swimmer demonstrated, touching sixth in a closely-fought contest. Afterward she said: 
"I'm really happy with that. At the minute, it's still mid-season and we're still in hard training, so to move it on every round and be so close to my PB, I'm really, really happy. It's amazing how well Great Britain are doing and this is only day two!"
There were six athletes in semi-final action on the second of seven nights of swimming, five of those advancing to their respective finals, Renshaw leading the way in the Women's 100m Breaststroke as she broke the British record with a phenomenal 1:06.21 swim.
A 200m specialist by trade, Renshaw used her strength to devastating effect down the back end, and was clean on the wall to advance third quickest overall – Sarah Vasey was fifth in the same race in her second fastest ever swim and will join her compatriot in tomorrow's final.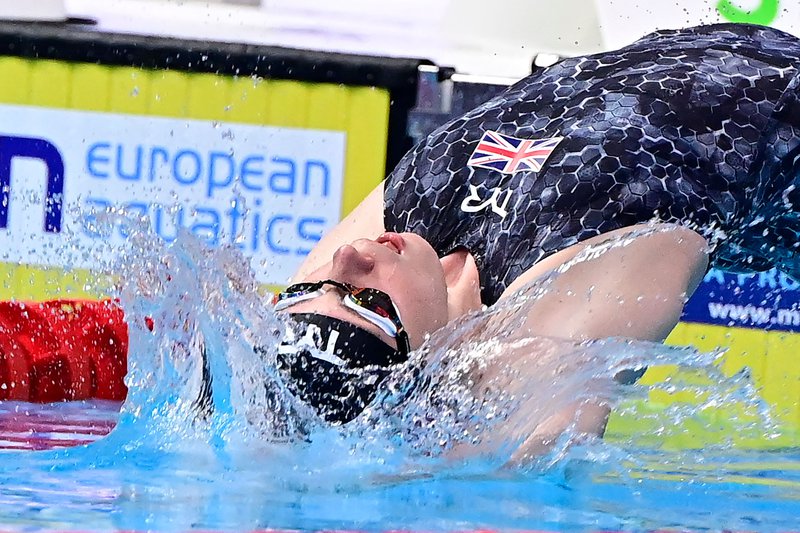 Of her record-breaking performance, Renshaw stated:
"I'm over the moon with that - I'm a bit surprised to be honest! I know I made a few mistakes at trials and so the time wasn't as quick as I wanted, but I didn't expect to come here and drop that much time. When it comes to the 100, sometimes I try too hard and I try to up the rate and end up going slower. So this morning I took the [stroke] rate down a few notches, tried to keep it controlled and then bring it home as well as I could with my legs - it seems to have worked, so I'm really happy!"
Just minutes later, another British record fell, this time in the Women's 50m Backstroke. Kathleen Dawson has been on outstanding form all year and after a big PB this morning, she went even quicker to run out a clear winner, stopping the clock in 27.19 to also break the Championship record.
The Bradley Hay-coached swimmer was naturally delighted:
"I couldn't have asked for anything better than that. To be swimming so well at this point in the season, it bodes well for the Olympics. The Olympics are all I've wanted since I was a kid, so to be able to go into the Olympics in a position to possibly go for a medal, it's more than I could've asked for. 
"I'm looking forward to the final. I know people will be looking out for me, but this is just prep for the 100m, so I'll just go out and enjoy it. Everything that I'm applying in training is finally paying off for me."
In the same race, Dawson's University of Stirling training partner Cassie Wild also had the 50m swim of her life, dipping inside the 28-second barrier for the first time to ensure she'll also be in the final, contesting for a medal, tomorrow.
The Men's 100m Freestyle was the other event with Brits on show, Dean booking a place in the final prior to his contribution to relay gold, whilst senior debutant Matt Richards just missed out.