The second to last night of action from the FINA World Swimming Championships (25m) in Melbourne closed out in electric style with the 50m Freestyle medal contests.
Across both the Men's and Women's "splash'n'dash" events Great Britain had strong representation in the form of Ben Proud, Lewis Burras and Anna Hopkin.
Proud, the Men's champion in 2021, had a central lane in the closing contest of the night and showed no signs of feeling the pressure as he calmly walked out on poolside, with Burras a few lanes over.
As the race got up and away Proud was side by side with Jordan Crooks of the Cayman Islands, turning dead level at the halfway stage and going stroke for stroke right to the finish. In the end Proud was edged out agonisingly by just 0.03 seconds, but remained happy to round out his year with the silver medal, commenting:

"It was brilliant for me [to get the silver medal]. Yesterday morning seeing Jordan [Crooks] absolutely smash the scene it gave a different challenge and new dynamic to the race and I just wanted to come in tonight and do a really good swim. 
"That's not a bad one for me, I'm happy with it even though I always want more, but to finish this year with all the gold medals, plus this silver, I think for me that was perfect. I want to come back next year with more drive and see what I can do but I'm happy. I'm really pleased to see Jordan come on the scene, so it's a really exciting future."

Burras meanwhile gave his best to place eighth in the world, with his speed on top of the water notably bringing him back among the flurry of arms at the finish.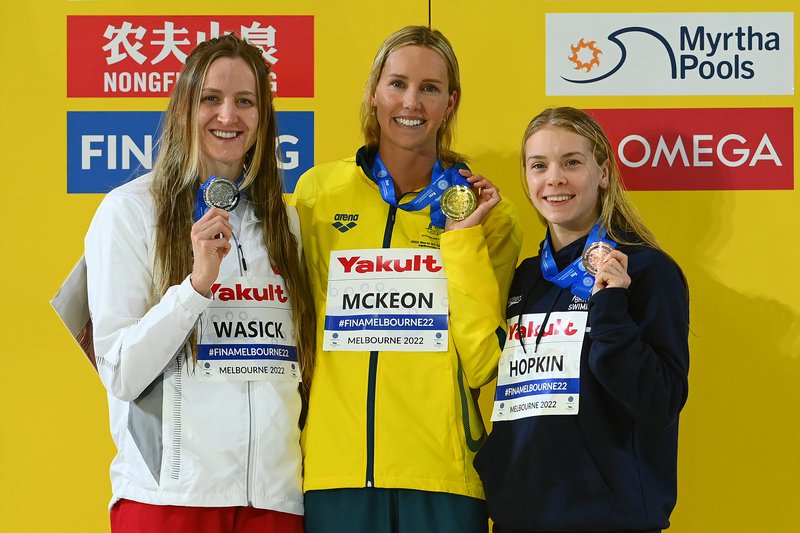 In the preceding Women's race there was a brilliant bronze for the impressive Hopkin to celebrate. Hopkin has shown her lead off speed on a couple of occasions within the British Women's freestyle relay efforts this week, and again showed great reactions off the blocks to get up and into her powerful straight arm freestyle technique.

Fifth at the turn, the Mel Marshall coached-swimmer remained in contention to throughout, with the podium spots is grasp and ultimately she timed her finish to perfection to steal in for the bronze.
"I can't believe it, I mean I knew it was going to be close and it was possible but I didn't want to put too much pressure on it and just enjoy it - so yeah I'm so happy to have got a medal, amazing!" said Hopkin to World Aquatics reporter Nick Hope.
"I've learned over my time coming into a final it's quite hard to just focus on your own race and I'm getting better at that and I wasn't overwhelmed by what was going on around me and just stuck to my plan and it worked so I'm really happy.

"Competing in Australia has been amazing. I think because it's short course the crowd is really close around you and I think that Aussies always turn out for a swim meet and they're making a lot of noise and definitely it spurs you on."

Meanwhile two spots in Sunday's curtain call finals were secured across the Women's and Men's 50m Breaststroke events, as Imogen Clark and Adam Peaty showed their raw speed over two laps of the short course pool.
A strong start and breakout from Clark set the foundations for her progression beyond the semi-finals, as she turned first in her contest before powering down the return length to touch comfortably within the top eight times and rank fifth going into the final.
Having taken Britain's first medal of the meet on Thursday, Peaty continued his charge for a second in Melbourne by posting the second fastest time in the prelims. Qualification from the semi-finals was much tighter as the 100m bronze medallist was pushed down to seventh after both races had run, giving Peaty lane one tomorrow night in Australia.
In the morning session there was a further appearance from Abbie Wood in the Women's 400m Individual Medley, with the Loughborough Performance Centre athlete just missing out on progression to the final in ninth place overall.
The full Championships schedule, event start lists and results can be found on the World Aquatics website, with live streaming available on the All Aquatics streaming platform.