Another busy night in the Duna Arena pool awaits for the British Swimming team after Ben Proud, Lewis Burras, James Guy, Jacob Peters and the Men's 4x200m Freestyle Relay quartet all got the job done in their respective heats. 
With Molly Renshaw, Abbie Wood (Women's 200m Breaststroke), Brodie Williams and Luke Greenbank (Men's 200m Backstroke) all returning for medal shots in finals on Thursday evening, the sixth evening session looks set to be another eventful one.
This morning's fast-paced heats session began with strong outings in the Men's 100m Butterfly for Bath Performance Centre pair Guy and Peters.
Going in the same heat, Peters made his intentions clear early with a good pace from the blocks, with Guy moving past him ahead of the wall and then touching just ahead of his teammate. Second and third in heat five, it meant Guy qualified eighth-fastest and Peters in 10th for the semi-finals, with the latter only 0.1s outside his personal best.
It was a performance to give Jacob confidence heading into his first Worlds semi-final.
"I think my main aim for this meet was to progress through the rounds. I've been to a couple of major meets now but I've never quite managed to get through to semi-finals and finals, so I'm really happy that I've managed to get through and hopefully I can improve on that tonight and maybe try to squeeze into a final," he said.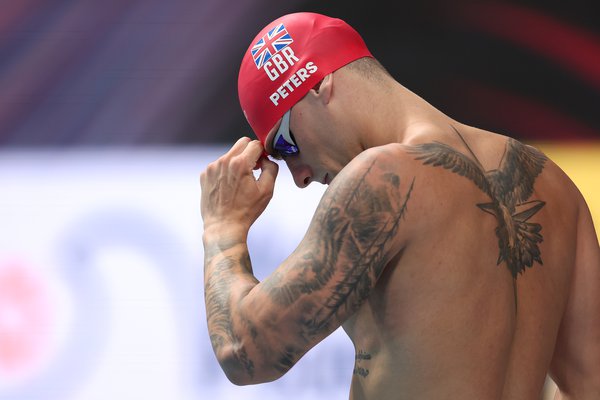 "Swimming in the Mixed 4x100m Medley Relay heats definitely made me a lot calmer, having done a 100m before this event. I'd had the 50m on Saturday, but the 50m and 100m are completely different and it doesn't really give me any indication of how my 100m is going to be - so having that 100m in the relay on Tuesday really helped boost my confidence coming into this morning."
Shortly afterwards, Proud and Burras lined up in the Men's 50m Freestyle 'splash and dash'. In an event of such fine margins, both sprinters were pleased with their morning efforts and what more is to come later in the day.
Proud finished second in heat nine to clock the fourth-fastest time overall, while Burras was third in the final, fastest heat to go through sixth.
"That's a brilliant morning. I'm happy with the time and happy with the process, so coming in tonight, it'll be a competitive field but that's why we're here, we're at the World Championships," said Proud, who swam the 50m Butterfly final earlier in the meet.
"It'll be good to get through, get it done and prepare for tomorrow. I've had three days off to switch off and switch back on again. Starting again this morning, it felt like a new meet, so we'll just have to see how the legs are and we'll build through the rounds."
The final British involvement on Thursday morning in Budapest was in the Men's 4x200m Freestyle Relay. In the event that brought a stunning Olympic gold – and was a mere 0.03 seconds off the world record in Tokyo – a new-look setup of Tom Dean, Matt Richards, Joe Litchfield and Jacob Whittle was up in the heats.
Dean – fresh from a big new PB in the 200m Individual Medley final on Wednesday and his bronze medal in the 200m Freestyle the night before – led the team off, before handing over to Bath Performance Centre partner Richards. From there, Joe Litchfield took over for the third leg, keeping them in contention for a top-three finish in their heat and a comfortable qualification, with Jacob Whittle stepping into his first international 200m relay stint with an impressive anchor performance to see the team back for tonight's final in sixth.
For full results from the heats, click here.
Visit our 'What's On?' page here for a full rundown on how you can watch and listen to every finals swim from Budapest, as well as a look at which athletes are involved in each upcoming session.