Ben Proud can add the title of World Short Course champion to his list of career achievements after a stunning victory in the Men's 50m Freestyle on day four in Abu Dhabi.
The Bath University athlete - a previous world and European champion in a long-course pool - had shown his form in the splash and dash by setting a new British record earlier this month at the International Swimming League, and a solid swim in the semi-final placed him in a good lane for the finale.
Looking to get Britain's first medal of the meet, Proud was one of the fastest off the blocks and was level with Ryan Held of the USA at the 25m turn, before powering down the final lap, pulling past Held and into a comfortable lead that saw him touch first, a mere 0.05 seconds off his own British best. 
For Proud, this dominant performance was the ideal way to end a year that saw him claim 50m Freestyle silver at the European Championships and then narrowly miss out on the Olympic podium in Tokyo. 
"There's lots to be happy with. There's been a lot of racing over the last few days and even warming up today, my body wasn't the same as it usually is. I needed to be a bit more careful and gentle than usual but with the team around me, we've managed it really well," he said. 
"I'm really surprised with that time, I wasn't expecting so much and that's a big stepping stone for me. I was really upset with the Olympics and how it went, I can't lie about that - but to finish off like this is a little surprise I didn't expect and I can go home now with a nice medal around my neck, see family, see friends and enjoy myself.
"Looking ahead to next year, after the Olympics, there's no pressure but I want to be on the podium at every event. I have a lot to learn and take away from this and for me I've learned so much about myself, racing so much. I can't wait to come into the new year with less pressure. It was a tough year so to come through and do the best I can will be great."
Proud's golden triumph was followed soon after by another eye-catching moment for the British team, as Molly Renshaw lowered her own British record in the semi-finals of the Women's 100m Breaststroke.
Renshaw - part of David Hemmings' cohort at the Loughborough National Centre - showed that she is doing more than just building towards her favoured 200m event at the end of the meet as she put together four impressive lengths in semi-final two, progressing through the field down the final 25m to qualify sixth fastest overall.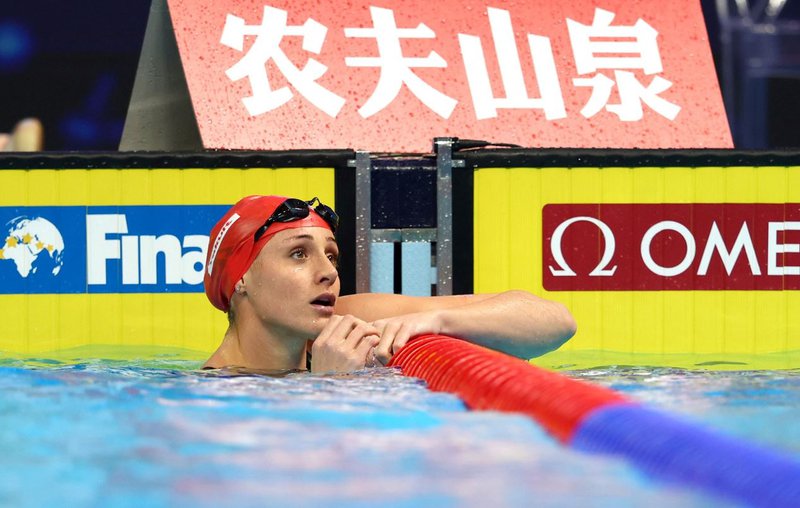 The time of 1:04.43 was three tenths of a second faster than the previous mark she set last year and means she will be back in action in Monday's final.
Earlier in the day, Freya Anderson narrowly missed out on progressing in the Women's 400m Freestyle. The Bath National Centre swimmer has competed across the 100m, 200m and 400m events in the Etihad Arena pool, showing her growing versatility across the distances.
On this occasion, she was just a few tenths outside the time needed to make it into the 400m Freestyle final, placing her 11th overall. 
Full results from day four can be found here, with details of what's on and how to tune into the upcoming event live streams here.