A breathtaking English Men's 4x100m Medley Relay victory followed individual golds for Duncan Scott, Ben Proud and Bethany Firth to bring the curtain down in style on the Commonwealth Games swimming programme for British Swimming athletes across their Home Nations teams.
The noise that greeted Tom Dean's crucial touch for the relay gold was among the loudest to rock the Sandwell Aquatics Centre all week – and it was just one of 11 British medals on the final evening of action.
There was the 200m Individual Medley crown for Scott, Proud's sprint to 50m Freestyle glory, a Women's S14 200m Freestyle success for Firth, silvers for Lewis Burras (50m Freestyle), Jessica-Jane Applegate (S14 200m Freestyle) and Dean (200m Individual Medley), and a quartet of bronze medals – for the England Women's 4x100m Medley Relay team, Scotland's Men's 4x100m Medley Relay quartet, Louise Fiddes (S14 200m Freestyle) and Luke Turley (1500m Freestyle).
In the men's relay showstopper, Brodie Williams laid down a brilliant backstroke opener to put England in the lead after the first leg. It was then handed over to James Wilby, who pulled further ahead of the pack, as Scotland's Ross Murdoch also went alongside the Australians at the halfway mark. James Guy solidified the lead for England with a characteristically solid butterfly leg, with Scotland still in third on the penultimate leg as Duncan Scott stepped into that stroke with his usual composure.
The thrilling denouement saw Australia's Kyle Chalmers begin to catch up with anchorman Dean on the freestyle leg, before the Englishman responded superbly, touching out the 100m champion to secure Tom his first gold medal of the meet and a first British relay triumph. Scotland held off Wales on the final leg, as they came in for the bronze medal.
"I showed how much it meant to me, it was pure emotion coming up. Six silvers, to finally get the gold at the end means the world. It's the first time we've had this medley combination and all the boys executed the perfect race plan," said history-maker Tom, who became the most decorated British athlete at a single Commonwealth Games with his seventh medal after the relay – and more on his sixth later.
Wilby added: "It's a really important race to us, we really enjoy doing relays. To be able to just pip the Aussies is really good. We're all carrying a lot of fatigue but we put it in when it mattered."
Guy said: "When you swim in a relay, you have the whole country behind you. Tonight was a real dogfight between us and the Aussies. We knew it would be tight but it was about swimming a smart race and getting the tactics right, which we did. It's the best crowd I've ever heard. When they're cheering for us, it's so much more inspirational. It's great to end the week on a high."
Golds in that event also went to Luke Greenbank, Greg Butler, Jacob Peters and Jacob Whittle for their important work in the heats.
Before then, Scott won his second gold medal of the competition in the Men's 200m Individual Medley, with Dean joining him on the podium as the pair continue to provide exciting race after exciting race when they are in the pool together. 
All four Home Nation swimmers – with Mark Szaranek and James McFadzen also involved - were relatively even after the butterfly, with Dean touching best in third place. The backstroke saw Scott take the lead, as he touched over half a second ahead of the field at the halfway point. Dean did well to gain on the leader during the breaststroke leg, with Scott still having a slight advantage with one leg to go. It was Scott who did enough to take the win despite a great charge from Dean; the duo winning gold and silver respectively after a super tight finish. McFadzen took seventh in the end, with Szaranek in eighth. 
Duncan said: "I'm absolutely exhausted. I was really hurting in that and I think the time probably reflects that. As I said earlier in the week, these finals at international level, time goes out the window a little bit. The times are what get you in meet and puts you in the position to medal, but once you're in there it kind of goes out the window.
"I was breathing the other way – we both breathe to our right and I knew that coming in but I knew I'm a lot better on the other strokes but he comes home strong and he's Olympic champion in the 200 free, faster than me in the 100 free, and a great racer as well, so I knew he'd be coming home fast."
Following on from that, Ben Proud added to the gold medal he won in the 50m Butterfly as he took his third consecutive Commonwealth title in the Men's 50m Freestyle final.
Joined by team mate Lewis Burras in the adjacent lane three, the top seed was out of the block fast, coming up first and never looking back. Ultimately winning by half a body length, Ben was followed in by Burras, as he took the silver to make Team England's second one-two finish of the competition.
"This is something really special. My intention on the fly was to retain my title and here it was to keep it with me for a third time. I don't know if any other Commonwealth swimmers have done that. It's another legacy swim for me and to do it with another Englishman on the podium with me is very nice. I managed to hold off the young guns for one more year. I'm super happy," said Ben.
Burras added: "I walked out for the last time I was going to compete at this Commonwealth Games and the crowd was electric. I was just trying to take it all in. I think a young girl shouted, 'Go England!' right before. I pointed to her and that was me ready to go."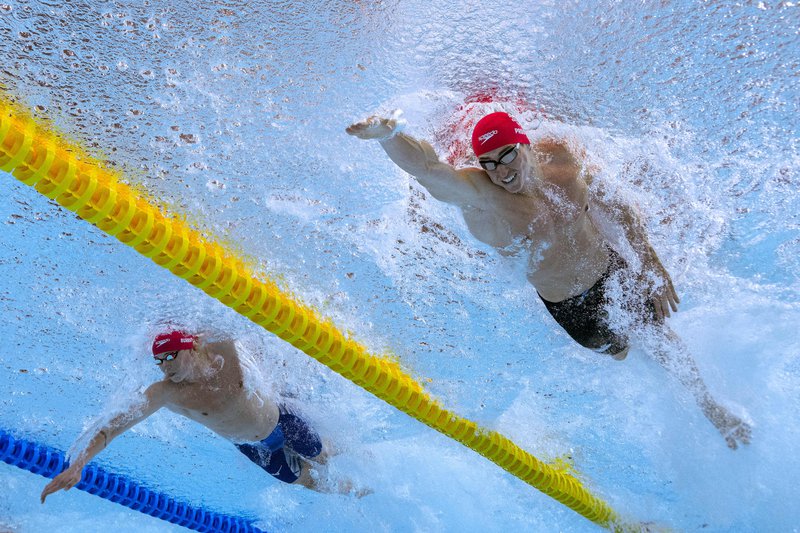 Britain had four representatives in the Women's S14 200m Freestyle final, with Poppy Maskill, Jessica-Jane Applegate and Louise Fiddes of England all going up against British compatriot Bethany Firth for Northern Ireland, just six weeks following the World Para Swimming Championships in Madeira.
Firth dominated from start to finish, claiming a brilliant victory to add to her ever-growing list of international titles. Applegate followed in after a well-paced race, picking up silver, with Fiddes completing a GB clean sweep of the podium with bronze.
 "I'm just so pleased to have got a medal. I'm happy with the time so everything's all good. Seeing the other athletes and crowd cheering me on was a massive push," said Louise.
Both Team England and Team Scotland were back for the final race of the swimming programme as they took on the Women's 4x100m Medley final.
The two teams lined up next to each other, as Lauren Cox put in the better performance on the first leg; using the backstroke to handover with the English team in third place. Molly Renshaw was then tasked with cutting the deficit to the leaders, as Scotland's Kara Hanlon tried to stay in touch as well. After dropping back to fourth place at the halfway stage, England's Laura Stephens kept in touch with the South African's for third place, before Anna Hopkin managed to get the place back to give Team England another bronze medal, as Lucy Hope brought Team Scotland home in fifth.
Reflecting on the experience, Renshaw said: "I'm really happy. We saw how well the boys did and in our last race, we though we'd use the crowd to our advantage. I'm really proud of all the girls."
Stephens added: "We all came together and gave it everything. To bring the curtain down on the meet like this was really special, I'm glad we could do it with a medal."
Luke Turley and Toby Robinson (both England) were in action as they lined up for the final of the Men's 1500m Freestyle.
It was Robinson who fared the better early on, as he cemented third position with Turley just behind for the majority of the first half of the race. Turley then began to pull in front, though, as the race went into its third quarter; the pair being engaged in their own individual battle for the bronze medal. Turley did enough to hold on despite a last charge from Robinson, as he claimed his first international medal.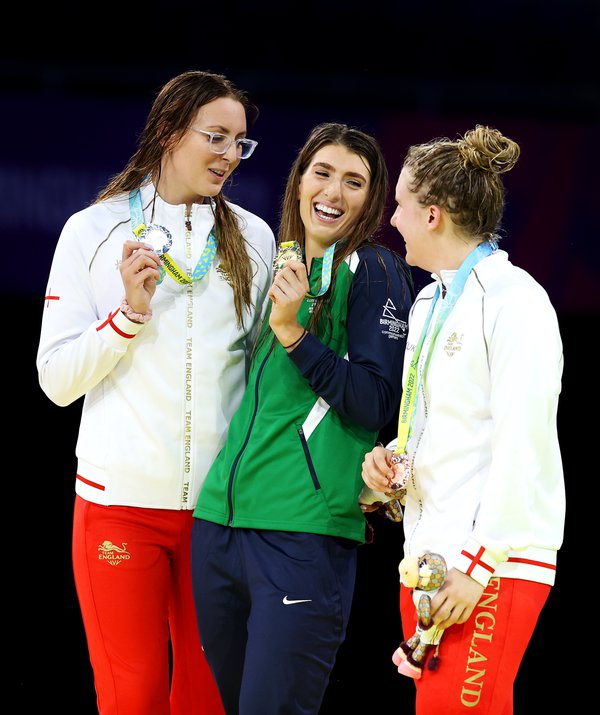 "This is my first year swimming full-time and breaking out on to the senior stage. To come out of my first competition with a medal gives me so much confidence gives me so much confidence to keep pushing towards Paris, the ultimate dream," said Luke.
Wales' Medi Harris was back in action after her 100m backstroke medal as she lined up for the Women's 50m Backstroke final. Joined by Team England's Lauren Cox, it was Harris who started the better of the pair, as she came up in the top three. It was neck and neck across the field, with Cox making a late charge and agonisingly missing out on the medals on the touch, finishing three hundredths outside of the top three in fourth in a new personal best of 27.61. Harris was just one hundredth behind as she finished in fifth.
It was then the turn of the Men's S14 200m Freestyle with team Wales' Dylan Broom joined by England trio Jordan Catchpole, Reece Dunn and Thomas Hamer, with all athletes in with a shout for a medal.
It was Dunn who had the better start of the Home Nation swimmers, as he turned in second place at the 50m mark. He then followed suit at the halfway mark, staying in second place before a late charge from Catchpole saw him inherit the second place spot at 150 metres. There were then late charges from all over the pool, with two Australians doing enough to touch out both of the Team England swimmers, which saw Catchpole take fourth and Dunn finish in fifth position, with Hamer in sixth and Broom seventh.
Overall, British Swimming athletes finished the Birmingham 2022 programme with 47 medals to their name – 11 golds (eight for England, two for Scotland and one for Firth of Northern Ireland), 17 silvers and 19 bronzes.