Molly Renshaw and James Guy took Great Britain's medal tally to 11 on a fantastic final night at the 2019 European Short Course Swimming Championships in Glasgow.

In the first final of the evening Renshaw gave the large home crowd something to celebrate as swimming a brilliant attacking race, she secured Women's 200m Breaststroke silver.
Leading from the off, Renshaw was first to 50, 100m and 150m, sticking to her game plan of attacking the race from the gun. Her lead was a modest one and despite coming under pressure down the final two lengths the Dave Hemmings coached swimmer dug deep to secure a splendid silver. Commenting afterwards, Renshaw said:
"It's amazing! My aim for the season is to try and improve the first 150m of my race so it's great to be able to work on that at a short course meet that's less important than the meet next year! I went for it, all out, and I think I suffered for it on the last 50m but it just gives me things to work on. I need to be braver and I think swimming it like that today will build my confidence."
The 200m Butterfly is regarded as one of the toughest events on the programme, but James Guy used all his grit and determination to collect a bronze medal, which he gave to a young boy in the crowd after his medal ceremony.
Getting out hard, Guy, who has shown really positive signs this week, was taking the race to the rest of the field, but they weren't letting him have it his own way. With 50m to go he'd slipped out of the medal positions, but digging deep, Guy demonstrated why you fight all the way to the wall, sneaking bronze on the final few strokes, with the added bonus of a new personal best.
This medal completes Guy's set, having won medals at Olympic, World (long and short course), European (long and now short course) and Commonwealth level.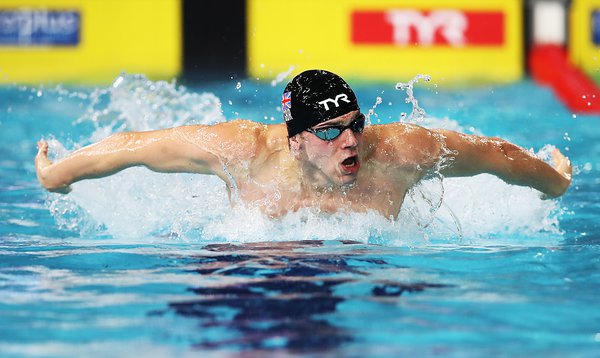 Speaking to the media afterwards, the National Centre Bath swimmer said:
"This is amazing. I knew if I stuck to my game plan and raced hard I'd be in with a chance of a medal tonight. I knew I was up there with 50m to go and to finish, touch the wall, and hear the crowd roar I thought, 'have I won it'! It was a great swim, a PB and I haven't actually done much fly work at the start of the season. Hopefully I can transfer what I've done in short course into long course now."
Double gold medallist already at these Championships, Freya Anderson rolled the dice once again, this time in the Women's 400m Freestyle final. After looking good in qualifying this morning, Anderson swam the race in her usual style, conservative early on before finishing strongly. Out in lane one the youngster was slightly isolated and away from the race in the centre lanes, but finishing strongly she took a great fourth place finish to round out an extremely successful week.
After another personal best swim, Freya said:
"I certainly didn't come into this expecting anything but I'm really happy, what more could I have asked for this week! I found it quite hard tonight being in the outside lane as I couldn't really see anything that was going on, but I'm happy with a PB and with how I swam it."
Another lady who has impressed this week is Anna Hopkin, the pocket rocket excelling throughout her busy programme. Qualifying for the Women's 50m Freestyle final at the start of the session, Hopkin took lane five, so was right in the thick of the action, which was always gone to come down to the finest of margins.
After a PB in the semi-final Hopkin was one to watch, another powerful performance earning her a sixth place finish, as she missed a medal by just over a tenth of a second.
Duncan Scott finished off a gruelling schedule with two finals on the last night, the first of those the 100m Freestyle. In an incredibly close race, Scott was seventh at halfway before using his strength down the final two lengths to fight back, but in a blanket finish for the minor medals he couldn't quite get his hand on the wall first, having to settle for fifth.
Just 10 minutes later the Steve Tigg coached swimmer lined up in the Men's 100m Individual Medley, with teammate Joe Litchfield in the lane eight, directly outside him. Litchfield was sharper off the blocks and put together a really good first two lengths of the pool, Scott right on his shoulder, but in truth the race was over in the centre lanes. Battling all the way, the British pair were neck and neck down the final length, with Litchfield taking seventh and Scott eighth.
Discussing his 100m Freestyle performance, Scott said:
"It's small margins but yes it's a PB. I can't be disappointed to maintain that level at the back end of a hard week and off the back of previous weeks – I'm just happy to be able to go in there and race. There are world class athletes here who have had some really good preparation and are able to swim fast, so to be competitive in there is good.
"It's been a good week. I've learnt a lot and have got a lot out of it. It's a meet where I've really challenged myself in a lots of different events, with back to backs and racing hard in the morning. I've learnt a lot and I've surprised myself with some of the swims I've done in the morning."
Having swum the Men's 50m Backstroke semi-final at the start of the evening and earned a place in the final, Litchfield would return to the pool an hour later for the final individual medal race of Glasgow 2019. Drawn in lane six, Litchfield was in the thick of the action all the way, finishing fifth, just 0.05 of a second outside the personal best he set in the semi-final.
Summarising his week as a whole, Joe said:
"It's been a success. I was a late pick for this, so I was given a chance and I think I've come here and proved to myself and the whole team that I can step up in finals, step up in semis to make the final in the first place. I've proved to myself that I can do it and I'm getting to the point in my senior career where I need to do it. Making the 200 Medley final was a standout, as that's one of my main events and I probably didn't think I'd make it through the heat with how well Max and Deano are swimming – I then swam fast in the final as well."
The final event of the night with British interest was the Women's 4x50m Medley Relay, a quality team of Georgia Davies, Siobhan-Marie O'Connor, Freya Anderson and Anna Hopkin taking to the water for one final time. All four ladies already have some silverware to show for their week in Glasgow, but hoped to add to their collection. It wasn't to be though as despite a great team performance the ladies had to settle for fifth place.
Great Britain ended the week on 11 medals, three of those gold, which is the nation's best tally at the European Short Course Swimming Championships since 2003. That total saw the team finish the week fifth on the medal table.
Full results can be found here